This character exists primarily or exclusively within the Sonic Boom continuity.
Information in this article may not be canonical to the storyline of the games or any other Sonic continuity.

My family has been protecting us for decades. We are the only ones that do anything.


— Perci, Sonic Boom: Rise of Lyric
Perci is a character that appears in the Sonic Boom series. She is an anthropomorphic bandicoot who lives on Seaside Island and is famous throughout her Village for her beauty.[5]
Concept and creation
Perci was created specifically for the plot of Sonic Boom: Rise of Lyric.[6]
Appearance
Described as beautiful,[5][7] Perci is a humanoid bandicoot with lavender fur, a short pale peach muzzle, a thin tail, a short brown snout, and possesses shoulder-long hair that resemble hedgehog quills with violet tips and a few bangs on her forehead. Her attire consists of a red scarf around the back of her head, a purple, sleeveless hoddie with torn shoulders, a white undershirt, brown and fingerless gloves, brown straps around her upper arms, amethyst jeans and tan boots with fluffy white cuffs and strings for bands. She carries a belt around her waist with a Wrench holstered on it.
History
Games
Sonic Boom: Rise of Lyric
Perci was born into the house who has protected the Village for generations.[5] While Perci proudly followed this tradition, the lack of respect and efforts from the villagers convinced her that only she and her family cared. She would thus only trust herself with this task.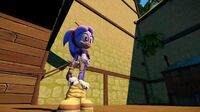 When Perci discovered Lyric and his forces were threatening the town, none of the villagers took her seriously and were more concerned with the re-election of Mayor Fink, leaving only her to prepare for Lyric. Eventually, Perci met Team Sonic who wanted to help, but she insisted that they had to earn her respect first, so she assigned them to figure out how to energize some nearby monuments with island defense measures. When Team Sonic returned from their assignment, Perci congratulated them for a job well done and gave them a Power Glyph as a token of her appreciation before promising them they would toast the victory against Lyric when they met again.
TV series
Season one
When the Justin Beaver fever hit the Village, Perci was brainwashed into a mindless Justin fan girl and consumer by Justin's mind control music. Perci soon after came to Justin's fan signing where she spent her money on his merchandise. The same weekend, she attended Justin's concert where he and Dreamboat Express had a sing-off. Amidst this, she was freed from the mind control by Dreamboat Express, now Dude-itude.[8] Perci would later take an interest in Knuckles during his popularity as "Trash Can Head Guy," even accompanying him on his walks around the village alongside her sister Staci.[9]
Perci later had a small bike accident when she met Sonic, Knuckles and Amy. Although Perci only wanted tools to fix her bike, the group insisted on helping her and brought her to Tails' Workshop where they pampered her. As the trio squabbled over Perci, the workshop caught fire, but they got it extinguished in time to explain the mess to Tails. After hearing the others' personal recounts, Perci told the truth, making Tails realize his security system caused the fire. As the others left, Perci let Tails fix her bike.[10] Another time, Perci came to the Robot Battle Royale, where she saw Eggman steal Tails' Hypno-bot at the end.[11]
Personality
Perci is friendly, yet tough as nails.[7][10] Having a strong sense of responsibility,[5] she is a brave and outgoing individual who stands up for what she believes in, not afraid to take action no matter what people around her think. Despite her good looks, Perci is a very independent and practical young woman, preferring to take care of herself and is not afraid to buckle down and get her hands dirty, though she will not reject offers to help either.[10] That said, she is not above flirting with others, like when she did it to Tails when he fixed her bike.[10] She has both street smarts and a tough exterior that allows her to be ready to protect the town when the time comes.[7]
Perci cares much for her home and the villagers and prides herself on her mission.[5] However, the villagers' lack of appreciation left her convinced that only she and her family care for their safety. She thus only allows those who can earn her respect to help her cause.
Powers and abilities
Perci has some skills as a mechanic, claiming she could fix her own snapped bike with the proper tools.[10]
Relationships
Friends/allies
Enemies
Quotes
"Okay, but you got to earn my respect. Around the beaches are ancient monuments, with island defense measures. If you can figure out how to energize the monuments, the balloons will launch and strengthen our defenses. You do that, I know you are fighting on the right side, and willing to help the cause."
—Perci, Sonic Boom: Rise of Lyric
Trivia
The color scheme of Perci's fur is similar to Blaze the Cat's, being lavender and having hair points ending in a purple hue.
Perci may have been meant to play a bigger role in Sonic Boom: Rise of Lyric, as evidenced by an unused sound clip, but it was scrapped during production.
References
Sonic Boom: Rise of Lyric
Ad blocker interference detected!
Wikia is a free-to-use site that makes money from advertising. We have a modified experience for viewers using ad blockers

Wikia is not accessible if you've made further modifications. Remove the custom ad blocker rule(s) and the page will load as expected.