The Perfect Bonus is a special scoring category in the Sonic the Hedgehog video games. They grant the player special bonuses if they complete special requirements in the respective games.
Game appearances
Sonic the Hedgehog 2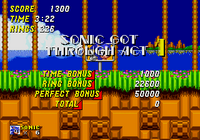 The Perfect Bonus first appeared in Sonic the Hedgehog 2 where in order to clear an Act with it, the player must have collected every single Ring in the Act and must not lose them (being attacked by enemies or obstacles etc.). This does not include any Rings earned from Super Ring Monitors or from Rings placed with Debug Mode. Upon clearing the level, the player gains an additional 50,000 points, the equivalent of an extra life.
Sonic the Hedgehog 3 & Knuckles
In Sonic the Hedgehog 3, Sonic & Knuckles and Sonic the Hedgehog 3 & Knuckles, Perfect Bonuses only appear in the games' Special Stages. To obtain a Perfect Bonus, the player must collect every single Ring in the stage (including Rings formed from Spheres), upon which the player is notified that they have gotten a Perfect Bonus. Also, whether they successfully collect the Chaos Emerald/Super Emerald or not, the player will be given a Perfect Bonus category in the score tallying that grants 50,000 points (and an extra life), much like the Perfect Bonus in Sonic the Hedgehog 2.
Blue Sphere
The Perfect Bonus appears again in Blue Sphere where the conditions of obtaining it remains the same from Sonic the Hedgehog 3 & Knuckles. Instead of getting bonus points or an extra life though, the player skips ten levels instead of one.
Sonic Generations
In Sonic Generations, the Perfect Bonus functions differently from its previous appearances. In this game, the player receives it whenever they complete an Act without losing a life. Gaining the Perfect Bonus increases the player's Rank by one level after the score finishes tallying. This is the only way for the player to receive an S Rank for the Act as they can only get an A Rank at the highest on their own.
Trivia
---
Main article | Gallery | Staff | Prereleases (Nick Arcade | Simon Wai) | Re-releases (2006 | 2013) | Knuckles in Sonic 2
Characters
Sonic (Super Sonic) | Tails (Super Tails**) | Knuckles (Super Knuckles) | Dr. Robotnik | Animals (Becky, Cucky, Flicky, Pocky, Pecky, Cucky, Ricky, Pecky, Picky, Rocky, Locky, Wocky, Rat, Tocky)
Badniks
Aquis | Asteron | Balkiry | Banper* | BBat** | BFish* | Bubbler* | Bubbler's Mother* | Buzzer | Cactus* | Chop Chop | Clucker | Coconuts | Crawl | Crawlton | Flasher | Frog* | Gator* | Gohla | Grabber | Grounder | Jellies** | Lobster* | Masher | Nebula | Octus | Rexon | Shellcracker | Slicer | Snail* | Spiker | Spiny | Stegway** | Turtloids | Redz** | Whisp
Zones
Emerald Hill Zone | Chemical Plant Zone | Aquatic Ruin Zone | Casino Night Zone | Hill Top Zone | Mystic Cave Zone | Oil Ocean Zone | Metropolis Zone | Sky Chase Zone | Wing Fortress Zone | Death Egg Zone | Hidden Palace Zone** | Genocide City Zone* | Dust Hill Zone* | Rock Zone* | Wood Zone* | Egg Gauntlet Zone** | Boss Attack Zone** | Proto Palace Zone** | Special Stage
Bosses
Drill Eggman | Water Eggman | Tonkachi Eggman | Catcher Eggman | Submarine Eggman | Drill Eggman II | Hidden Palace Zone boss** | Submarine Eggman II | Flying Eggman | Barrier Eggman | Mecha Sonic | Death Egg Robot
Moves/techniques
Climb | Glide | Insta-Shield** | Propeller Flying | Spin Jump | Super Dash Attack | Super Spin Attack
Items
Ring | Monitor (Super Ring, Shield, Power Sneakers, Invincibility, Extra Life, Teleporter, Eggman, Lightning Shield**, Flame Shield**, Water Shield**, S**) | Continue | Spring | Star Post (Star Circle) | Bumper | Switch | Air Bubbles | Signpost | Capsule
Other
Bomb | Booster | Original Soundtrack | Bumper wall | Cannon | Chaos Emerald | Conveyor Belt | Corkscrew loop | Crusher | Debug Mode | Egg Jet | Fan | Flipper | Giant spear | Gondola | High-speed elevator | High-speed warp tube | Mega Mack | Metal nut | Perfect Bonus | Pinball Shooter | Seesaw | Shuttle loop | Slot machine | Spiked ball | Spikes | Stone pillar | Tornado | Totem pole | West Side Island | Winding Tunnel

*Exclusive to the prototype versions of Sonic the Hedgehog 2.
** Exclusive to the 2013 re-release version.
---
Main articles (Sonic 3, Sonic & Knuckles, Sonic 3 & Knuckles) | Gallery (Sonic 3, Sonic & Knuckles) | Beta elements | Staff (Sonic 3, Sonic & Knuckles)
Characters
Sonic (Super Sonic, Hyper Sonic) | Tails (Super Tails) | Knuckles (Super Knuckles, Hyper Knuckles) | Dr. Robotnik | Mecha Sonic (Mecha Sonic's Super State) | Animals (Flicky (Flicky's Super State), Pocky, Pecky, Cucky, Ricky, Rocky)
Badniks
Batbot | Blaster | Blastoid (Carnival Night Zone) | Blastoid (Hydrocity Zone) | Bloominator | Bubbles | Bugernaut | Butterdroid | Catakiller, Jr. | Chainspike | Clamer | Cluckoid | Corkey | Dragonfly | EggRobo | Fireworm | Flybot767 | Hyudoro | Iwamodoki | Jawz | Madmole | Mantis | Mega Chopper | Monkey Dude | Mushmeanie | Orbinaut | Penguinator | Pointdexter | RhinoBot | Ribot | Rock'n | Sandworm | Skorp | Snale Blaster | Spikebonker | Spiker | Star Pointer | TechnoSqueek | Toxomister | Turbo Spiker
Zones
Sonic 3
Angel Island Zone | Hydrocity Zone | Marble Garden Zone | Carnival Night Zone | IceCap Zone | Launch Base Zone | Special Stages | Bonus Stages
Sonic & Knuckles
Mushroom Hill Zone | Flying Battery Zone | Sandopolis Zone | Lava Reef Zone | Hidden Palace Zone | Sky Sanctuary Zone | Death Egg Zone | The Doomsday Zone | Special Stages | Bonus Stages
Competition
Azure Lake Zone | Balloon Park Zone | Chrome Gadget Zone | Desert Palace Zone | Endless Mine Zone
Sub-bosses
Doctor Robotnik's Flame Craft (Angel Island Zone Act 1) | Doctor Robotnik's Whirlpool Machine | Tunnelbot | Self D-Struct Machine | Iceball | Swing'm Spikez | Hei Hou | Gapsule | Barrier Eggman | Guardian | Heat Arms | Egg Mobile-H | Flying Eggman | Red Eye | Death Ball
Bosses
Doctor Robotnik's Flame Craft (Angel Island Zone Act 2) | Doctor Robotnik's Waterspout and Depth Charge Machine | Doctor Robotnik's Jet Drill Pod | Doctor Robotnik's Energy Ship | Doctor Robotnik's Freeze-O-Matic | Ball Shooter | Beam Rocket | Big Arm | Jet Mobile | Hang Mobile | Egg Golem | Hot Mobile | Knuckles | Mecha Sonic | Mecha Sonic's Super State | Kyodai Eggman Robo | The Doomsday Zone
Moves/techniques
Bound Jump | Double Jump | Fireball Spin Dash | Glide | Gliding Knuckles Attack | Hyper Flash | Insta-Shield | Propeller Flying | Spin Jump | Spin Dash | Spin Attack | Wall Climb
Items
Air Bubbles | Balloon | Banana | Bomb | Booster | Bumper | Bumper wall | Cannon | Capsule | Change | Chaos Emerald | Cloud | Continue | Fan | Jump Stand | Monitor (Water Shield, Flame Shield, Invincibility, Lightning Shield, Super Ring, Power Sneakers, Extra Life, S, Eggman) | Movable box | Mushroom | Pulley | Ring | Signpost | Self-Propelled Bomb | Slow-Down Shoes | Snowboard | Sphere | Spikes | Spring | Spinning Top | Star Post (Star Circle) | Super Emerald | Switch | Transport | Zip Line
Other
Angel Island | Barrel | Blue Knuckles | Conveyor Belt | Corkscrew loop | Crusher | Debug Mode | Fireball Cannon | Flipper | Flywheel | Freeze | Giant spear | Goal | Gravity Control Switch | Gumball | High-speed elevator | High-speed warp tube | Icicle | Jewel Radar | Perfect Bonus | Platform-raising Wheel | Pole Elevator | Relief | Reverse | Ring Shooter | Seesaw | Shuttle loop | Slot Machine | Snowblower | Sonic & Knuckles • Sonic the Hedgehog 3 | Spiked ball | Strange Relief | Tornado | Tunnelbot | Warp Point | Winding Tunnel | Wonderman