This article is about a subject in the real world.
Information in this article is about real-life people, companies, and objects, and does not relate to the in-universe Sonic series.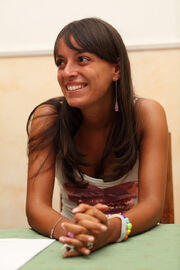 Perla Liberatori (born in Rome, Italy on 10 November 1981) is an Italian voice actress. She was the voice of Young Sally in the Italian dub of Sonic the Hedgehog. She was only twelve years old when she did took on this role. She also voiced Molly in the Italian dub of Sonic X
Other voice work
Marie in The Aristocats (1985 dub)
Olivia Kendall in Cosby Show (after Gemma Donati)
Olivia in The Great Mouse Detective
David in Dwarves, Crows, & Vultures, Dwarves, Crows & Vultures 2: Glasses Crow Goes North, Dwarves, Crows, & Vultures 3: Little Crow Lost, Dwarves, Crows, & Vultures 4: Lost in Time, The Dwarves', The Crows', and The Vultures' Wishes, Dwarves, Crows, & Vultures and The Magic Rock, Dwarves, Crows, & Vultures: Adventures in Florida, and The Dwarves, Crows, & Vultures Caper
Anne-Marie in All Dogs Go to Heaven
Flora in Babar, Babar: The Movie, and Babar: King of The Elephants
Chloe in Madeline (the animated series)
Young Nala in The Lion King
Baby Bug in Thumbelina
D.W. in Arthur
Bubbles in The Powerpuff Girls and The Powerpuff Girls Movie
Melody in The Little Mermaid II: Return to the Sea
Annette in Lady and the Tramp II: Scamp's Adventure
Charlotte Lewis in Lost
Inez in Cyberchase
Andrina in The Little Mermaid III: Ariel's Beginning
Iridessa in Tinker Bell, Tinker Bell and The Lost Treasure, Tinker Bell and The Great Fairy Rescue, Tinker Bell and the Pixie Hollow Games, and Tinker Bell and the Mysterious Winter Woods
Ad blocker interference detected!
Wikia is a free-to-use site that makes money from advertising. We have a modified experience for viewers using ad blockers

Wikia is not accessible if you've made further modifications. Remove the custom ad blocker rule(s) and the page will load as expected.