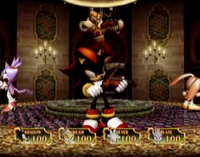 Play! Violin is one of the minigames in the Party Mode of Sonic and the Secret Rings.
Controls
The player/s must hold the/ir Wii Remote/s in a vertical position akin to a bow for a violin, pulling down or pushing up to mimic bow movements in order to replicate the tune played by the Djinn.
Gameplay
A Djinn plays a tune on a violin, and each player must do their best with timing movements and how long each movement is to replicate the tune played by the Djinn.
Tips
This game is not about speed, it is about precision and how well you can repeat something by ear.
Ad blocker interference detected!
Wikia is a free-to-use site that makes money from advertising. We have a modified experience for viewers using ad blockers

Wikia is not accessible if you've made further modifications. Remove the custom ad blocker rule(s) and the page will load as expected.