This article is about a real-life person.
Information in this article is about real-life people, companies, and objects, and does not relate to the in-universe Sonic series.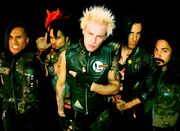 Powerman 5000 is an American heavy metal band. They performed the song "Almost Dead" for the game Shadow the Hedgehog. Their most popular for their song "When Worlds Collide."
Trivia
Spider one, the band's lead singer, is the younger brother of Rob Zombie.
External links
Ad blocker interference detected!
Wikia is a free-to-use site that makes money from advertising. We have a modified experience for viewers using ad blockers

Wikia is not accessible if you've made further modifications. Remove the custom ad blocker rule(s) and the page will load as expected.