This article contains information about a

future release

.
The content of the article may change dramatically as more information becomes available. Any information added to the article without a reliable source may be deleted without warning.

An upcoming game installment in the Sonic the Hedgehog series under the production title Project Sonic 2017 is set to be released during the holidays of 2017. The game will be developed by Sonic Team and was first mentioned at the Tokyo Joypolis Sonic 25th party on 25 June 2016.[1] At the end of the Sonic 25th anniversary party on 22 July 2016, they released the first teaser. The game will mark the return of the collaboration between both Classic Sonic and Modern Sonic since the twentieth anniversary game Sonic Generations. Despite initial popular belief though, this title is not a sequel to previous games.[2]
Characters
Reception
The International Business Times praised Sega's approach of announcing and releasing the duo of Project Sonic and Sonic Mania in the same year, stating that catering to the new fans with Project while catering to the old-school fans with Mania could help repair the series's poor reputation with more recent releases, and in turn lead to a "Sonic renaissance".[3]
Trivia
This is one of the first games to be announced for the Nintendo Switch, as well as the second third-party title announced for the system.
Gallery
Videos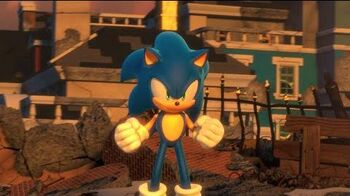 References
| | |
| --- | --- |
| 1991-1997 | Sonic the Hedgehog (1991, Sega Genesis) • Sonic the Hedgehog 2 (1992, Sega Genesis) • Sonic the Hedgehog CD (1993, Sega CD) • Sonic the Hedgehog 3 (1994, Sega Genesis) • Sonic & Knuckles (1994, Sega Genesis) |
| 1998-2004 | Sonic Adventure (1998, Dreamcast) • Sonic Adventure 2 (2001, Dreamcast) • Sonic Heroes (2003, multi-platform) |
| 2005-2009 | Shadow the Hedgehog (2005, multi-platform) • Sonic the Hedgehog (2006, multi-platform) • Sonic Unleashed (2008, multi-platform) |
| 2010-2016 | Sonic the Hedgehog 4: Episode I (2010, multi-platform) • Sonic Colors (2010, multi-platform) • Sonic Generations (2011, multi-platform) • Sonic the Hedgehog 4: Episode II (2012, multi-platform) • Sonic the Hedgehog 4: Episode Metal (2012, multi-platform) • Sonic Lost World (2013, multi-platform) |
| Upcoming | Sonic Mania (2017, multi-platform) • Project Sonic 2017 (2017, multi-platform) |