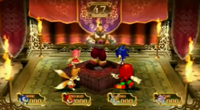 Pull on it! Carpet is a minigame that appears in the Party Mode of Sonic and the Secret Rings.
Controls
Hold the Wii Remote in vertical position. Move it backwards to pull back the carpet.
Gameplay
Each player stands on a side of a box covered with carpets, while Kri Ma Djinn is on top of the box. While the Djinn is dancing, he will at a point jump for a brief period of time. This moment allows the players to pull the carpet from beneath him while he is at air. However, if a player pulls on the carpet while Kri Ma Djinn is on top of the box, the Djinn will fall on him or her, allowing a chance to get many carpets at once for the other three players. The player that has pulled the most carpets wins the minigame.
Tips
Do not pull when Pri Ma Djinn is on the carpet.
Ad blocker interference detected!
Wikia is a free-to-use site that makes money from advertising. We have a modified experience for viewers using ad blockers

Wikia is not accessible if you've made further modifications. Remove the custom ad blocker rule(s) and the page will load as expected.