This article is about a real-life person.

Information in this article is about real-life people, companies, and objects, and does not relate to the in-universe Sonic series.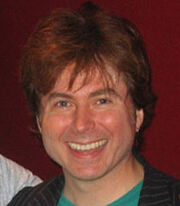 Quinton Flynn (born 10 October 1964) is an American voice actor who is the current voice of Silver the Hedgehog, replacing Pete Capella. The fact that Quinton had voiced Raiden from Metal Gear Solid series and Silver the Hedgehog has led many fans to joke that Silver is Raiden's "Hedgehog" form. 
Other roles
He is also known for his performances as Axel, and his counter part, Lea, from the Kingdom Hearts series, Jack (Codename: Raiden) from Metal Gear Solid 2: Sons of Liberty, Metal Gear Solid 4: Guns of the Patriots, and Metal Gear Rising: Revengence, Reno from Final Fantasy VII and as Henry from No More Heroes. He did the voice of Timon in some season one episodes of The Lion King's Timon & Pumbaa (a spin-off of The Lion King). Another role of his was Sheldon in My Life as a Teenage Robot. He has also done voices roles in many different anime, such as Iruka in Naruto, Kon in Bleach, Dr. Riddles in Zatch Bell and Hal Oini in Bobobo-bo Bo-bobo.
External links
---
Main article | Gallery | Staff | Scripts (Introduction, Team Heroes, Team Babylon, Team Dark, Team Rose, Final Race)
| | |
| --- | --- |
| Characters | Sonic (Super Sonic) | Tails | Knuckles | Jet | Wave | Storm | Amy | Cream | Vector | Shadow | Rouge | E-10000B | E-10000G | Silver | Blaze | Dr. Eggman | Metal Sonic | Xbox Live Avatar |
| Courses | Dolphin Resort | Rocky Ridge | Frozen Forest | Metropolis Speedway | Magma Rift | Forgotten Tomb | Final Factory | Metal City |
| Extreme Gears | Angel • Devil | Auto-Slider | Avatar-F | Avatar-M | Beginner | Black Shot | Blue Star | Chaos Emeralds | E-Gear | E-Rider | Explosion | Fastest | Flame Lance | Fortress | Gambler | Hang-On | Hard-Boiled | High Booster | Legend | Metal Star | Omnitempus | Pink Rose | Potential | Professional | Psychic Wave | Red Rock | Reserve Tank | Smile | Steel | Super Hang-On | Temptation | The Crazy | Turbo Star | Type-J | Type-S | Type-W | Wanted | Yellow Tail |
| | Air Plus | Air Ride Skill | Air Saver | Big Air | Cornering UP | Durability UP | Extra Air | Grind Skill | Invisible | Item Lock: Air | Item Lock: Rings | Max Speed UP | Music Change 1 | Music Change 2 | Power Skill | Rapid Dash | Rapid Stream | Ring Eater | Start Speed UP | Trick Boost |
| Moves and techniques | Air Ride | Attacks | Grinding | Kick Dash | Trick Action |
| English voice actors | Roger Craig Smith (Sonic) | Mike Pollock (Eggman) | Kate Higgins (Tails, Wave) | Travis Willingham (Knuckles, Storm) | Mike Mycheck (Jet) | Kirk Thornton (Shadow) | Karen Strassman (Rouge) | Wally Wingert (E-10000B, E-10000G) | Cindy Robinson (Amy) | Michelle Ruff (Cream) | Keith Silverstein (Vector) | Quinton Flynn (Silver) | Laura Bailey (Blaze, Omochao) |
| Japanese voice actors | Jun'ichi Kanemaru (Sonic) | Ryō Hirohashi (Tails) | Nobutoshi Kanna (Knuckles) | Daisuke Kishio (Jet) | Chie Nakamura (Wave) | Kenji Nomura (Storm) | Koji Yusa (Shadow) | Rumi Ochiai (Rouge) | Taeko Kawata (Amy) | Sayaka Aoki (Cream) | Etsuko Kozakura (Omochao) | Kenta Miyake (Vector) | Daisuke Ono (Silver) | Nao Takamori (Blaze) |
| Other | Air | Air Gauge | Barricade | Bobsled | Break Free: Sonic Free Riders Original Soundtrack | Catapult | Dash Ring | Free | Grind Rail | I'm Still a Believer | Item Box (Bowling Strike, Free Throw, Octo-Boost, Octo-Ink, Ring Can, Soda Rocket, Target Torpedo, Tee Shot) | Minecart | Shake It Baby | Shake It, Don't Break It | Time Attack | World Grand Prix |