This article is about a subject in the real world.
Information in this article is about real-life people, companies, and objects, and does not relate to the in-universe Sonic series.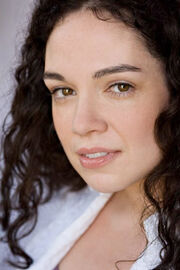 Rachael Lillis, also spelled Rachel Lillis (born 8 July 1978), is an American voice actress who works on the premise of 4Kids Entertainment and Central Park Media.
Filmography
Lillis's voice work can be heard in shows including Pokémon (seasons 1-8, most famously voicing Jessie, Misty and Jigglypuff), Cubix, Teenage Mutant Ninja Turtles, and Revolutionary Girl Utena. She has also lent her voice to video games. She has recorded several audio books including Diary of a Fairy Godmother, for which she performed the voices for about 25 characters. Her narration and character vocals can be heard in PBS programming as well, including Nova, American Masters and Sesame Street.
Credits
Voice acting
References
External links
Former English Voice Actors