You may be looking for Rexxon.
The Rexon (ザウラ, Zaura?) is a recurring enemy in the Sonic the Hedgehog series. It is a mass-produced dinosaur-based Badnik created by Dr. Eggman that reside in lava pools and shoot its targets with energy projectiles.
Appearance
Rexons are Plesiosaur-looking Badniks whose armored carapace can withstand the immense heat of their domain. Their backside (or shell) is indestructible. Their plating is light purple and light grey.
Game appearances
Sonic the Hedgehog 2

In their first appearance in Sonic the Hedgehog 2, Rexons only appear in the lava pools of Hill Top Zone. When the player gets near, the Rexons' head and neck will pop out of the lava and start shooting energy projectiles at the player from one position while their necks stay in motion. However, since the Rexons do not change their heads' direction, it is easy to defeat them from behind using the Spin Jump.
Since their body is invulnerable, the player must attack the Rexons' head. When successfully struck, the Rexons' head and neck will collapse while their main body is left behind to float in the lava pool. Since the playable characters will not take damage from touching the Rexons' main body, the player can use it as a stepping stone in the lava pools for purposes like getting closer to the Rexon's head to beat it.
Sonic Blast
In Sonic Blast, Rexon-looking Badniks appear in Red Volcano Zone Act 1. These Badniks are red instead of purple and do not appear that often. Similar to the Rexons in Sonic the Hedgehog 2, these Badniks emerge from lava pools and will shoot projectiles at the player when they get close, while steadily moving around in only one position. However, only their heads appear while their main body seemingly remains beneath the lava.
Like the Rexons, these Badniks do not charge the direction of their heads after coming out of the lava, making the easy to defeat. Also, like in every Game Gear/Master System game, these Badniks do not have Animals inside them.
Sonic Rivals 2
In Sonic Rivals 2, the Rexon appears as a collectible card which can be earned from getting the high score for the Egg Liner in Blue Coast Zone.
Sonic Mania
In Sonic Mania, the Rexons returned as enemies in Lava Reef Zone Act 2.
Powers and abilities
The Rexons retract into their shell until their sensors indicate an enemy presence. When a target is spotte,d their neck and head retracts and floats above the surface. Internal heat mechanisms allow the Rexons to spew dangerous fireballs from their mouths periodically. Despite their intimidating appearance, Sonic found ways to exploit their platform-like shells as a stepping stone to beating them.
In other media
Sonic the Hedgehog Yearbook 1992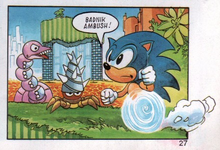 The Rexon made a small appearance in Sonic the Hedgehog Yearbook 1992' story "Space-Hedgehog" where it and a Spiker ambushed Sonic the Hedgehog, with Rexon shooting fireballs at him. After beating Robotnik, Sonic defeated both the Rexon and Spiker easily and released the animals inside them.
Sonic the Comic
In the Sonic the Comic series published by Fleetway Editions, the Balkeries are a part of Dr. Robotnik's Badnik army. They only appeared in Hill Top Zone where they ran Robotnik's operations from lava pools. Unlike most other Badniks in the comics, the Rexons retained a consistent design during the series' run.
Trivia
The Rexons' fins are never seen in gameplay due to their main body residing below the surface of lava pools where they are not visible.
In Sonic the Hedgehog Spinball, a similar but larger robot named Rexxon appears in the Toxic Caves, which would be somewhat of a successor to the Rexon when comparing its name and appearance.
The Rexon is seen in one of the winning fan arts in Sonic and the Black Knight.
Gallery
Artwork
Screenshots
---
Main article | Gallery | Staff | Prereleases (Nick Arcade | Simon Wai) | Re-releases (2006 | 2013) | Knuckles in Sonic 2
Characters
Sonic (Super Sonic) | Tails (Super Tails**) | Knuckles (Super Knuckles) | Dr. Robotnik | Animals (Becky, Cucky, Flicky, Pocky, Pecky, Cucky, Ricky, Pecky, Picky, Rocky, Locky, Wocky, Rat, Tocky)
Badniks
Aquis | Asteron | Balkiry | Banper* | BBat** | BFish* | Bubbler* | Bubbler's Mother* | Buzzer | Cactus* | Chop Chop | Clucker | Coconuts | Crawl | Crawlton | Flasher | Frog* | Gator* | Gohla | Grabber | Grounder | Jellies** | Lobster* | Masher | Nebula | Octus | Rexon | Shellcracker | Slicer | Snail* | Spiker | Spiny | Stegway** | Turtloids | Redz** | Whisp
Zones
Emerald Hill Zone | Chemical Plant Zone | Aquatic Ruin Zone | Casino Night Zone | Hill Top Zone | Mystic Cave Zone | Oil Ocean Zone | Metropolis Zone | Sky Chase Zone | Wing Fortress Zone | Death Egg Zone | Hidden Palace Zone** | Genocide City Zone* | Dust Hill Zone* | Rock Zone* | Wood Zone* | Egg Gauntlet Zone** | Boss Attack Zone** | Proto Palace Zone** | Special Stage
Bosses
Drill Eggman | Water Eggman | Tonkachi Eggman | Catcher Eggman | Submarine Eggman | Drill Eggman II | Hidden Palace Zone boss** | Submarine Eggman II | Flying Eggman | Barrier Eggman | Mecha Sonic | Death Egg Robot
Moves/techniques
Climb | Glide | Insta-Shield** | Propeller Flying | Spin Jump | Super Dash Attack | Super Spin Attack
Items
Ring | Monitor (Super Ring, Shield, Power Sneakers, Invincibility, Extra Life, Teleporter, Eggman, Lightning Shield**, Flame Shield**, Water Shield**, S**) | Continue | Spring | Star Post (Star Circle) | Bumper | Switch | Air Bubbles | Signpost | Capsule
Other
Bomb | Booster | Original Soundtrack | Bumper wall | Cannon | Chaos Emerald | Conveyor Belt | Corkscrew loop | Crusher | Debug Mode | Egg Jet | Fan | Flipper | Giant spear | Gondola | High-speed elevator | High-speed warp tube | Mega Mack | Metal nut | Perfect Bonus | Pinball Shooter | Seesaw | Shuttle loop | Slot machine | Spiked ball | Spikes | Stone pillar | Time Attack | Tornado | Totem pole | West Side Island | Winding Tunnel

*Exclusive to the prototype versions of Sonic the Hedgehog 2.
** Exclusive to the 2013 re-release version.
---
Main article | Gallery | Staff
| | |
| --- | --- |
| Playable characters | Sonic the Hedgehog (Super Sonic) | Miles "Tails" Prower (Super Tails) | Knuckles the Echidna (Super Knuckles) |
| Other characters | Dr. Eggman | Animals (Becky, Flicky, Locky, Pecky, Pocky, Rat, Ricky, Wocky) | Jimmy |
| Zones | Green Hill Zone | Chemical Plant Zone | Studiopolis Zone | Flying Battery Zone | Press Garden Zone | Stardust Speedway Zone | Hydrocity Zone | Mirage Saloon Zone | Oil Ocean Zone | Lava Reef Zone | Metallic Madness Zone | Titanic Monarch Zone | Egg Reverie Zone | Special Stage | Bonus Stage |
| Enemies | Asteron | Aquis | Ball Hog | Balkiry | Bat Brain | Bigbom | Blaster | Blastoid | Bombbearer | Bugernaut | Buzz Bomber | Catakiller, Jr. | Caterkiller | Chopper | Clucker | Crabmeat | Dango | Dragonfly | Eggrobo | Fireworm | Gohla | Grabber | Hotaru | Iwamodoki | Jawz | Jellies | Kabasira | Kanabun | Mecha-Bu | Moto Bug | Nebula | Newtron | Octus | Poh-Bee | Pointdexter | Rexon | Roller | Scarab | Spiny | Splats | TechnoSqueek | Toxomister | Turbo Spiker | Turtloids |
| Bosses | Death Egg Robot | Hard-Boiled Heavies (Heavy King, Heavy Gunner, Heavy Shinobi, Heavy Magician, Heavy Rider) | Metal Sonic | Egg Reverie |
| Moves/techniques | Bound Jump | Climb | Drop Dash | Fireball Spin Dash | Glide | Insta-Shield | Propeller Flying | Spin Dash | Spin Attack | Spin Jump | Super Peel Out |
| Gimmicks and obstacles | Breakable Block | Bumper | Bumper wall | Capsule | Catapult | Dash Panel | Fan | Flipper | Goal Plate | High-speed warp tube | Platform-raising Wheel | Pulley | Seesaw | Size Beam | Spiked ball | Spikes | Spring | Star Post | Switch | Zip Line |
| Objects | Air Bubbles | Chaos Emerald | Giant Ring | Little Planet flowers | Master Emerald | Metal Sonic Projector | Monitor (Aqua Shield, Combine Ring, Eggman Mark, Flame Shield, Invincibility, Power Sneakers, S, Shield, Super Ring, Thunder Shield) | Phantom Ruby | Ring | Robot teleporter | Sphere | Star Circle | Time Warp Plate | UFO | Warp Point |
| Soundtrack | Checkpoint | Time Trials | Friends |
| Other | Angel Island | Continue | Debug Mode | Freeze | Level Select | Little Planet | Mega Mack | Perfect Bonus | Shuttle loop | Time Attack | Time Over | Tornado | Winding Tunnel |