Ad blocker interference detected!
Wikia is a free-to-use site that makes money from advertising. We have a modified experience for viewers using ad blockers

Wikia is not accessible if you've made further modifications. Remove the custom ad blocker rule(s) and the page will load as expected.
Rhinotank (リノタンク, Rinotanku?),[1] also known as the E-02 Rhinotank,[citation needed] is a recurring enemy in the Sonic the Hedgehog series. It is a mass-produced, rhinoceros-based E-Series model created by Dr. Eggman.
Appearance
Rhinotanks are based on rhinoceros, and possess turquoise and gray armor. They are bulky robots with motor engines on their backs, a pair of black tracks on each side, small ears and a yellow horn on their noses. Above each of their tracks are also grey frames with yellow and black hazard stripes.
In Sonic Advance, the Rhinotanks were slight modified. Here, they lack ears and back engines, they have two horns on their heads instead of one, and they have only a single track that rises up horizontally from behind.
Game appearances
Sonic Adventure
First appearing in Sonic Adventure and Sonic Adventure DX: Director's Cut, Rhinotanks are encountered in the following Action Stages for each character:
In gameplay, Rhinotanks move around the terrain until they notice the player when they get nearby. They will then slowly start charging towards the player in a straight line. The player can easily dodge their attack and use the Spin Jump, Homing Attack or gun fire to defeat them.
Sonic Advance

In Sonic Advance. Rhinotanks are encountered in the Neo Green Hill Zone and Angel Island Zone. In this game, their attack patterns are similar to the RhinoBots' in Sonic the Hedgehog 3. Usually rolling back and forth, they will start charging towards the playable characters when they get close. Using the Spin Jump, Spin Attack, Spin Dash or melee moves will defeat a Rhinotank easily.
Sonic Rivals
The Rhinotank made an appearance in Sonic Rivals as one of the collectible cards in the game, They player can collect this card randomly from racing in Story and Challenge Modes.
Sonic Generations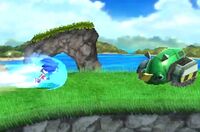 In the Nintendo 3DS version of Sonic Generations, Rhinotanks appear again as enemies in Emerald Coast. Much like in Sonic Adventure, they either appear alone on in groups and will slowly move back and forth until they notice Sonic, upon where they will slowly charge towards him. However, it is easy to attack a Rhinotank before it charges by using the Spin Jump or Homing Attack. Alternatively, the player can just dash through them with the Boost.
Powers and abilities
Rhinotanks possess sharp horns that are capable skewing an opponent.
See also
Gallery
Screenshots
References
---
Main article | Gallery | Beta Elements | Staff | Re-releases (DX | 2010)
Characters
Sonic (Super Sonic) | Tails | Knuckles | Amy | E-102 Gamma | Big | Eggman | Chaos (Chaos 1, Chaos 2, Chaos 4, Chaos 6, Perfect Chaos) | Froggy | Tikal | Pachacamac | Grandma | Chao | Metal Sonic* | Cream* | Mr. Know-It-All | Unnamed Sonic robot* | Chao | Flickies | Animals (Deer, Elephant, Gorilla, Kangaroo, Koala, Lion, Mole, Parrot, Peacock, Penguin, Rabbit, Seal, Sea Otter, Skunk, Swallow)
Enemies
Beat | Bladed Spinner | Boa Boa | Buyoon | Cart Kiki | Cop Speeder | Egg Keeper | Electro Spinner | Gola | Ice Ball | Kiki | Leon | mechanical fish | Pirate | Rhinotank | Spiky Spinner | Sweeper
E-100 Series
Beta (Mark II) | Gamma | Delta | Epsilon | ZERO | Zeta
Locations
Adventure Fields
Egg Carrier | Mystic Ruins | Station Square
Chao Gardens
Station Square Garden | Mystic Ruins Garden | Egg Carrier Island
Misc.
Angel Island | Black Market | Chao Stadium | Shrine of Knuckles's race | Tails' Lab
Action Stages
Emerald Coast | Windy Valley | Casinopolis | IceCap | Sky Chase | Twinkle Park | Speed Highway | Red Mountain | Sky Deck | Lost World | Hot Shelter | Sand Hill | Twinkle Circuit | Final Egg
Bosses
Chaos 0 | Chaos 2 | Chaos 4 | Chaos 6 | E-101 Beta | E-101 Mark II | E-102 Gamma | E-103 Delta | E-104 Epsilon | E-105 Zeta | Egg Carrier | Egg Hornet | Egg Viper | Egg Walker | Knuckles the Echidna | Perfect Chaos | Sonic the Hedgehog | ZERO
Moves/techniques
Bolt of lightning | Climb | Dig | Double Punch | Flight Mode | Propeller Flight | Glide | Hammer Attack | Hammer Jump | Hover | Homing Attack | Instantaneous Liquefaction | Homing Missile Launch | Inhale Attack | Jump Attack | Laser Gun | Light Speed Attack | Light Speed Dash | Lure Attack | Marble Attack | Maximum Heat Knuckles Attack | Pick | Punch Attack | Rapid Tails Attack | Spin Hammer Attack | Spin Dash | Spin Jump | Squash Roll Attack | Tails Attack

Level Up Items

Ancient Light | Crystal Ring | Fighting Gloves | Jet Anklet | Jet Booster | Laser Blaster | Life Belt | Light Speed Shoes | Long Hammer | Lure | Power Rod | Rhythm Badge | Shovel Claw | Warrior Feather
English voice actors
Ryan Drummond (Sonic) | Corey Bringas (Tails) | Michael McGaharn (Knuckles) | Deem Bristow (Eggman) | Jennifer Douillard (Amy) | Jon St. John (Big) | Elara Distler (Tikal, Station Square Train Voice, Default Menu Voice) | Steve Broadie (Gamma, Pachacamac, Mystic Ruins Train Voice) | Tomoko Sasaki (Chao)
Japanese voice actors
Jun'ichi Kanemaru (Sonic) | Kazuki Hayashi (Tails) | Nobutoshi Kanna (Knuckles) | Chikao Ōtsuka (Eggman) | Taeko Kawata (Amy) | Shun Yashiro (Big) | Kaori Asō (Tikal) | Jōji Nakata (Gamma) | Tōru Ōkawa (Pachacamac) | Kaho Kōda (Station Square Train Voice) | Nobutoshi Kanna (Mystic Ruins Train Voice) | Elara Distler (Default Menu Voice) | Tomoko Sasaki (Chao)

Original Soundtrack

/

Remix

/

Vocal Mini Album

/

20th Anniversary

/

Passion & Pride

Believe In Myself | It Doesn't Matter | Lazy Days | My Sweet Passion | Open Your Heart | Unknown from M.E.

Other
777 Slots Pinball | Air Bubbles | Auto Running | Bumper | Bumper Car | Cannon | Capsule | Card & Pinball | Cart pass | Chao Egg | Chaos Emerald | Chao in Space | Chao Machine | Chao Search* | Conveyor Belt | Corkscrew loop | Crank | Dash Panel | Dash Ring | Debug Mode | Doll | Drum Can | Egg Carrier | Egg Carrier 2 | Emblem | Emerald Radar | Emerald Shard | Employee ID Card | Fan | Flipper | Fountain | Goal Balloon | Hanging Bell | Hedgehog Hammer | Helicopter | Hint Box | Icicle | Item Box (Bomb, Extra Life, Invincibility, Lightning Shield, Power Sneakers, Shield, Super Ring) | Jump Panel | Key Stone (Gold Statue, Ice Stone, Silver Statue, Wind Stone) | Laser Field Block | Life gauge | Lit Panel | Mirror | Mission Mode | Monkey Detonation Switch | Mystic Ruins | Pinball Shooter | Power cube | Ramp | Ring | Rocket | Sandboard | Satellite | Shrine of Knuckles's race | Shuttle loop | Sky Chase Dragon | Slot Machine | Snowboard | Sonic Token | Station Square | Station Square Police Department | Switch | Teleporter | Tornado | Tornado 2 | Transporter Machine | Trick Jump Panel | Wide Spring | Wind Path | Zip Line

*Exclusive to Sonic Adventure DX: Director's Cut.
---
Main article | Beta elements | Gallery | Staff | Re-releases (SonicN | Android)
| | |
| --- | --- |
| Characters | Sonic | Tails | Knuckles | Amy | Eggman | Chao | Gold Chao | Animals (Deer, Elephant, Kangaroo, Koala, Lion, Mole, Parrot, Penguin, Rabbit, Seal, Sea Otter, Skunk, Swallow) | Flicky | Ricky | Pocky | Picky |
| Zones | Neo Green Hill Zone | Secret Base Zone | Casino Paradise Zone | Ice Mountain Zone | Angel Island Zone | Egg Rocket Zone | Cosmic Angel Zone | X-Zone | The Moon Zone | Special Stage |
| Bosses | Egg Hammer Tank | Egg Press | Egg Ball | Egg Spider | Mecha Knuckles | Egg Snake | Egg Mobile-H | Egg Mobile-D | EGG X | Super Egg Robot |
| Enemies | Buzzer | Drisame | GamiGami | Hanabii | Kero-Kero | Kiki | Kura | Leon | Mirror | Mogu | Oct | Pen | Pierrot | Rhinotank | Senbon | Slot | Tentou | Wamu | Yukimaru |
| Moves/technique | Climb | Glide | Hammer Attack | Hammer Jump | Hammer Whirl | Jump Dash | Giant Steps | Insta-Shield | Jump Attack | Propeller Flying | Skid Attack | Spin Attack | Spin Dash | Super Sonic Boost | Somersault | Tail Swipe |
| Objects | Balloon | Capsule | Conveyor Belt | Dash Panel | Flipper | Goal Plate | Grind Rail | Item Box (Blind, Brake, Confusion, Extra Life, Invincibility, Magnetic Barrier, Power Sneakers, Shield, Super Ring, Transparency, Warp) | Pole | Ring | Special Spring | Spikes | Spring | Star Post |
| Other | Barrel | Bumper wall | Chao Search | Continue | High-speed warp tube | Moon | Pulley | Shuttle loop | Time Attack | Tiny Chao Garden | Time Over | Tornado | Trick Point | Winding Tunnel | Zip Line |