This article's subject exists primarily within the Adventures of Sonic the Hedgehog continuity.
Information in this article may not be canonical to the storyline of the games or any other Sonic continuity.
Roboticization is a subject that appears in the Adventures of Sonic the Hedgehog franchise. It is the process utilized by Dr. Ivo Robotnik by which an organic creature is converted into a robotic being. This can be accomplished with the Robot-Transmogrifier or the mean bean-streaming machine.
Description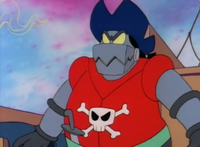 Physically speaking, the process of Roboticization converts living tissue into machinery: all body parts are transformed into mechanical equivalents. No means of reversing the Roboticization effect have been revealed. Roboticized subjects will lose their free will as a result of roboticization, becoming obedient automatons subservient to Dr. Ivo Robotnik.[1][2] Whether it is possible to restore the roboticized subjects' mental capabilities while the bodies remain robotic is unknown.
History
TV series
Using his Robot-Transmogrifier, Dr. Ivo Robotnik would roboticize several individuals during his search for the Chaos Emeralds to quickly gain sufficient henchmen.[1][3]
Games
Dr. Robotnik's Mean Bean Machine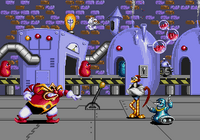 Having developed his mean bean-streaming machine, Dr. Ivo Robotnik began roboticizing the bean folk of Beanville for his evil purposes until his plans were put to a halt.
List of known roboticized subjects
Trivia
See also
References
Video games

Alf Layla wa-Layla | Baker | Burning Blaze | Chaos' forms (Chaos 1, Chaos 2, Chaos 4, Chaos 6, Perfect Chaos) | Color Power | Dark Queen | Dark Shadow | Darkspine Sonic | Devil Doom | Excalibur | Excalibur Sonic | Finalhazard | Gaia Colossus | Hero Shadow | Hyper Mode | Hyper Knuckles | Hyper Sonic | Master Core: ABIS | Mephiles' monstrous form | Nega-Mother Wisp | Neo Metal Sonic (Metal Madness, Metal Overlord) | Perfect Dark Gaia | Roboticization | Sonic the Werehog | Super transformation (Flicky's Super State, Mecha Sonic's Super State, Pir'Oth Ix's Super State, Super Knuckles, Super Shadow, Super Silver, Super Sonic, Super Tails, Ultimate Gemerl) | Ultimate Emerl | Void's transformation
Sonic the Comic
Perfect Chaos | Super Sonic (Mirror Zone)
Adventures of Sonic the Hedgehog
Roboticization | Super Robotnik | Supreme High Robotnik

Archie Comics

Pre-SGW
Chaos' forms (Chaos 6, Perfect Chaos) | Chaos Knuckles (Dark Mobius, Light Mobius) | Chaos Shadow | Crystalline Magic (Crystal Golem) | Enerjak (Dark Enerjak) | Finalhazard | Metal Overlord | Perfect Tikhaos | Roboticization (Blaze Woman, Charmy Man, Espio Man, Knuckles Man, Mecha Sally, Mecha Sonic, Rose Woman, Rouge Woman, Shadow Man, Silver Man, Tails Man, Vector Man) | Super transformation (Hyper Knuckles, Hyper Tails, Master Mogul, Super A.D.A.M., Super Armor Mega Man, Super Scourge, Super Shadow, Super Silver, Super Sonic (Dark Mobius, In Another Time, In Another Place), Turbo Tails, Ugly Naugus, Ultra Sonic (Eco Sonic, Polar Sonic, Solar Sonic)) | Titan Metal Sonic | Titan Tails | Werehog
Post-SGW
Burning Blaze | Chaos Shadow | Crystalmancy (Crystal Omega, Crystal Sonic) | Devil Doom | Monster Form | Neo Metal Sonic (Metal Overlord) | Overclocked Nicole | Perfect Chaos | Perfect Dark Gaia | Roboticization (Blaze Woman, Charmy Man, Espio Man, Knuckles Man, M'egga Man, Rose Woman, Rouge Woman, Shadow Man, Silver Man, Sonic Man, Tails Man, Vector Man) | Sonic the Werehog | Super transformation (Super Armor Mega Man, Super Shadow, Super Silver, Super Sonic)
Sonic X
Chaos' forms (Chaos 2, Chaos 4, Chaos 6, Chaosbot, Perfect Chaos) | Cosmo's transformation | Dark Sonic | Final Lizard | Final Mova | Serpenter | Super Shadow | Super Sonic

Miscellaneous

Chaos Dingo | Regeneration | Roboticization (SatAM, Sonic Underground)