Ad blocker interference detected!
Wikia is a free-to-use site that makes money from advertising. We have a modified experience for viewers using ad blockers

Wikia is not accessible if you've made further modifications. Remove the custom ad blocker rule(s) and the page will load as expected.
This exists primarily or exclusively within the Post-Super Genesis Wave continuity.
Information in this article may not be canonical to the storyline of the games or any other Sonic continuity.
For the subject before the Super Genesis Wave, see Roboticization (Pre-Super Genesis Wave).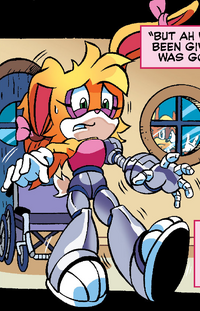 Roboticization is a subject that appears in the Sonic the Hedgehog comic series and its spin-offs published by Archie Comics. It is the process by which an organic creature is converted into a robotic being. This is usually accomplished by a Roboticizer; the reversal of the process is simply called deroboticization.
Description
Physically speaking, the process of roboticization converts living tissue into machinery: all body parts are transformed into mechanical equivalents. Due to the transformation, roboticized subjects typically possess increased strength, extra features and other abilities, as in the cases of Bunnie D'Coolette.[1]
Roboticized beings-at least when made so by Eggman-lost all free will and independent thought, and became solely subservient to the evil doctor. While Eggman enjoyed the obedience displayed by these subjects, even he would admit that they were somewhat lacking in terms of original idea and personality.[2]
History
Professor Charles the Hedgehog developed the roboticization process to save lives, particularly from life-threatening injuries or conditions. It took him some time to develop, and unfortunately was not viable in time to save the life of Nikki. However, he was able to use it to save the life of Bunnie Rabbot, who suffered grave injuries during the Eggman Invasion.[1][3]
Dr. Eggman would later usurp the roboticization process for his own twisted ends, using it to turn Mobians into obedient slaves to serve him as laborers and troops.[4] However, by some means the process appears to have been at some point rendered ineffective, though the possibility of it becoming viable again remained a source of fear for Eggman's underlings, such as Egg Boss Axel the Water Buffalo.[5][2]
Eventually, Dr. Eggman came up with a new approach to Roboticization. This version of the process is still highly experimental, so Maw the Thylacine and his Egg Army unit were given the task of running many tests on at least one unlucky individual using it.[6]
List of known roboticized subjects
Trivia
The roboticization process is based on the Sonic the Hedgehog video game series' concept of roboticization, where an Animal is forcibly stored inside a robot shell and is used as its respective power supply. Unlike the extremely difficult process of de-roboticizing in the comics, the restoration process for Animals in the games is done by merely breaking open the robot to free its captive within.
See also
References
External links
Video games

Alf Layla wa-Layla | Baker | Burning Blaze | Chaos' forms (Chaos 1, Chaos 2, Chaos 4, Chaos 6, Perfect Chaos) | Color Power | Dark Queen | Dark Shadow | Darkspine Sonic | Devil Doom | Excalibur | Excalibur Sonic | Finalhazard | Gaia Colossus | Hero Shadow | Hyper Mode | Hyper Knuckles | Hyper Sonic | Master Core: ABIS | Mephiles' monstrous form | Metal Sonic Kai's transformation | Nega-Mother Wisp | Neo Metal Sonic (Metal Madness, Metal Overlord) | Perfect Dark Gaia | Roboticization | Sonic the Werehog | Super transformation (Flicky's Super State, Mecha Sonic's Super State, Pir'Oth Ix's Super State, Super Knuckles, Super Shadow, Super Silver, Super Sonic, Super Tails, Ultimate Gemerl) | Ultimate Emerl | Void's transformation
Sonic the Comic
Perfect Chaos | Super Sonic
Adventures of Sonic the Hedgehog
Roboticization | Super Robotnik | Supreme High Robotnik

Archie Comics

Pre-SGW
Chaos Knuckles (Dark Mobius, Light Mobius) | Chaos Shadow | Crystalline Magic (Crystal Golem) | Enerjak (Dark Enerjak) | Finalhazard | Metal Overlord | Perfect Chaos | Roboticization (Blaze Woman, Charmy Man, Espio Man, Knuckles Man, Mecha Sally, Mecha Sonic, Rose Woman, Rouge Woman, Shadow Man, Silver Man, Tails Man, Vector Man) | Super transformation (Hyper Knuckles, Hyper Tails, Master Mogul, Super A.D.A.M., Super Armor Mega Man, Super Scourge, Super Shadow, Super Silver, Super Sonic (Dark Mobius, In Another Time, In Another Place), Turbo Tails, Ugly Naugus, Ultra Sonic (Eco Sonic, Polar Sonic, Solar Sonic)) | Titan Metal Sonic | Titan Tails | Werehog
Post-SGW
Burning Blaze | Chaos Shadow | Crystalmancy (Crystal Omega, Crystal Sonic) | Devil Doom | Monster Form | Neo Metal Sonic (Metal Overlord) | Overclocked Nicole | Perfect Chaos | Perfect Dark Gaia | Roboticization (Blaze Woman, Charmy Man, Espio Man, Knuckles Man, M'egga Man, Rose Woman, Rouge Woman, Shadow Man, Silver Man, Sonic Man, Tails Man, Vector Man) | Sonic the Werehog | Super transformation (Super Armor Mega Man, Super Shadow, Super Silver, Super Sonic)
Sonic X
Chaos' forms (Chaos 2, Chaos 4, Chaos 6, Perfect Chaos) | Cosmo's transformation | Dark Sonic | Final Lizard | Final Mova | Serpenter | Super Shadow | Super Sonic

Miscellaneous

Chaos Dingo | Regeneration | Roboticization (SatAM, Sonic Underground)