This article is about a subject in the real world.
Information in this article is about real-life people, companies, and objects, and does not relate to the in-universe Sonic series.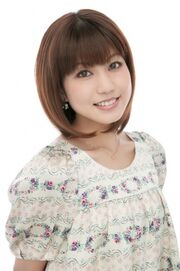 Ryōko Shiraishi (白石涼子, Shiraishi Ryōko?, born 9 September 1982) is a seiyū from Nara, Japan who works for Aoni Production. Due to her low and gentle voice, she is commonly typecast as either the effeminate and kind young man or the sexually-mature but sweet-and-sensitive supporting lady. She voiced Chip in Sonic Unleashed.
Voice roles
Mila - Dead Or Alive 5 (2012)
Asuka Kazama - Tekken series (2005–Present)

Rem Tokimiya - Final Fantasy Type-0 (2011)

Fū - Naruto Shippuden: Ultimate Ninja Storm 3 (2013

)
Jay - Tales of Legendia (2005)

Sylph - Tales of Xillia (2011)

Hikage - Senran Kagura series (2011–Present)

Akibi (Kid) - One Piece (2003)

Chip - Sonic Unleashed (2008)
External links
Former Japanese Voice Actors
Ad blocker interference detected!
Wikia is a free-to-use site that makes money from advertising. We have a modified experience for viewers using ad blockers

Wikia is not accessible if you've made further modifications. Remove the custom ad blocker rule(s) and the page will load as expected.