Ryan Drummond
Talk

7
8,036pages on
this wiki
This article is about a subject in the real world.
Information in this article is about real-life people, companies and objects, and does not relate to the in-universe Sonic series.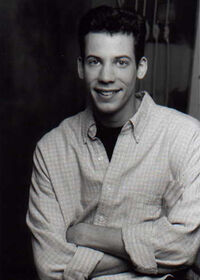 Ryan Drummond (born 10 January 1973)[1] is an American voice actor/entertainer who has voiced Sonic, as well as Metal Sonic and Knuckles in Sonic Shuffle. He was the voice for Sonic from Sonic Adventure to Sonic Advance 3.
Roles in the Sonic the Hedgehog series
Voice Actor Controversy
In 2003, 4Kids Entertainment acquired the US dubbing rights for the anime series Sonic X. In the Japanese version of Sonic X, all the video game voice actors (Seiyū) reprised their roles. Instead of using the established US video game voice actors, 4Kids hired their own in-house actors to provide the voice over for Sonic X. After unprofessional and questionable lack of communication, Ryan was then contacted by 4Kids employee Michael Haigney who was the producer of Sonic X. He claimed 4Kids could not use Ryan and the other video game voice actors, because they did not live in New York where 4Kids is headquartered. Ryan replied that he would have gladly relocated to New York at his own expense.[2] Instead, Ryan was replaced by Jason Griffith who voiced Sonic in Sonic X. Despite this, Drummond continued to provide the voice of Sonic in the Sonic the Hedgehog series until 2004, when Sega replaced all their Sonic voice actors with their 4Kids counterparts, in order to keep Sonic's voice the same in all media forms.
Sega never made an official announcement about the replacement. Instead, Drummond had to contact Sega to inquire about the voice over work for Shadow the Hedgehog. After hearing about his firing, Ryan informed fans via e-mail. His e-mail states that Sega of Japan hired the 4Kids voice actors in secret.[3] Former Sega of America (SOA) president Simon Jeffery confirms Sega of Japan controls all voice actors including those in the US.[4]
Adding to the controversy, Griffith's replacement in 2010, Roger Craig Smith, was simply offered the job by Sega[5] while Ryan and Jason auditioned and earned the role of Sonic the Hedgehog.[6][7] To this day, some fans are still angry about the voice actor change and want Ryan to voice Sonic again. Many fans still prefer Ryan's more energetic style, as opposed to Jason's calmer delivery and Roger's older voice.
In an interview, Drummond states that Sega gave him another chance to re-audition the Sonic role during the development of Sonic Generations, but he rejected the role because he wouldn't leave his talent union.[citation needed]
Trivia
He was to voice Sonic in Sonic Rush before the cast switch.
Despite sharing the same last name, Drummond is not related to Brian Drummond, another voice actor who worked on Sonic Underground. Ryan Drummond has one brother, Aaron Drummond, who is a writer.[8]
Ryan is a member of the A.Y.U. Quartet.
Ryan is good friends with David Humphrey, who was the voice of Shadow the Hedgehog. Ryan even said to have helped David get the role.
Ryan has stated there is no tension between him and Jason Griffith, and he thinks that he's a great guy.
Ryan Drummond's voice was used for Sonic in the Sonic Anniversary - Through the Ages trailer.
Ryan said in an interview Sonic Adventure is his favorite Sonic game.
Ryan is also a clown and a mime in San Francisco.
References
External links
Navigation Templates to Ryan Drummond
Sonic Heroes

Playable
characters
Team Sonic
Sonic | Tails | Knuckles
Team Rose
Amy | Cream | Cheese | Big
Team Dark
Shadow | Rouge | Omega
Team Chaotix
Espio | Charmy | Vector
Team Super Sonic
Super Sonic | Tails (Super Shield) | Knuckles (Super Shield)
Other characters
Eggman | Metal Sonic (Neo Metal Sonic) | Chocola | Froggy | Shadow Android
Enemies
Egg Pawn | Casino Pawn | Egg Knight | Egg Flapper | Cameron | Klagen | Egg Hammer | Heavy Egg Hammer | Falco | Egg Bishop | Egg Magician | Rhino Liner | E-2000 | E-2000R | Gold Cameron | Gold Klagen | Pumpkin-Head Ghosts

Stages

1P Stages
Sea Gate | Seaside Hill* | Ocean Palace | Grand Metropolis* | Power Plant | Casino Park | BINGO Highway* | Rail Canyon* | Bullet Station | Frog Forest* | Lost Jungle | Hang Castle | Mystic Mansion | Egg Fleet* | Final Fortress | Special Stage*
2P Stages
City Top | Casino Ring | Turtle Shell | Egg Treat | Pinball Match | Hot Elevator | Seaside Course | City Course | Casino Course | Road Rock | Mad Express | Terror Hall
2P Battle Mode
Action Race | Bobsled Race | Expert Race | Quick Race | Ring Race | Special Stage | Team Battles
Bosses
Egg Hawk | Team Battle 1 | Robot Carnival | Egg Albatross | Team Battle 2 | Robot Storm | Egg Emperor | Metal Madness | Metal Overlord
Moves/
Techniques
Speed
Manoeuvres
Homing Attack | Kick | Light Dash | Propeller Hammer | Rocket Accel | Shuriken | Spin | Swinging Hammer Attack | Tornado Jump (Black Tornado, Blue Tornado, Leaf Swirl, Tornado Hammer) | Triangle Jump
Power
Manoeuvres
Auto Homing | Body Press | Bubblegum Descent | Fire Combination | Fire Dunk | Fire Launcher | Fireball Jump | Forward Power Attack | Hammer Down | Jump Fire Knock | Jump Fireball | Remote Power Attack (Fireball, Fire Knock) | Triangle Dive | Umbrella Descent | Wide Power Attack (Big Fishing, Omega Arm, Vector Breath, Volcanic Dunk)
Fly
Manoeuvres
Ascending Flight | Cheese Attack | Dummy Ring Bomb | Sting Attack | Thunder Shoot | Quick Ascent
Team Blast
Sonic Overdrive | Chaos Inferno | Flower Festival | Chaotix Recital | Super Sonic Power
Other
Grinding | Jump Dash | Lightspeed Attack | Spin Jump
English Voice Actors
Ryan Drummond (Sonic, Metal Sonic) | Deem Bristow (Eggman) | William Corkery (Tails) | Scott Drier (Knuckles) | David Humphrey (Shadow) | Lani Minella (Rouge, Omochao) | Jon St. John (Omega, Big) | Jennifer Douillard (Amy) | Sarah Wulfeck (Cream) | Bill Corkery (Espio) | Marc Biagi (Vector) | Emily Corkery (Charmy)
Japanese Voice Actors
Jun'ichi Kanemaru (Sonic the Hedgehog, Metal Sonic) | Chikao Ōtsuka (Eggman) | Ryō Hirohashi (Tails) | Nobutoshi Kanna (Knuckles) | Kōji Yusa (Shadow) | Rumi Ochiai (Rouge) | Taiten Kusunoki (Omega) | Taeko Kawata (Amy) | Sayaka Aoki (Cream) | Takashi Nagasako (Big) | Yūki Masuda (Espio) | Kenta Miyake (Vector) | Yōko Teppōzuka (Charmy) | Etsuko Kozakura (Omochao)

OST

/

Vocal Trax

/

Official

/

20th Anniversary

Sonic Heroes | We Can | This Machine | Follow Me | Team Chaotix | What I'm Made of...
Other
Ball Switch | Bobsled | Bomb | Bull Train | Bumper | Cannon | Capsule | Cervix Tunnels | Chaos Emeralds | Character battles | Container | Conveyor Belt | Dash Panel | Dash Ring | Dummy Rings | Emblem | Flipper | Fly Type | Formation Change Gate | Gallery | Giant Frogs | Glowing Mushrooms | Goal Ring | Grind Rail | Haunted Towers | Hint | Item Box (Barrier, Fly Charge, High Speed, Invincible, Rings, Power Core, Team Blast Ring, 1 UP) | Kao | Palm Plants | Power Type | Pulley | Puzzle Game | Ranks | Ramp | Rings | Shuttle Loop | Slot Machine | Spear | Speed Type | Special Stage Key | Sphere | Spiderlight | Super Hard Mode | Super Shield | Switch | Team Blast Gauge | Team Chaotix Missions | Teleport Balls

*Stage is also playable in 2P Battle mode.
Former English Voice Actors