Orbot
Talk

28
6,677pages on
this wiki
Redirected from SA-55

Ergo, another repercussion of your hasty actions.

— Orbot
This article is about the comical robot from Sonic Unleashed and Sonic Colors. You could be looking for Orbinaut.
Orbot

Orbot is a comical non-playable robot who was created by Dr. Eggman.
Appearances
First appearance
Game
appearances
Real-world designer(s)
Creator
(real-world)
Voice actor(s)
English
voice actor(s)
Japanese
voice actor(s)
Biographical overview
Also known as

SA-55
Ergo
Buddy (by Cubot)

Family

Cubot (Cube counterpart)

Physical description
Species

Robot

Gender

N/A (Referred to as male)

Eyes

Blue (originally pink in Sonic Unleashed)

Alignment and character traits
Alignment

Evil

Likes

Eggman (to a degree)
Ordering Cubot around
Insulting Eggman
Seeing Eggman succeed

Dislikes

Eggman (to a degree)
Eggman ordering him around
Eggman not listening to him
Having to explain obvious jokes to Cubot
Orbot, also known as SA-55 or "Ergo", is a robot that debuted in Sonic Unleashed as an assistant to Doctor Eggman. He usually points out Eggman's mistakes and often somewhat insults him because of them. Orbot is a very small and round robot with the ability to retract into a travel sized sphere. His main function seems to be simply for relaying information to Dr. Eggman and making sure the processes of his plans are carried out correctly. His eye of efficiency may be what allows him to constantly criticize Eggman or inadvertently point out his flaws, however.
Physical Appearance
Edit
Orbot is a very small robot in comparison of Dr. Eggman's other creations and has a very simple design. He has a very round head with glowing eyes and mouth, his torso is compromised of a ball joint with thin metal bars and his end is the half of a sphere.
In Sonic Unleashed, Orbot is shown with red-painted hands, a white head top with pink eyes and a black-painted end, however, in Sonic Colors, Orbot displayed a new color scheme, now with his head painted red and light blue eyes.
Sonic UnleashedEdit
Orbot's first known appearance was in
Sonic Unleashed
, where his main role throughout the game was simply following his function: He relayed to Dr. Eggman the information he needed to know regarding how his plan was being carried out and did the mechanical processes that were needed to continue it. He was first heard in the first fight with the
Egg Cauldron
(if the Xbox 360 and PS3 versions are taken into account), and then first seen in a cutscene located in Mazuri where he ended up laughing at Dr. Eggman for being pegged in the face by a rock from
Kwod
(a kid from
Mazuri
in the
Xbox 360
version). He continued to act his usual critical and straightforward way throughout the game up until the very end. In the final cutscene with Eggman, he was seen being chased off into the sunrise by the angered Eggman after relaying to him how he had failed miserably and could begin anew.
Orbot's voice could also be heard when fighting a few daytime bosses including the Egg Cauldron, the Egg Devil Ray and the Egg Lancer.
Sonic ColorsEdit
He returned in Sonic Colors along with his counterpart, Cubot, where his name has been officially confirmed as "Orbot". Plus he has a new voice box that makes him talk like a loyal butler, and he does not seem to insult Eggman for his mistakes as often as before, but he still likes to insult Eggman by being sarcastic towards him. After the boss fight against Rotatatron ('Big Boy'), he fails to find its arm when it gets jammed in Eggman's mind control ray. Orbot is more mature than both Eggman and Cubot. Orbot is the one who had created Cubot's voice but added the wrong chip. He tries to fix up Cubot's voice with two different voice chips but failed, until he slapped Cubot's back in appreciation. Cubot got his voice back, resulting in Orbot feeling very proud.
Sonic GenerationsEdit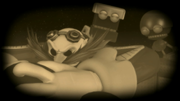 Orbot - along with his cubical counterpart - were featured in a 5 second flashback in Sonic Generations. Orbot, and Cubot, were left in outer space while Eggman harnessed the power of the Time Eater. It's unknown what happened to them after that.
Other Game Appearances
Edit
Mario and Sonic at the London 2012 Olympic Games
Edit
Orbot and Cubot make a cameo appearance in this game, during London Party mode. Sometimes, when placing a sticker on a question mark spot, both robots will appear and copy an existing sticker on that page, placing it in a random spot that isn't a question mark.
When speaking to Metal Sonic in London, the two robots will appear above his head and talk to the player instead, even though Metal Sonic is capable of speaking in most other games.
Also, Orbot and Cubot have their own bonus game, 'Orbot And Cubot Tag', where they will try to trap the players in metal cages.
Personality
Edit
Orbot is very insensitive and doesn't skip out on the chance to be critical to Dr. Eggman and his feelings when he sees fit, though he does not mean to insult his master, just trying to give him constructive criticism for that is what he was programmed to do, though all it does is just makes things worse. Although occasionally he does enjoy giving a sarcastic remark to Eggman.
Orbot's name was not used in Sonic Unleashed. He was dubbed "Ergo" by fans because he frequently used the word ergo (meaning therefore, in Latin) in his speech, indicating that he was making a conclusion.
Ian Flynn, head writer of the Sonic the Hedgehog comic book from Archie Comics, later revealed that the robot's name was SA-55, having seen the name in a script for Sonic Unleashed.[1] (SA-55 is l33t-speak for sass.)
Orbot's real name was eventually revealed by ArchangelUK on Sonic City Blognik, an official Sega blog, for Sonic Colors.[2]
In Sonic Unleashed, according to an interview with Mike Pollock, he is voiced by Chris Collet who also voices some humans in the cutscenes and also acted as voice director for the game.
His name, Orbot, is a portmanteau of the words "orb" and "robot".

But, if you switch the "r" and "o" in "robot," you will get Orbot.

In Vectorman, a Sega Genesis game included in the Sonic Gems Collection, the titular protagonist was a type of robot also referred to as an Orbot.
Orbot and Cubot have a kind of role similar to the Sonic television shows, where Robotnik has two robot henchmen who do most of the work in every episode and usually fail at doing a sort of task (an exception is Sleet and Dingo from Sonic Underground, as they are not robots). Orbot and Cubot are seen most of the game doing all of Eggman's work.
When Orbot is in compact mode it greatly resembles the "Pokeball" from the "Pokemon  Series".
Orbot is usually doing what some call "trademark pose" by lying down with his hand on his head.
Screenshots
Edit
References
Edit