Sanae Kobayashi
Talk

0
8,732pages on
this wiki
This article is about a subject in the real world.
Information in this article is about real-life people, companies and objects, and does not relate to the in-universe Sonic series.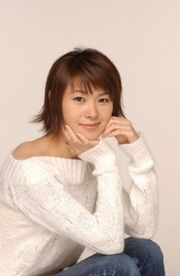 Sanae Kobayashi (小林 沙苗 Kobayashi Sanae?) (born 26 January 1980) is a female seiyū who was born in Shizuoka. She voices Christopher Thorndyke in Sonic X.
Other roles
D.Gray Man - Allen Walker
Super Smash Bros. Melee and Super Smash Bros. Brawl - Ice Climbers (Popo and Nana)
Saiyuki Reload - Kinkaku and Ginkaku
D.N. Angel - Ritsuko Fukuda
Hikaru no Go - Akira Touya
Macross Frontier - Catherine Glass
Madlax - Madlax
Magical Girl Lyrical Nanoha A's - Reinforce
Naruto - Sasame
Pokémon anime - Greta
Tsubasa: Reservoir - Chronicle Xing Huo
Yu-Gi-Oh! GX - Alexis Rhodes/Asuka Tenjouin
Castlevania: Harmony of Dissonance - Lydie Erlanger
Rockman ZX - Vent & Aile (only Aile in ZX Advent)
Star Ocean: The First Departure - Iria Silvestol
iCarly (Japanese dub) - Sam Puckett
Sly 2: Band of Thieves - Constable Neyla
External links
Former Japanese Voice Actors