The Scarab (スカラベ, Scarab?)[note 1][1] is a recurring enemy in the Sonic the Hedgehog series. They are mass-produced scarab beetle-based Badniks created by Dr. Eggman.
Appearance
Scarabs are based on Scarabaeidaes (also called scarab beetles), although they bear little resemblance to them. They have an ellipsoid-shaped light green body with a red plating across their forehead and back, and a pair of black-eyed black-rimmed eyes on the front. They also have no limbs, except for a pair of long insect legs on their rear for moving them around.
Game appearances
Sonic the Hedgehog CD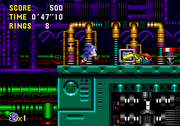 In Sonic the Hedgehog CD, Scarabs are found in Metallic Madness. In gameplay, they simply move back and forth, and have no offensive attacks. Instead, if the player tries attacking a Scarab from the rear, it will crab the playable character (without causing damage), force them into the Spin Attack and launch them in the opposite direction. Occasionally, they may also carry Item Boxes. To defeat a Scarab, the player must attack it from above with the Spin Jump.
In the Bad Future or sometimes the present timeframe of Metallic Madness, Scarabs have not decayed, but move much slower. Like every Badnik in the game, they are powered by Little Planet flower seeds which will pop out of them when they are defeated.
Sonic Mania

In Sonic Mania, the Scarabs appear as enemies. In terms of design, they look exactly like they did in Sonic the Hedgehog CD. In this game, they only appear in Metallic Madness Zone.
In gameplay, the Scarabs move back and fourth while carrying objects, just in their debut game. This time around however, they may carry around spikes instead of Item Boxes. Because no Scarabs in this game are empty-handed and the spikes they carry cannot be destroyed, it is impossible for the player to be caught between their claws. Also, upon destroying a Scarab, it will release an Animal.
Trivia
Notes
↑ While not listed in any instruction manuals, 1996 PC release of Sonic the Hedgehog CD refers to this Badnik as "scarab".
References
↑ The PC version of Sonic Mania listed the enemy as "Scarab" according to the internal files of the game.
---
Main article | Gallery | Beta elements | Staff
Playable characters
Sonic the Hedgehog (Super Sonic) | Miles "Tails" Prower (Super Tails) | Knuckles the Echidna (Super Knuckles)
Other characters
Dr. Eggman | Hard Boiled Heavies (Heavy King, Heavy Gunner, Heavy Shinobi, Heavy Magician, Heavy Rider) | Phantom Heavies (Phantom King, Phantom Gunner, Phantom Shinobi, Phantom Magician, Phantom Rider) | Animals (Becky, Cucky, Flicky, Locky, Micky, Pecky, Picky, Pocky, Ricky, Rocky, Tocky, Wocky) | Jimmy
Zones
Green Hill Zone | Chemical Plant Zone | Studiopolis Zone | Flying Battery Zone | Press Garden Zone | Stardust Speedway Zone | Hydrocity Zone | Mirage Saloon Zone | Oil Ocean Zone | Lava Reef Zone | Metallic Madness Zone | Titanic Monarch Zone | Egg Reverie Zone | Special Stage | Bonus Stage
Enemies
Armadiloid | Aquis | Asteron | Ball Hog | Bat Brain | Blaster | Blastoid | Bugernaut | Bumpalo | Buzz Bomber | Cactula | Catakiller, Jr. | Chopper | Clucker | Crabmeat | Dango | Dragonfly | Eggrobo | Fireworm | Flasher mk.II | Gohla | Grabber | Hotaru | IceBomba | Iwamodoki | Jawz | Jellygnite | Juggle Saw | Kabasira | Kanabun | Madmole | Matryoshka-Bom | Mecha-Bu | Mega Chopper | Mic Drop | Moto Bug | Newtron | Octus | Poh-Bee | Pointdexter | RattleKiller | Rexon | Roller mk.II | Scarab | Sentry Bug | Shutterbug | Silver Sonic | Spiny | Splats | TechnoSqueek | Toxomister | Tubinaut | Turbo Spiker | Turbo Turtle | Vultron | Wall Crawl | Woodrow
Bosses
Mini-bosses
DD Wrecker | Amoeba Droid | Heavy Gunner | Big Squeeze | Shiversaw | Hotaru Hi-Watt | Dive Eggman | Uber Caterkiller | Meter Droid | Drillerdroid | Egg Pistons mk.II | Crimson Eye
Zone bosses
Death Egg Robot | Mean Bean Machine | Weather Globe | Spider Mobile | Heavy Shinobi | Metal Sonic | Laundro-Mobile | Heavy Magician | Mega Octus | Heavy Rider | Heavy King | Gachapandora | Phantom Egg | Phantom King and Klepto Mobile
Moves/techniques
Bounce Jump | Climb | Double Jump | Drop Dash | Fireball Spin Dash | Glide | Insta-Shield | Propeller Flying | Ring Spark Field | Spin Dash | Spin Attack | Spin Jump | Super Peel Out | V. Maximum Overdrive Attack
Gimmicks and obstacles
Beanstalk | Bomb | Bumper | Bungee Rope | Bumper wall | Capsule | Catapult | Conveyor Belt | Crusher | Dash Panel | Fan | Fireball Cannon | Flipper | Flywheel | Goal Plate | High-speed warp tube | Ice Spring | Platform-raising Wheel | Pulley | Ruby Mist | Seesaw | Size Beam | Snowblower | Spiked ball | Spikes | Spring | Star Post | Switch | Transport | Vine | Zip Line
Objects
Air Bubbles | Chaos Emerald | Giant Ring | Giant spear | Klepto Mobile | Little Planet flowers | Master Emerald | Metal Sonic Projector | Medallion | Monitor (Aqua Shield, Hyper Ring, Eggman Mark, Flame Shield, Invincibility, Player Swap, Power Sneakers, Random, S, Shield, Super Ring, Thunder Shield) | Phantom Ruby | Ring | Robot teleporter | Sphere | Star Circle | Time Warp Plate | UFO | Warp Point
Other
Angel Island | Auto Running | Continue | Death Egg Robot | Debug Mode | Freeze | Level Select | Little Planet | Mega Mack | Perfect Bonus | Shuttle loop | Time Attack | Time Over | Tornado | Tunnelbot | Winding Tunnel