Ad blocker interference detected!
Wikia is a free-to-use site that makes money from advertising. We have a modified experience for viewers using ad blockers

Wikia is not accessible if you've made further modifications. Remove the custom ad blocker rule(s) and the page will load as expected.
This article is about a subject in the real world.
Information in this article is about real-life people, companies, and objects, and does not relate to the in-universe Sonic series.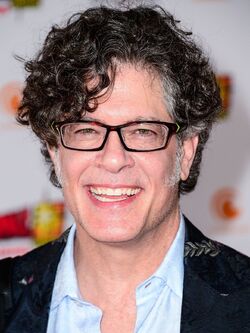 Sean Schemmel (born 21 November 1968 in Waterloo, Iowa) is an American voice actor at 4Kids,and FUNimation. Sean provided the voice of Black Doom (and his counterpart, Doom's Eye) in Shadow the Hedgehog and Black Narcissus in the third season of Sonic X. He is Best known for voicing Goku from the Funimation dub of Dragon Ball Z.
Voice acting career
Anime
FUNimation Roles
BECK: Mongolian Chop Squad - Hiroto
Berserk - Gaston, Additional Voices
Blue Gender - Rick
Case Closed - Kowalski
Dragon Ball - Goku (adult)
Dragon Ball GT - Goku (adult/SS4), King Kai, Gogeta (shared w/ Christopher Sabat)
Dragon Ball GT: A Hero's Legacy - Goku
Dragon Ball Z - Goku, King Kai, Nail, Vegito (shared w/ Christopher Sabat),
Dragon Ball Z: Bardock - The Father of Goku - Goku (adult)
Dragon Ball Z: Bio-Broly - Goku
Dragon Ball Z: Bojack Unbound - Goku, King Kai
Dragon Ball Z: Broly - Second Coming - Goku
Dragon Ball Z: Broly - The Legendary Super Saiyan - Goku (adult), King Kai
Dragon Ball Z: Cooler's Revenge - Goku (adult)
Dragon Ball Z: Dead Zone - Goku
Dragon Ball Z: Fusion Reborn - Goku, King Kai, Gogeta (shared w/ Chris Sabat)
Dragon Ball Z: Lord Slug - Goku, King Kai, Medamatcha
Dragon Ball Z: Super Android 13! - Goku
Dragon Ball Z: The Return of Cooler - Goku
Dragon Ball Z: The Tree of Might - Goku, King Kai
Dragon Ball Z: The World's Strongest - Goku
Dragon Ball Z: Wrath of the Dragon - Goku
Dragon Ball Z: Battle of Gods - Goku
Dragon Ball Z: Resurrection 'F' - Goku
Dragon Ball Z Kai - Goku, King Kai, Nail, Opening theme singer (episodes 1-13, uncut version)
Fullmetal Alchemist - Clause's Father
Fullmetal Alchemist: Brotherhood - Additional Voices
The Galaxy Railways - Additional Voices
Kiddy Grade - Cravo
Lupin III: Island of Assassins - Gordeau
One Piece - Additional Voices
Pani Poni Dash! - Additional Voices
Samurai 7 - Genzō
Spiral: The Bonds of Reasoning - Takashi Sonobe
YuYu Hakusho - Akashi, Murota, Roto
NYAV Post Roles
Giant Robo - Tetsugyu
The Gokusen - Minoru
Hades Project Zeorymer - Gisou
Kakurenbo - Noshiga
Midori Days - Jigoru
Mobile Suit Gundam Unicorn - Flaste Schole
Munto - Munto
Negadon: The Monster from Mars - Ryuichi Narasaki
Ninin ga Shinobuden - Onsokumaru
Patlabor The Mobile Police: The New Files - Hiromi Yamazaki
Piano - Seiji Nomura
Sadamitsu the Destroyer - Junk/Helmet
Samurai Deeper Kyo - Nobuyuki Sanada
Shrine of the Morning Mist - Naonori Hieda
4Kids Roles
G.I. Joe: Sigma 6 - Firefly
Ojamajo Doremi - Mirabelle's Father, Simon
One Piece - Helmeppo, Kuroobi, Wapol
Pokémon - Jimmy, Archie, Cyrus, Lucario, Christopher, Morrison (Additional Voices)
Shaman King - Amidamaru, "Wooden Sword" Ryu, Nichrom
Tokyo Mew Mew - Ryou Shirogan
Ultimate Muscle - Bone Cold
Yu-Gi-Oh! - Karim, Bobosa
Yu-Gi-Oh! GX - Dr. Crowler (Additional Voices)
Yu-Gi-Oh! 5D's - Greiger, MC, Zigzix, Dr. Heitmann
Yu Gi Oh Bonds Beyond Time - Paradox
Yu-Gi-Oh! Zexal - Bronk
Non-Anime
Kappa Mikey - Gonard
Teenage Mutant Ninja Turtles - Nobody, Yukio Mashimi, Constable Aloysius Biggles, Sh'Okanabo (Additional Voices)
Turtles Forever - 1984 Raphael
Winx Club (4Kids Entertainment edit) - Valtor
Video Games
Ar tonelico II: Melody of Metafalica - ELMA-DSRX
Bullet Witch - Maxwell
Disgaea 3: Absence of Justice - Additional Voices
Dragon Ball series - Goku (adult), King Kai, Nail, Vegito, Gogeta
Shadow Hearts: From the New World - Ricardo Gomez
Star Ocean: Second Evolution - Additional Voices
External links
---
Main article | Gallery | Staff
Characters
Shadow (Hero Shadow, Dark Shadow, Super Shadow) | Black Doom (Devil Doom) | Eggman | Sonic | Tails | Knuckles | Amy | Rouge | Omega | Vector | Espio | Charmy | Cream | Cheese | Maria | Gerald | Commander | President | Secretary | Chao
Enemies
Ark Missile Turret | Artificial Chaos (Artificial Chaos P-100, Cell) | Black Assassin | Black Hawk | Black Oak | Black Volt | Black Warrior | Black Wing | Black Worm | Big Foot Type A | Big Foot Type B | Death Leech | Death Worm | Egg Pawn | Egg Pierrot | Giant Walker | Giga Trooper | Gun Beetle | GUN Soldier | GUN Trooper | Jack Bommer | Killer Plant | Mono Beetle | Rocket Beetle | Sand Worm | Shadow Android | Spark Beetle

Stages

Air Fleet | Black Comet | Central City | Circus Park | Cosmic Fall | Cryptic Castle | Death Ruins | Digital Circuit | Final Haunt | GUN Fortress | Glyphic Canyon | Iron Jungle | Lava Shelter | Lethal Highway | Lost Impact | Mad Matrix | Prison Island | Sky Troops | Space Gadget | The ARK | The Doom | The Last Way | Westopolis
Bosses
Black Bull | Black Doom | Blue Falcon | Devil Doom | Diablon | Egg Breaker | Egg Dealer | Heavy Dog
Moves/techniques
Chaos Arrow | Chaos Blast | Chaos Control | Chaos Spear | Crouch | Dark Spin Dash | Grind Step | Homing Attack | Jump Dash | Light Dash | Mid-Air Attack | Overturn | Pick up | Punch | Slide | Spin Dash | Spin Jump | Super Sonic Boost | Swift strike | Tail Swipe | Triangle Jump

Weapons

4-Shot RPG | 8-Shot RPG | Bazooka | Big Worm Shooter | Big Barrel | Black Barrel | Black Sword | Egg Bazooka | Egg Gun | Egg Spear | Egg Vacuum | Environment Objects | Flash Shot | Gatling Gun | Grenade Launcher | Heal Cannon | Heavy Machine Gun | Heavy Shot | Laser Rifle | Light Shot | Omochao Gun | Pistol | Refractor | RPG | Samurai Blade | Satellite Gun | Semi-Auto Rifle | Shadow Rifle | Splitter | Survival Knife | Tank Cannon | Vacuum Pod | Wide Worm Shooter | Worm Shooter

OST

/

Lost and Found

All Hail Shadow | Almost Dead | Chosen One | E.G.G.M.A.N. | I Am... All of Me | Never Turn Back | Tripod Baby | Vengeance is Mine | Waking Up | Who I Am
English voice actors
Jason Griffith (Sonic, Shadow) | Sean Schemmel (Black Doom) | Mike Pollock (Eggman, Gerald) | Amy Palant (Tails) | Dan Green (Knuckles) | Lisa Ortiz (Amy) | Kathleen Delaney (Rouge) | Rebecca Honig (Cream, Maria) | Carter Cathcart (Vector) | David Wills (Espio) | Amy Birnbaum (Charmy) | Jeff Kramer (Omega) | Andrew Rannells (GUN Soldier) | Marc Thompson (Commander) | Maddie Blaustein (President) | Bella Hudson (Secretary)
Japanese voice actors
Kōji Yusa (Shadow) | Jun'ichi Kanemaru (Sonic) | Ryūzaburō Ōtomo (Black Doom) | Chikao Ōtsuka (Eggman, Gerald) | Ryō Hirohashi (Tails) | Nobutoshi Canna (Knuckles) | Taeko Kawata (Amy) | Rumi Ochiai (Rouge) | Sayaka Aoki (Cream) | Yuri Shiratori (Maria) | Kenta Miyake (Vector) | Yūki Masuda (Espio) | Yōko Teppōzuka (Charmy) | Taiten Kusunoki (Omega) | Takashi Yoshida (GUN Soldier) | Banjō Ginga (Commander) | Yutaka Nakano (President) | Junko Kitanishi (Secretary) | Ryō Hirohashi (Additional Chao)
Other
Air Saucer | Barrel | Barrier | Black Comet | Black Slab | Black Tank | Bomb Unit | Case | Cell Cannon | Chaos Emerald | Central Information Agency | City annihilator bomb | Color Panel | Container (Special Weapon Container) | Convertible | Core program | Eclipse Cannon | Dark Gauge | Dark Rider | Defense Unit | Egg Balloon | Egg Monitor | Eggman Fleet | Electrified Rail | Energy Core | Expert Mode | Fan | Fire in the Sky Festival | Firewall | Flash game | Goal Ring | Gravity Control Switch | Green energy fluid | Gun Lift | GUN Motorcycle | Gun ship | GUN turret | GUN Vehicle | Heal Unit | Health Gauge | Hero Gauge | Hint Ring | HMMWV | Item Box (1-Up, Damage Recover, Heat Barrier, Invincibility, Super Ring) | Jump Panel | Jump Vehicle | Junction switch | Lantern | Laser Field Block | Laser turret | Light-speed circuit | Magnetic Barrier | Mother computer | Pole | President's escape pod | Prison Island | Prosperity ritual | Red fruit | Red Slime | Ring | Rocket | Secret Door | Secret Key | Shield switch | Shooting Gallery | Small bomb | Surveillance camera | Tails' Spaceship | Temple jewel | Toxic marsh | Vine | Warp Hole | White House | Wide Spring | Yellow water | Zip Line
Former English Voice Actors