Seaside Hill is the first stage in Sonic Heroes.
Description
The place is very tropical, and takes place on grassy cliff sides and beaches. It seems to be a homage to Green Hill Zone from the original Sonic the Hedgheog, with the checkered walls and palm trees. The stage after it is Ocean Palace.
In 2P Play, the scenery takes place at sunset much like Sea Gate and even uses Sea Gate's BGM.
Story
After receiving Eggman's message in the desert, Team Sonic somehow manages to get to the island coast and head to the Whale Island to stop Eggman from taking over the world. Team Dark also appears at the scene (again, mysteriously) to go to the Whale Island for Shadow to learn about his past, Rouge to get the Doctor's treasure, and for Omega to get revenge for being locked up with Shadow. Team Rose leave the beach at Seaside Hill to go to Whale Island for Amy to find Sonic, Big to find Froggy, and for Cream to find Chocola. Team Chaotix (once again, mysteriously) arrive at the beach to collect ten hermit crabs to prove their detective skills to their client.
Rank requirements
The following is a list of requirements to attain a rank for each mission with each team.[1]
Normal Missions
| | | | | | | |
| --- | --- | --- | --- | --- | --- | --- |
| | Rank A | Rank B | Rank C | Rank D | Rank E | Mission 1 |
| Team Sonic | 60,000 | 55,000 | 50,000 | 45,000 | <45,000 | Head for the whale Island! |
| Team Dark | 70,000 | 65,000 | 55,000 | 45,000 | <45,000 | Get to the whale Island! |
| Team Rose | 48,000 | 42,000 | 35,000 | 28,000 | <28,000 | Get to the other side of the sea! |
| Team Chaotix | 45,000 | 40,000 | 35,000 | 28,000 | <28,000 | Find 10 Hermit crabs! |
Extra Missions
| | | | | | | |
| --- | --- | --- | --- | --- | --- | --- |
| | Rank A | Rank B | Rank C | Rank D | Rank E | Mission 2 |
| Team Sonic | 50,000 | 45,000 | 40,000 | 32,000 | <32,000 | Get to the goal ring within 5 minutes! |
| Team Dark | 7:00 | 7:30 | 9:00 | 11:00 | >11:00 | Defeat 100 enemies! (Time minutes.) |
| Team Rose | 2:30 | 3:00 | 4:00 | 6:00 | >6:00 | Collect 200 rings! (Time minutes.) |
| Team Chaotix | 35,000 | 30,000 | 25,000 | 18,000 | <18,000 | Find all 20 hermit crabs! |
Other game appearanes
Mario & Sonic at the Olympic Games series
A snow-covered version of Seaside Hill can be found as the Dream Alpine stage in Mario & Sonic at the Olympic Winter Games. In the opening of this stage right before showing the characters the camera pans around and gives us a view of the starting gate. Giant fans can be seen blowing artificial snow onto the stage so it is safe to assume that it doesn't snow here often.
Sonic & Sega All-Stars Racing
Seaside Hill appears as a beginner track in Sonic & Sega All-Stars Racing and is the only stage available in the demo. It is very simplistic, however, it carries many elements from this stage, such as the ramps and cliffs. It is also widely different, due to the fact that this stage is somewhat combined with Ocean Palace and has some elements from Green Hill Zone, including sunflowers and totem poles, and Labyrinth Zone, including traps and carved stone blocks (strongly resembling the ones from the fourth stage in Sonic the Hedgehog). A remixed version of the stage music from Sonic Heroes plays. Chao are bystanders in this track. There are three tracks within the Seaside Hill course: Whale Lagoon, Lost Palace and Ocean Ruin.
Sonic Generations
Seaside Hill was included in the console/PC version of Sonic Generations, where it was included as the last Dreamcast era level and also adds underwater segments. It also includes segments of Ocean Palace. The cannons from the original are scattered around, as well as the return of the giant turtles and the bobsled. Despite being based on itself from Sonic Heroes, it is more reminiscent to Ocean Palace. If the player completes both acts, he/she will save Espio.
Sonic & All-Stars Racing Transformed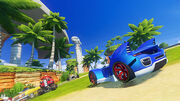 Seaside Hill (or its secondary stage Ocean Palace) is setting to the Ocean View track in Sonic & All-Stars Racing Transformed. There is segment were a robotic octopus will try to stop the player while they are in water.
Sonic Dash
Seaside Hill (Ocean Palace as part of it) is featured again as endless route in Sonic Dash. This version of Seaside Hill is similar to Sonic & SEGA All-Stars Racing with totem poles and wooden bridges as obstacles to dodge on the route. The player can also travel from grassy route to the more stoned bridge route by choosing the spring with whale statue icon with it and travel back to grassy area by choosing spring with totem pole icon on it. There are also loops and mobius strips as well to go through.
Trivia
The intro drums from Misty Lake on Sonic and the Black Knight are similar to the intro drums on the music from Seaside Hill.
In Sonic Dash, both Seaside Hill and Ocean Palace (named Temple Zone) make an appearance.
Team Rose's object placement has the ring located where the cannon is instead of being on top of the whale which makes it impossible to reach the end of the level and only finish at the launch area replacing the cannon. In these cases, there is a way to extend it by replacing the original "s01_P3.bin" file with the first two object placement files for their teams by making a copy of them, deleting the original and renaming them to that file for Team Rose's bin files to have that in effect to where it will make the level normal than the intended placements by the editors. Those who are operating on Gamecube should use GCRebuilder to replace the file in the disc image. As for the PS2, it is in .arc extension and should be done by hex editing the whole iso file and replacing the hex values to accomplish that.
As Team Chaotix, it is possible to fly past the area with the last flower which teleports the player back to the start. This allows the player to access the cannon where Team Rose finishes while the placements are different from the first 2 teams, but when the player reaches the second bobsled area, the section will be blocked off and the player will be stuck there forcing them to restart or exit out of the stage as the bobsled object is not placed on that area for the team.
A remix of Seaside Hill can be heard while fighting on Green Hill in Dengeki Bunko Fighting Climax.

On the music gallery, it is the 7th music track and named as "Seaside B-Field".
Gallery
Artwork
Screenshots
Music
Videos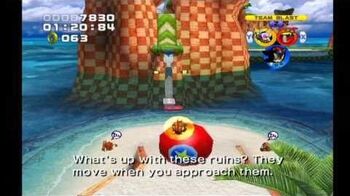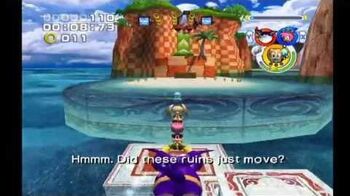 See also
References
↑ Guess, Gerald (6 January 2004).

Sonic Heroes: Prima's Official Strategy Guide

. Prima Games. p. 159. ISBN 0761544496.
---
Main article | Gallery | Beta elements
Playable
characters
Team Sonic
Sonic | Tails | Knuckles
Team Rose
Amy | Cream | Cheese | Big
Team Dark
Shadow | Rouge | Omega
Team Chaotix
Espio | Charmy | Vector
Team Super Sonic
Super Sonic | Super Tails | Super Knuckles
Other characters
Eggman | Metal Sonic (Neo Metal Sonic) | Chocola | Froggy | Shadow Android
Enemies
Cameron | Egg Bishop | Egg Hammer | Egg Knight | Egg Magician | Egg Pawn | Egg Pawn (Casino version) | E-2000 | E-2000R | Falco | Flapper | Gold Cameron | Gold Klagen | Heavy-Egg Hammer | Klagen | Rhinoliner | Pumpkin ghost
Stages
1P stages
Sea Gate | Seaside Hill* | Ocean Palace | Grand Metropolis* | Power Plant | Casino Park | BINGO Highway* | Rail Canyon* | Bullet Station | Frog Forest* | Lost Jungle | Hang Castle | Mystic Mansion | Egg Fleet* | Final Fortress | Special Stage*
2P stages
City Top | Casino Ring | Turtle Shell | Egg Treat | Pinball Match | Hot Elevator | Seaside Course | City Course | Casino Course | Road Rock | Mad Express | Terror Hall
2P Play Mode
Action Race | Battle | Bobsled Race | Expert Race | Quick Race | Ring Race | Special Stage
Bosses
Egg Albatross | Egg Emperor | Egg Hawk | Metal Madness | Metal Overlord | Robot Carnival | Robot Storm | Team Chaotix | Team Dark | Team Rose | Team Sonic
Moves/
techniques
Speed
Manoeuvres
Homing Attack | Kick | Light Dash | Propeller Hammer | Rocket Accel | Shuriken | Spin | Swinging Hammer Attack | Tornado Jump (Black Tornado, Blue Tornado, Leaf Swirl, Tornado Hammer) | Triangle Jump
Power
Manoeuvres
Auto Homing | Body Press | Bubblegum Descent | Fire Combination | Fire Dunk | Fire Launcher | Fireball Jump | Forward Power Attack | Hammer Down | Jump Fire Knock | Jump Fireball | Remote Power Attack (Fireball, Fire Knock) | Triangle Dive | Umbrella Descent | Wide Power Attack (Big Fishing, Omega Arm, Vector Breath, Volcanic Dunk)
Fly
Manoeuvres
Ascending Flight | Cheese Attack | Dummy Ring Bomb | Sting Attack | Thunder Shoot | Quick Ascent
Team Blast
Sonic Overdrive | Chaos Inferno | Flower Festival | Chaotix Recital | Super Sonic Power
Misc.
Grind Step | Grinding | Jump Dash | Lightspeed Attack | Spin Jump
English voice actors
Ryan Drummond (Sonic, Metal Sonic) | Deem Bristow (Eggman) | William Corkery (Tails) | Scott Drier (Knuckles) | David Humphrey (Shadow) | Lani Minella (Rouge, Omochao) | Jon St. John (Omega, Big) | Jennifer Douillard (Amy) | Sarah Wulfeck (Cream) | Bill Corkery (Espio) | Marc Biagi (Vector) | Emily Corkery (Charmy)
Japanese voice actors
Jun'ichi Kanemaru (Sonic the Hedgehog, Metal Sonic) | Chikao Ōtsuka (Eggman) | Ryō Hirohashi (Tails) | Nobutoshi Kanna (Knuckles) | Kōji Yusa (Shadow) | Rumi Ochiai (Rouge) | Taiten Kusunoki (Omega) | Taeko Kawata (Amy) | Sayaka Aoki (Cream) | Takashi Nagasako (Big) | Yūki Masuda (Espio) | Kenta Miyake (Vector) | Yōko Teppōzuka (Charmy) | Etsuko Kozakura (Omochao)

OST

/

Vocal Trax

/

Official

/

20th Anniversary

Sonic Heroes | We Can | This Machine | Follow Me | Team Chaotix | What I'm Made of...
Other
Armored train | Ball Switch | Bobsled | Bomb | Bumper | Bumper wall | Cage | Cannon | Capsule | Castle Key | Cell Key | Cervix Tunnels | Chaos Emerald | Character battles | Container | Conveyor Belt | Dash Panel | Dash Rail | Dash Ring | Detonator Switch | Dummy Ring | Egg Fleet | Emblem | Engine Core | Fan | Flipper | Flower | Fly Type | Formation Change Gate | Gallery | Giant Frog | Giant Switch | Goal Ring | Grind Rail | Haunted Towers | HEXAeco | Hint Ring | Item Box (Barrier, Fly Charge, High Speed, Invincible, Rings, Power Core, Team Blast Ring, 1-Up) | Kao | Laser Field Block | Light Spider Mark | Mushroom | Orb switch | Palm Plants | Pole | Power Gong | Power Type | Propeller | Pulley | Sonic Heroes Puzzle | Rank | Ramp | Ring | Shuttle loop | Slot Machine | Spear | Speed Type | Special Stage Key | Sphere | Super Hard Mode | Switch | Target Switch | Team Blast Gauge | Team Chaotix Missions | Torch | Trolley | Vine | Warp Flower | Weight | Wide Spring

*Stage is also playable in 2P Battle mode.