Secretary
Talk

0
6,677pages on
this wiki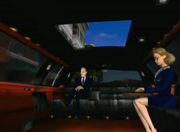 The President's Secretary appears in Sonic Adventure 2 and Sonic X, and she is also is heard in Shadow the Hedgehog.
In Sonic Adventure 2 and its remake Sonic Adventure 2: Battle, she is seen with the President when Doctor Eggman demands that the President give up the country. She is also with him in his limousine when Sonic and Tails leap into the limo to pick up Eggman's coordinates.
In Shadow the Hedgehog she speaks to the President via an answering machine in several cutscenes, informing him about the situation with the Black Arms, including their attacks on four major cities around the world and that the G.U.N. mainframe has been destroyed. She also warns the President about the Black Arms attacking Central City. During Expert Mode, she twice reminds the President of his casual meetings (such as sharing tea) with other world leaders.
The Secretary also appeared in several episodes of Sonic X, with her appearance changed to make her African-American. She was bound and gagged by Doctor Eggman when he took over the Whitehouse, but ends up being rescued. During the Emerald Fighting Tournament , she threw in the towel during the President's fight with the Black Knight . She was voiced by Lisa Ortiz .