Alien Species
Talk

0
6,660pages on
this wiki
In the various Sonic the Hedgehog continuities, there are several instances where the characters encounter extraterrestrial life.
Black Arms
Edit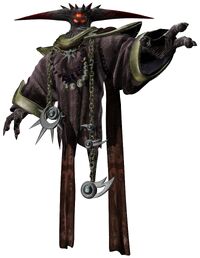 The Black Arms, essentially the darkest and most powerful of the aliens mentioned. They appeared in the game Shadow the Hedgehog as the primary enemies or allies, depending on the player's path. Their leader is called Black Doom, who is a Black Arm that floats, wears a brown coat and has celestial charms all over him. When they first appear, there is no explanation, the player soon learns that they came for the Chaos Emeralds. The Black Arms appear to have their own technology which revolves around guns (that can range from crude to seemingly expertly crafted) that emit purple, fatal laser beams (with the exception of one, which shoots worms.) The Black Arms (or, rather, Black Doom, as he's the only one that can talk) claim that they have come to save humanity from itself, but their true intentions are more parasitic in nature.
The Black Arms also appear in the Archie-published Sonic the Hedgehog comics, where they entered into a war with the Xorda. Their role is essentially the same as it is in the game, and Shadow was created to protect Mobius from them.
Seedrians
Edit
Seedrians (Cosmos in the Japanese version) is a fan term for a species of plant-like aliens who have evolved to assume sentience and more animalistic forms that appear in the Sonic X series. Male Seedrians, referred to by the fans as Thorndrigans, are slightly larger than most of the inhabitants of Sonic's world, and are usually rather round, with short tails, small antler-like growths on their heads, and a colored ridge on the top of their heads; they are largely similar to trees in their make-up. Female Seedrians, or Petali, more closely resemble their plant ancestors, being mostly slender and having an arrangement of petals sprouting from their waists and buds--or bloomed flowers--atop their heads. Apparently Seedrians evolve into trees at some point in their lifetimes, perhaps a first stage of death or old age. However, Hertia invented a crystal which prevents going to final phase.
For untold years, the Seedrians were locked in a war against an unknown foe. In an effort to combat them, all the known males joined forces under the command of a renegade scientist named Lucas and willed themselves to undergo unnatural evolution, becoming bestial giant versions of their former selves. However, the evolution process was unstable, and in many cases fatal. Stealing their own world's Planet Egg, they used its power to stabilize the evolution process. Finally, after many died, including Daisy's lover, the planet's leader Hertia, devastated at what they had become, decreed that they would have to leave planet Green Gate to survive and abandoned her world and her mutated comrades to destruction by their enemies. Since this enemy is never revealed, it is a constant focus of fan fiction. The most common belief is that it was the Black Arms mentioned above.
However, this caused dissension, as the male Seedrians, now known by the term Beasts, were unwilling to abandon the fight. They continued to do battle until only five Beasts, including Lucas, remained alive, those who were to become Dark Oak and his henchmen through a finishing phase of their evolution and became the leaders of the Metarex. A mass number of the females however, had escaped into space with Hertia, creating a colony upon which Hertia's last daughter, and possibly the last child of the Seedrians, Cosmo, was born. Determined to rid the universe of all non-plant life, and to have revenge on their former colleagues, they hunted down and attacked the ship carrying the surviving females, all but exterminating them.
The ship was destroyed, leaving only six known specimens of the Seedrian race alive: Lucas, reborn as Metarex leader Dark Oak; his commanders Red Pine, Yellow Zelkova, Black Narcissus, and Pale Bay Leaf; and Hertia's daughter Cosmo.
The Metarex are an alien race of bio-robots. The five most powerful and high ranking Metarex, Dark Oak and his commanders, are actually the only suriving male Seedrians. Two of the Yellow Zelcova and Red Pine. Desiring the power to unlock transformations that would enable them to defeat their enemies, they stole energy from their home world's Planet Egg and were transformed. From that point on, the Metarex sought to achieve domination by destroying all animal life in the universe, allowing plants to rule over all.
Marmolimians
Edit
The Marmolimians are aliens that hail from the Planet Marmolim. They resemble short creatures with heads that are either round, shaped like a Chao's head or stretched. They also have small tufts of hair on their heads. The Marmolimians are apparently religious, frequently using magic-based charms in love and fortune-telling. Their only appearance was in the 69th episode of Sonic X, where they helped the relationship between Tails and Cosmo somewhat. Marmolimians possess ships that resemble meteors. They also use a coin-based currency called Fleebos. Four Marmolimians named Lu, Leela, Momo and Gana (the latter is the spiritual elder) formed the crew of the ship that they owned.