Sega Genesis Classic Collection Gold Edition
Talk

1
7,384pages on
this wiki
SEGA Genesis Classic Collection: Gold Edition is the ultimate collection of Genesis games re-released for the PC. This special edition consists of 46 classic Genesis titles and was released on 15 March 2011.
SEGA Genesis Classic Collection: Gold Edition has configuring keyboard support which provides a personalized gaming experience, as well as a multiplayer mode for a select number of titles. The save and load functionality included in all the games allows you to pick up and play all games at the exact point you left off.
List of Games
The collection includes: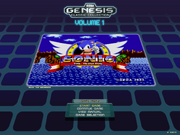 Volume 1
Golden Axe
Altered Beast
Comix Zone
Ecco The Dolphin
Gain Ground
Shinobi III: Return of the Ninja Master
Vectorman
Crack Down
Space Harrier II
Volume 2
Ecco Jr.
Fatal Labyrinth

Sonic the Hedgehog 2, selected in the collection.

Added by

MrBreada

Alex Kidd in the Enchanted Castle
Bonanza Bros.
Super Thunder Blade
ESWAT : City Under Siege
Kid Chameleon
Ristar
Golden Axe 2
Galaxy Force II
Columns
Volume 3
Bio-Hazard
Battle
Columns III: Revenge of Columns
Sword of Vermilion
Virtua Fighter 2
Ecco: The Tides of Time
Alien Storm
Decap Attack
Volume 4
LandStalker
Shining Force
Wonder Boy III: Monster Lair
Streets of Rage
Streets of Rage 2
Alien Soldier
Light Crusader
Gunstar Heroes
Shining Force II
Shining in the Darkness
ToeJam & Earl
ToeJam & Earl in Panic on Funkotron
Trivia
SEGA Genesis Classic Collection: Gold Edition is able to support video game controllers.
It also has the manual for every game in its library.
External Links