This article is about a subject in the real world.
Information in this article is about real-life people, companies, and objects, and does not relate to the in-universe Sonic series.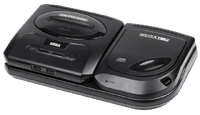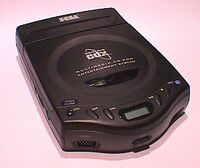 The Sega Mega-CD is a video game console attachment for the Sega Mega Drive. It was renamed to Sega CD in North America. It allows users to play CD-ROM games.
Sonic the Hedgehog CD was exclusively released for the Mega-CD, although it has since been released as part of compilation games for PCs. The Mega-CD has many other games, such as the controversial Night Trap and Time Gal video games.
Sega also released a combined, semi-portable Genesis/Sega CD unit called the Sega Genesis CDX (Sega Multi-Mega in Japan and Europe). This unit retailed at a lower price than the individual Genesis and Sega CD units put together, but is incompatible with some games and cannot work with the Sega 32X due to overheating and electrical shock issues. The CDX features a small LCD screen that, when the unit is used to play audio CDs, displays the current track being played.
Characters Introduced
Original release dates
Japan - 12 December 1991
North America - 15 October 1992
PAL region - April 1993
Trivia
Sega Mega-CD games are region-locked. The region can be changed when making CD-R copies but it's not always possible.
There are 220 games for the Sega Mega-CD.
There are six titles that were also released in formats that used a combination of the Sega CD and the Sega 32X.