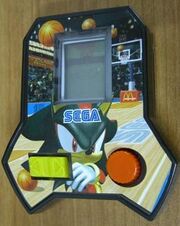 Shadow Basketball is a LCD handheld game that was released as a McDonald's Happy Meal giveaway toy, offered for a limited time in 2004.
Gameplay
Very similar to Shadow and Omega Hockey, Shadow Basketball allows the player to take control of Shadow as he throws basketballs into a basketball hoop. The only challenge to the game are the defenders, who take the appearance of Omega, who move between the three spaces in an attempt to block. By scoring enough points, the player can advance to the next level, where the defenders' speeds are increased, or the addition of a second defender. If the defenders manage to block the ball enough times, the game ends.
Ad blocker interference detected!
Wikia is a free-to-use site that makes money from advertising. We have a modified experience for viewers using ad blockers

Wikia is not accessible if you've made further modifications. Remove the custom ad blocker rule(s) and the page will load as expected.