Shamar
Talk

0
6,677pages on
this wiki

A town of ruins and ancient customs, now celebrating (at the time of the game) the Feast of Sun and Moon.

— Description in World Map

Shamar (Arid Sand) or Hot Desert (ホットデザート, Hotto Dezaato?) is one of the many locations and levels in Sonic Unleashed. It is derived from Middle Eastern themes with a desert landscape and is also based on Petra, Jordan with its numerous ruins.
Description
Edit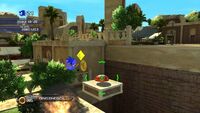 Shamar is based on Middle Eastern themes, such as Petra, Jordan, Iran, Iraq, and Quatar. It has ruins in several areas and has a giant desert landscape in the area.
Sonic comes here after Professor Pickle tells him that he decided to pack up and move his lab to Shamar, as the Gaia Manuscripts have a lot of information on the city. Shamar is also where Sonic fights the Dark Guardian.
Notable Locations
Edit
In the point-and-click HUB world of the Wii/PS2 version, many of the featured parts of Shamar are shown. These spots include:
Outside the Palace
The Merchants home
Palm tree Square
Back Alley
Pickle Lab
Food Market
Main Thoroughfare
Holy Shrine (as Sonic the Werehog)
Town Products
Edit
In each town across the world, Sonic is able to buy souvenirs, food items and extras (music, videos) using his rings. The Shamar shop, run by Ara, is called the Golden Trading Company.
Souvenirs
Edit
Photo Frame
Miniature Flag
Lunisolar Charm: "A traditional charm carved in relief. It does not deter birds."
Carpet: "The work of a master. It would cost an arm and a leg abroad."
Shamaran Sand

This souvenir is bought from Wentos
Paaf (30 rings): "Bread that puffs up in the oven. Goes perfectly with curry."
Chai (50 rings)
Elastic Ice Cream (60 rings)
Curry (60 rings): "A spicy dish only true Shamarans would dare to eat in this heat."
Chili Dog (50 rings): "Sonic's favorite, a jumbo frank slathered with spicy chili."
Sparkle Gelatin (30 rings): "Jiggly sparkly jelly that melts your jaded heart."
Canned Juice (40 rings): "The solution to your thirst. Shake it for volatile results."
Peach (30 rings): "A sweet and juicy fruit that's to die for. Don't bruise it!"
Cookie (20 rings): "Cream filling between two crunchy biscuits. Addictive!"
Candy (10 rings): "A bite-sized candy. Don't try to talk while you're chewing!"
Sandy Dog - Complete the Shamar Hot Dog Vendor's missions.
Hallowmoon
Edit
A festival celebrated at the time of the game where the people of Shamar switch their daily life to nocturnal. The celebration is to honor the moon and the morning sun.
In the 360/PS3 versions, there is a DLC level in which the player must find Chao, much like the one in Spagonia. This marks the second appearance of Chao in the game.
One of the names for Yasmine's team was "Full Mettle Shamalchemists," a play on the words "Fullmetal Alchemist," which is the name of a popular manga and anime series.
A controversial review of the game said that "the people of Shamar get blown up by suicide bombers every day, so the events of the game will be somewhat normal to them." This is a reference to the fact that Shamar is based on the Middle East which currently has a big problem with terrorist attacks. The review has since been banned and the writer was fined for "writing and publishing offensive content that may harm the judgement of others."[citation needed]
On the walls of Shamar's Gaia gates, it reads, in Arabic, 'I testify that there is no god but Allah and Mohammad is his messenger'. This is most likely due to the fact that Shamar is based on Arabian cities, in which most inhabitants are Muslim.
"Shamar" is Hebrew for "guard", and this stage is home to the Dark Guardian .
It's possible to reach 2900 mph while boosting through a checkpoint at Act 1 of the day stage of this continent, making this Sonic's fastest running speed shown in the Sonic games history.
Screenshots
Edit