This character exists primarily or exclusively within the Sonic Boom continuity.
Information in this article may not be canonical to the storyline of the games or any other Sonic continuity.

Sheep-ople is a negative term. We prefer "sheep villagers." I'm writing a letter to that network.


— Sheep VIllager, "In the Midnight Hour"
The Sheep Villager[2] is a character that appears in the Sonic Boom television series. He is an anthropomorphic sheep who lives in Hedgehog Village.[3]
Appearance
The Sheep Villager is an anthropomorphic sheep with peach skin, green eyes, and tan and white fur. Possessing a reasonable build, he has short tan fur covering most of his body. He also has thick white wool on his shoulders, around his neck and on top of his head (the last of which resembles an afro). He also has a black nose, horizontal ears with peach inner ears, and peach skin on his front torso. For attire, he wears white gloves and yellow shoes with dark yellow soles and wooly cuffs. He also carries a straw in his mouth.
History
TV series
Season two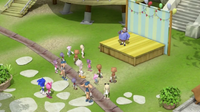 At Career Day, the Sheep Villager came to the event to hear other people elaborate on their careers.[4] He later got disturbed by Sticks' vague ramblings about Dreamcaster on TV (which he found offense to sheep) while sleeping.[3] The Sheep Villager was soon after inspired to buy some Fuzzy Puppy figurines from Orbot and resell one of them to a mystery buyer, unaware that Orbot was manipulating him.[5] He would later riot alongside the others villagers while the Unnamed Village experienced a power outage.[6] Coming to Meh Burger, the Sheep Villager would receive premium service from the new robot employees (courtesy of Eggman).[7] He also showed up at Mr. Slate's unveiling of the Fregosi Sapphire, but ran away when Eggman appeared to steal the gemstone.[8]
When Tails seemingly proved Muckfoot's existence with a photo, the Sheep Villager would praise Tails as a hero and take part in the ensuing Muckfoot Mania. However, he would scorn Tails when the fox showed that his "Muckfoot" was just Knuckles covered in mud.[9] Returning later to the Village Center, he ended up running for his life when Eggman's robots came and attacked.[10] The Sheep Villager subsequently had the shock of his life when Sonic and Knuckles barged into his house during their search for Eggman's FleaBot controller.[11] Following that, the Sheep Villager became a fan of the Lightning Bowler Society after seeing them beat the Pin Dashers. He thus came to the Lightning Bowlers' next public appearances as the team rose to stardom. He later observed the Chameleon's solo career after visiting the Comedy Chimp Show on a separate occasion, but ran away when the Mega attacked.[12] The Sheep Villager arrived afterward in time to cheer for Amy and Sticks when they drove Eggman out of town. When Belinda then appeared and went on a rampage in Charlie's Mech Suit, the Sheep Villager ran to safety.[13] Checking into "Eggman Towers" soon after, the Sheep Villager would get serviced by Eggman there.[14]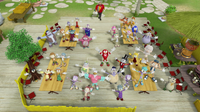 When local gossip revealed that Dr. Eggman was no doctor, the Sheep Villager began seeing him as a joke. He thus joined the villagers in mocking Eggman during the scientist's next trip to the Village, although Eggman later got a real doctorate.[15] Some time after, the Sheep Villager would wait in line during the evening to visit T.W. Barker's Haunted Forest. He would also try to visit Barker's newly-acquired "haunted lair" a few days later.[16] Back in the Village, the Sheep Villager came under attack by Cubot when the latter went nuts and gained new gravity powers. Although Sonic tried to help him when he got caught in the grasp of Cubot's gravity powers, the Sheep Villager soon got taken towards space by Cubot. While the Sheep Villager was brought down to earth again by Sonic and Tails before he died from asphyxia, he nearly got crushed by the increased gravity eminating from Cubot's gravity device. Thankfully, he was saved when Knuckles smashed the device.[17]
After visiting Meh Burger, the Sheep Villager went to see a soccer match between Team Sonic and Team Cybonic that would decide the closed rec center's fate. When Team Sonic won, Mayor Fink declared that the rec center would be reopened, much to the Sheep Villager's joy.[18] When Race Day arrived several months later, the Sheep Villager would watch said event's auto race competition at its site.[19] He also later have a chat with Wild Cat in the Village Center.[20] The Sheep Villager would soon after that come to the Village's video game store and buy the new Tommy Thunder video game.[21]
Personality
The Sleep Villager does not take kindly to negative terms referring to people like him, such as "Sheep-ople." Like Lady Goat, he also possesses a verbal tic that makes him bleat during his sentences (like a non-anthropomorphic sheep).[3]
Trivia
The Sheep Villager is the second character in the Sonic Boom television series to have a verbal tic that causes one to bleat, the first one being Lady Goat.

This contradicts Bill Freiberger's earlier statement about the Sonic Boom staff staying away from using the same joke for two different characters.[22]
References
↑ Bill Freiberger on Twitter. Twitter (23 January 2017). Retrieved on 23 January 2017. "Bill Freiberger: Sheep Villager is voiced by @VOKirk, Kirk Thornton. Wild Cat is voiced by @WallyWingert."
↑ Bill Freiberger on Twitter. Twitter (1 January 2017). Retrieved on 1 January 2017. "Gold-Ring: That new Ep showed us lots of BG characters who were new to the show. Anytime you could tell us about them more? / Bill Freiberger: Warthog Male, Sheep Villager."
↑ 3.0 3.1 3.2 Shriver, Pauk (31 December 2016). "In the Midnight Hour". Sonic Boom. Season 2. Episode 60. Boomerang.
↑ Lieblich, Doug (10 December 2016). "The Biggest Fan". Sonic Boom. Season 2. Episode 57. Boomerang.
↑ Grenier, Benoit (21 January 2017). "The Evil Dr. Orbot". Sonic Boom. Season 2. Episode 63. Boomerang.
↑ Raut-Sieuzac, Natalys (4 March 2017). "Blackout". Sonic Boom. Season 2. Episode 69. Boomerang.
↑ Baraou, Anne (18 March 2017). "Robot Employees". Sonic Boom. Season 2. Episode 71. Boomerang.
↑ Robinson, Cindy (25 March 2017). "Give Bees A Chance". Sonic Boom. Season 2. Episode 72. Boomerang.
↑ Burke, Kevin; Wyatt, Chris (8 April 2017). "Muckfoot". Sonic Boom. Season 2. Episode 74. Boomerang.
↑ Lachenaud, Marine; Lachenaud, Cedric (22 April 2017). "Eggman's Brother". Sonic Boom. Season 2. Episode 76. Boomerang.
↑ Beardmore, Marie (3 June 2017). "Flea-ing From Trouble". Sonic Boom. Season 2. Episode 82. Boomerang.
↑ Saisselin, Peter (10 June 2017). "Lightning Bowler Society". Sonic Boom. Season 2. Episode 83. Boomerang.
↑ Denton, Alan; Hahn, Greg (24 June 2017). "Sticks and Amy's Excellent Staycation". Sonic Boom. Season 2. Episode 85. Boomerang.
↑ Freiberger, Sam (1 July 2017). "Inn Sanity". Sonic Boom. Season 2. Episode 86. Boomerang.
↑ Freiberger, Sam (8 July 2017). "Mister Eggman". Sonic Boom. Season 2. Episode 87. Boomerang.
↑ Joly, Sandrine (15 July 2017). "The Haunted Lair". Sonic Boom. Season 2. Episode 88. Boomerang.
↑ Beardmore, Marie (29 July 2017). "Eggman's Anti Gravity Ray". Sonic Boom. Season 2. Episode 90. Boomerang.
↑ Freiberger, Sam (5 August 2017). "Victory". Sonic Boom. Season 2. Episode 91. Boomerang.
↑ James, Jake (26 August 2017). "If You Build It They Will Race". Sonic Boom. Season 2. Episode 94. Boomerang.
↑ Grenier, Benoit (21 October 2017). "Don't Make Me Angry". Sonic Boom. Season 2. Episode 100. Boomerang.
↑ Derrien, Jean-Christophe (11 November 2017). "Eggman: The Video Game Part 1". Sonic Boom. Season 2. Episode 103. Boomerang.
↑ Bill Freiberger on Twitter. Twitter (7 November 2016). Retrieved on 8 November 2016. "James Mom: James Mom asks, "If Belinda, Charlie's wife, is a goat, how come she is not bleating like Lady Goat while talking?" / Bill Freiberger: We're doing that joke with Lady Goat so there's no need to have another character have the same trait."