Shuttle Loop
Talk

0
6,676pages on
this wiki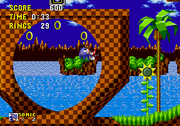 Shuttle Loops are a common element in the Sonic the Hedgehog games. First appearing in Sonic the Hedgehog, it usually consists of a loop-de-loop along the pathway. A character usually can't run through the shuttle loop unless they're running fast enough. They will fall to the bottom and be able to run out of it.
In the game Super Smash Bros. Brawl, a Shuttle Loop can be seen in the background of arena Green Hill Zone with detailed Tails, Knuckles, and Silver running through it.
Variants of the Shuttle Loop exist, including one which tails off down vertically, usually making the player move into an underground part of the level, these variants exist in various levels, however in IceCap Zone, the vertical tunnels would be blocked with ice, so the player will have to use the Spin Attack to clear the blockage.
In Sandopolis Zone, Act 2, there were Shuttle Loops that caused the player run through the loop several times before ending the loop-de-loop.
When the Sonic the Hedgehog series progressed to 3D, double Shuttle Loops were introduced, making the player go through the loop-dee-loop twice before coming out the other end.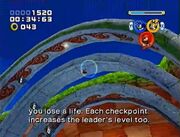 In Sonic Heroes some shuttle loops split into 3 pathways, one for each team member, that form back into one pathway at the end of the shuttle loop. This kind of Shuttle Loop also appears in Sonic Generations in Seaside Hill.
A massive version of the standard Shuttle Loop also exist, the player must be traveling at much higher speeds in order to run through these kinds of loops.
In Route 99 in Sonic Advance 3, there is an "inverse" Shuttle Loop, in which the player runs through the outside of a Shuttle Loop that goes under the floor.
There is also a rail Shuttle Loop which serves the exact same function of the standard Shuttle Loop, albeit on a Grind Rail.
Stages with Shuttle Loops
Edit