Silver Sonic II
Appearances
First appearance
Game
appearances
Appearances
in other media
Real-world designer(s)
Creator
(real-world)
Biographical overview
Creator
Physical description
Species

Robot

Gender

None

Color scheme

Gray, silver, yellow, dark red

Eyes

Yellow, red, orange
This unnamed Sonic robot, known as Silver Sonic II among fans, appears in Sonic Adventure and Sonic Adventure DX: Director's Cut. It is one of the many robotic duplicates of Sonic the Hedgehog created by Dr. Eggman. Unlike many of Eggman's robot duplicates though, this unit was never seen deployed.
It was unnamed in its game appearance, although it later appeared in the Archie Comics series and was given the name Silver Sonic II.
Sonic Adventure
In Sonic Adventure, and it's remake Sonic Adventure DX, the robot can be spotted inside a stasis tube near Gamma's birth area in the Final Egg. Though it plays no important role in the story. It is largely unknown what happened to this robot, or what was Eggman's purposes to create it. 
Appearances in other media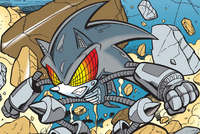 In the Sonic the Hedgehog series published by Archie Comics, Silver Sonic II was a scaled-down version of Silver Sonic and a part of the Metal Sonic Series. After the defeat of Perfect Chaos in Station Square, Eggman unleashed Silver Sonic II to attack the vulnerable city. The robot's power proved to be too much for most of the Freedom Fighters, but he was defeated by Sonic, who knocked his head off. He was then reprogrammed and repaired by Nate Morgan to act as the city's defender against Eggman and outside forces of evil.
When Eggman went to retrieve Silver Sonic II's body and repair him, he was chased out of the city.[1] Silver Sonic II chased Eggman all the way to the remote Prison Island, where Eggman fell down a deep hole and was presumed killed. (In fact, Eggman survived, having stumbled onto his grandfather Gerald's laboratory.)
Three months later, when Shadow the Hedgehog came to Station Square to steal the Chaos Emerald located in their bank's safe, Silver Sonic II attempted to stop him. Unfortunately, Shadow used his Chaos Control powers and destroyed the city's defender. Silver Sonic II's remains were picked up by detective J.J. Moto, and the robot has not reappeared since (it could be presumed that he is undergoing reconstruction).[2]
In Sonic the Hedgehog #225, another model was made to replace Silver Sonic v2.0, dubbed Silver Sonic v3.0.
Trivia
The robot is, to date, the only Sonic look-a-like to appear in a game (or two if one counts the Director's cut to be a separate game) to not be fought as a boss or be a playable character (in an official Sonic game). It does however bare a very strong resemblance to the Mecha Sonic featured in Sonic the Hedgehog 2.
Since the robot went on without a name at all in it's original appearance, fans and players have called it "Mecha Sonic". However, the Archie comics later on named the robot "Silver Sonic II" which has since become it's primary name (though some still prefer to call it "Mecha Sonic").
Gallery
See also
External links
References
---
Main article | Gallery | Beta Elements | Re-releases (DX | 2010)
Characters
Sonic (Super Sonic) | Tails | Knuckles | Amy | E-102 Gamma | Big | Eggman | Chaos | Froggy | Tikal | Pachacamac | Chao | Metal Sonic* | Cream* | Unnamed Sonic robot* | Chao
Enemies
Baby Kiki | Rhinotank | Sweeper | Leon | Boa-Boa | Spinner | Ice Ball | Kart Kiki | Buyoon | Cop Speeder | Spiky Spinner | Electro Spinner | Ghora | Egg Keeper | Beat | Mecha Fish | Egg Pirate
E-100 Series
Beta (Mark II) | Gamma | Delta | Epsilon | ZERO | Zeta
Locations
Adventure Fields
Egg Carrier | Mystic Ruins | Station Square
Chao Gardens
Station Square Garden | Mystic Ruins Garden | Egg Carrier Island
Misc.
Angel Island | Black Market | Chao Stadium | Shrine of Knuckles's race | Tails' Lab
Action Stages
Emerald Coast | Windy Valley | Casinopolis | IceCap | Sky Chase | Twinkle Park | Speed Highway | Red Mountain | Sky Deck | Lost World | Hot Shelter | Sand Hill | Twinkle Circuit | Final Egg
Bosses
Chaos 0 | Chaos 2 | Chaos 4 | Chaos 6 | E-101 Beta | E-101 Mark II | E-102 Gamma | E-103 Delta | E-104 Epsilon | E-105 Zeta | Egg Carrier | Egg Hornet | Egg Viper | Egg Walker | Perfect Chaos | ZERO
Moves/techniques
Bolt of lightning | Climb | Dig | Flight Mode | Propeller Flight | Glide | Hammer Attack | Hammer Jump | Hover | Homing Attack | Homing Missile Launch | Jump Attack | Laser Gun | Light Speed Attack | Light Speed Dash | Lure Attack | Maximum Heat Knuckles Attack | Pick | Punch Attack | Rapid Tails Attack | Spin Hammer Attack | Spin Dash | Spin Jump | Tails Attack

Level Up Items

Ancient Light | Crystal Ring | Fighting Gloves | Jet Anklet | Jet Booster | Laser Blaster | Life Belt | Light Speed Shoes | Long Hammer | Lure | Power Rod | Rhythm Badge | Shovel Claw | Warrior Feather
English voice actors
Ryan Drummond (Sonic) | Corey Bringas (Tails) | Michael McGaharn (Knuckles) | Deem Bristow (Eggman) | Jennifer Douillard (Amy) | Jon St. John (Big) | Elara Distler (Tikal, Station Square Train Voice, Default Menu Voice) | Steve Broadie (Gamma, Pachacamac, Mystic Ruins Train Voice) | Tomoko Sasaki (Chao)
Japanese voice actors
Jun'ichi Kanemaru (Sonic) | Kazuki Hayashi (Tails) | Nobutoshi Kanna (Knuckles) | Chikao Ōtsuka (Eggman) | Taeko Kawata (Amy) | Shun Yashiro (Big) | Kaori Asō (Tikal) | Jōji Nakata (Gamma) | Tōru Ōkawa (Pachacamac) | Kaho Kōda (Station Square Train Voice) | Nobutoshi Kanna (Mystic Ruins Train Voice) | Elara Distler (Default Menu Voice) | Tomoko Sasaki (Chao)

Original Soundtrack

/

Remix

/

Vocal Mini Album

/

20th Anniversary

/

Passion & Pride

Believe In Myself | It Doesn't Matter | Lazy Days | My Sweet Passion | Open Your Heart | Unknown from M.E.

Other
777 Slots Pinball | Air Bubbles | Auto Running | Balloon | Bumper | Bumper Car | Cannon | Capsule | Card & Pinball | Chao Egg | Chaos Emerald | Chao in Space | Chao Machine | Conveyor Belt | Corkscrew loop | Crank | Dash Panel | Dash Ring | Debug Mode | Egg Carrier 2 | Emblem | Emerald Radar | Emerald Shard | Employee ID Card | Fan | Flipper | Hanging Bell | Hedgehog Hammer | Helicopter | Hint Box | Item Box (Bomb, Extra Life, Invincibility, Lightning Shield, Power Sneakers, Shield, Super Ring) | Jump Panel | Key Stone (Gold Statue, Ice Stone, Silver Statue, Wind Stone) | Lit Panel | Metal barrel | Mission Mode | Monkey Destruction Switch | Mr. Know-It-All | Pinball Shooter | Power cube | Ramp | Ring | Rocket | Sandboard | Shrine of Knuckles's race | Shuttle loop | Sky-Chase Dragon | Slot Machine | Snowboard | Sonic Token | Station Square Police Department | Switch | Target Doll | Teleporter | Tornado | Tornado 2 | Trick Jump Panel | Wide Spring | Wind Path | Zip Line

*Exclusive to Sonic Adventure DX: Director's Cut.