Skirmish in the Sky
Talk

0
6,669pages on
this wiki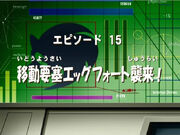 "Skirmish in the Sky" (Japanese: 移動要塞エッグフォート襲来!, Idōyōsai Eggu Fōto Shūrai!?, lit. Raid of Egg Fort, the Flying Fortress!) is the fifteenth episode in the anime series Sonic X.
Characters
Edit
Chris's House
Mall
Downtown Station Square
Chris and the others plan to go shopping because they no longer need to hide from the public. Meanwhile, Eggman has created a battleship called the Egg Fort and goes to destroy Station Square. Sonic arrives and tries to battle Eggman, but he fails. Tails discovers the only way to defeat Eggman is by using the X-Tornado, which is still at Chris's home. Sam Speed arrives and takes Tails, Amy, Cream, Chris, and Ella home. At the same time, Sonic is attacked by Eggman's robots. Tails, Amy, Cream, Chris, Ella and Sam are attacked by Eggman's robots too, but Mr. Stewart saves them. He joins them on a mission called Take X-Tornado. The robots attack again, but Tanaka saves them with the X-Tornado. Tails, Amy, and Chris then use the jet to save Sonic. The X-Tornado then takes the fight out over the ocean to prevent damage to Station Square. Sonic defeats Eggman by using 2 Power Rings at once. The Egg Fort sinks below the ocean, but Sonic, Tails, Amy, and Chris are worried Eggman will soon be back.
Screenshots
Edit
Episodes 14 and 15 are the first media in Sonic to feature drunkness.
When Sonic is clinging on to the Egg Fort for his life, his arms are momentarily blue.
Amy didn't use her Piko Piko Hammer in this episode.