Skorp
Appearances
First appearance
Game
appearances
Biographical overview
Creator
Physical description
Species
Gender

None

Color scheme

Orange

Eyes

black

The Skorp (スコープ, Sukōpu?) is a scorpion-type created by Doctor Robotnik. It appears only at Sandopolis Zone in Sonic & Knuckles. It is perhaps the most deadly badnik in the zone, as its attacks are often quick and unpredictable. It resembles another scorpion badnik from Sonic the Hedgehog CD.
Description
Attack pattern
The Skorp attacks by means of a mace on the end of its tail. This is to be expected from a badnik based on a scorpion, as sting is most definitely in its tail. When the player's character is in attacking range, it will rear up its tail and take a swing at the player before retracting it back and attacking again. Skorps are often found atop ledges that the player must jump up on to proceed, as this makes avoiding their attacks and defeating them fairly difficult.
The summary of the Sandopolis Zone in the US manual states "Time your attack on the Skorps just right!" When the player has to negotiate this badnik, it has to be made to attack, then just as it snatches back its mace to attack again it can be dispatched with a quick rolling Spin Attack. A jump often ends in misery for the player as it invariably results in getting hurt by the mace and, perhaps, losing Rings.
Trivia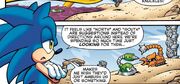 Sonic the Hedgehog 3 & Knuckles
---
Main articles (Sonic 3 | Sonic & Knuckles | Sonic 3 & Knuckles) | Sonic 3's Gallery | Beta elements | Sonic & Knuckles' Gallery
Characters
Sonic (Super Sonic, Hyper Sonic) | Tails (Super Tails) | Knuckles (Super Knuckles, Hyper Knuckles) | Dr. Robotnik | Mecha Sonic (Super Mecha Sonic) | Animals (Flicky (Flicky's Super State), Pocky, Pecky, Cucky, Ricky, Rocky)
Badniks
Batbot | Blaster | Blastoid (Carnival Night Zone) | Blastoid (Hydrocity Zone) | Bloominator | Bubbles | Bugernaut | Butterdroid | Catakiller, Jr. | Chainspike | Clamer | Cluckoid | Corkey | Dragonfly | EggRobo | Fireworm | Flybot767 | Hyudoro | Iwamodoki | Jawz | Madmole | Mantis | Mega Chopper | Monkey Dude | Mushmeanie | Orbinaut | Penguinator | Pointdexter | RhinoBot | Ribot | Rock'n | Sandworm | Skorp | Snale Blaster | Spikebonker | Spiker | Star Pointer | TechnoSqueek | Toxomister | Turbo Spiker
Zones
Sonic 3
Angel Island Zone | Hydrocity Zone | Marble Garden Zone | Carnival Night Zone | IceCap Zone | Launch Base Zone | Special Stages | Bonus Stages
Sonic & Knuckles
Mushroom Hill Zone | Flying Battery Zone | Sandopolis Zone | Lava Reef Zone | Hidden Palace Zone | Sky Sanctuary Zone | Death Egg Zone | The Doomsday Zone | Special Stages | Bonus Stages
Competition
Azure Lake Zone | Balloon Park Zone | Chrome Gadget Zone | Desert Palace Zone | Endless Mine Zone
Sub-bosses
Fire Breath | Big Shaker | Tunnelbot | Bowling Spin | Big Icedus | Twin Hammer | Hei Hou | Gapsule | Barrier Eggman | Stone Guardian | Heat Arms | Egg Mobile Hammer Ball | Flying Eggman | Red Eye | Death Ball
Bosses
Flame Mobile | Screw Mobile | Drill Mobile | Graviton Mobile | Freezer Mobile | Ball Shooter | Beam Rocket | Big Arm | Jet Mobile | Hang Mobile | Egg Golem | Hot Mobile | Knuckles | Mecha Sonic | Super Mecha Sonic | Kyodai Eggman Robo | The Doomsday Zone
Moves/techniques
Bounce Attack | Double Jump | Propeller Flying | Glide | Hyper Flash | Insta-Shield | Gliding Knuckles Attack | Spin Jump | Spin Dash | Spin Attack | Wall Climb
Items
Air Bubbles | Balloon | Banana | Bomb | Bumper | Capsule | Change | Chaos Emerald | Continue Monitor (Water Shield, Flame Shield, Invincibility, Lightning Shield, Super Ring, Power Sneakers, Extra Life, S, Eggman) | Ring | Signpost | Self-Propelled Bomb | Slow-Down Shoes | Snowboard | Sphere | Spikes | Spring | Star Post | Super Emerald | Switch
Other
Angel Island | Booster | Bumper wall | Cannon | Conveyor Belt | Corkscrew loop | Crusher | Debug Mode | Fan | Fireball Cannon | Flipper | Flywheel | Freezing Machine | Goal | Gumball | High-speed elevator | Jewel Radar | Jump Stand | Lava Drill | Movable Crate | Perfect Bonus | Pole Elevator | Pulley | Relief | Reverse | Ring Shooter | Seesaw | Shuttle loop | Slot Machine | Sonic & Knuckles • Sonic the Hedgehog 3 | Spear | Spiked Ball | Spinning Top | Spinning Wheel | Strange Relief | Transport | Warp Point | Winding Tunnel | Wonderman | Zip Line