Sky Chase Zone
Talk

2
8,532pages on
this wiki
This is the Sonic the Hedgehog 2 zone. You may be looking for the Sonic Adventure minigame stage, Sky Chase (Sonic Adventure).
Sky Chase Zone

Sonic on the Tornado, piloted by Tails.
Appearances and Overview
First appearance
Other appearances
Description

Sonic and Tails pursue Robotnik with the Tornado through the skies.

Location

The skies above West Side Island

Stage theme(s)
Previous stage
Next stage
Playable characters
(story mode)
Level number
Number of acts

1

Enemies
Sky Chase Zone is the ninth Zone in Sonic the Hedgehog 2. It is the first of three consecutive single-Act zones that conclude the game.
Overview
Sonic has managed to fight Dr. Robotnik through West Side Island and has driven him off the island. Robotnik flees his massive Metropolis base and takes to his airbase, while Sonic and Tails give chase in the Tornado. This level serves as a relaxing interlude for the next stage, Wing Fortress Zone. Alternatively, it could also be described as a break from the heavy action of the previous zones. It is generally viewed as much easier than the previous area, Metropolis Zone.
In this stage, the player (Sonic or Tails) will be standing on top of the wings of the Tornado bi-plane. The other character will be in the cockpit, flying the plane. The player will have to fight the airborne Badniks as they move towards the Wing Fortress. This is always the situation, regardless of whether you selected to play as Sonic and Tails at the beginning of the game, or one of the two alone.
This level scrolls to the right automatically, so it is possible for Sonic/Tails to get crushed between the left side of the screen and another enemy if the player isn't fast enough. This is the first Sonic level on the Sega Genesis to contain an automatic scroll, but not the first Sonic level overall to have an automatic scroll (that dubious honor going to Act 2 of Bridge Zone in Sonic the Hedgehog for the Master System).
The goal is to get to the end of the level, which flows right into Wing Fortress Zone (the aerial juggernaut flying past the bi-plane at around the midpoint of this stage). Since the level scrolls automatically, it takes at least 2 minutes and 6 seconds to complete the stage. There is no boss on the zone.
Trivia
Music
Video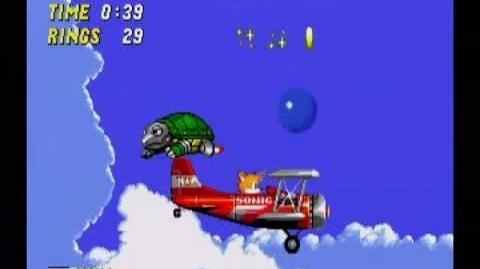 External Links