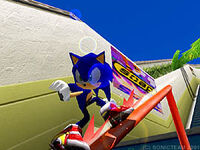 Soap is an actual footwear company that was featured in the video game Sonic Adventure 2 as a cameo. This game presented many billboards, blimps, and benches advertising the shoes; Sonic also wore a custom version of the Scorcher/Nitro shoe exclusive to the title, while the darker character Shadow wore hybrid jet hoverskate/grind shoes, as grinding (or "soaping") debuted as an important new gameplay element. Although grinding remains as a core element in recent Sonic games, officially licensed Soap shoes have given way to generic grind shoes. Pending the sale of Soap to In-Stride and later HSL, no actions were taken for the continuation of the partnership.
In two episodes of the anime Sonic X, Sonic's Soap shoes are brought in to give Sonic an advantage over his enemies.
Actual footwear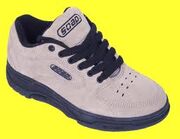 Soap shoes are shoes made for grinding. They were introduced by Chris Morris of Artemis Innovations Inc. with the brand name "Soap" in 1997. They have a plastic concavity in the sole, which allows the wearer to grind on objects such as pipes, handrails, and stone ledges. The company and their product rapidly gained popularity through fansites, a video game, and live demonstrations. Soap fell to legal vulnerabilities and was readministrated twice, eventually bringing the brand to Heeling Sports Limited. The act of grinding on rails and ledges specifically using Soap shoes has been dubbed "soaping," with the "soaper" being the one performing said act.
Trivia
Sonic was supposed to use his normal shoes in the game, but they were replaced by these shoes. Early pictures of the Neutral Garden and Sonic Adventure 2 Trial shows Sonic with his normal shoes.
Though Sonic's Soap Shoes still appear in the HD version of Sonic Adventure 2, the Soap Shoe ads are not present, having been replaced with other ads, such as ads for Sonic Team or the word "Speed".
A pair of Sonic's Soap Shoes, dubbed as "Sonic 2G Shoes" can be unlocked for an Xbox Live Avatar by amassing a total playtime of 10 hours in Sonic Adventure 2. The shoes, however, are not as detailed as their in-game counterpart.
Interestingly enough, the brand has two shoes named CHAOS_6028 and CHAOS_6029. Whether this is a reference to the Sonic the Hedgehog series is not known.
According to an interview on Sonic Central, the soap shoes Sonic wore in Sonic Adventure 2 and Sonic Adventure 2: Battle were specifically made for grinding and was something that Sonic always wanted to try.[1]
References
↑ Sega of America (March 2007). Sonic Central. Sega of America. "Darrell C: Why did you change your shoes in Sonic Adventure 2 Battle? / Sonic: Those were special shoes that were specifically made for grinding. It was something that I've always wanted to try and it sure came in handy! Look forward for some more intense and extreme grinding in my next adventure, Sonic Heroes."
External links
---
Main article | Gallery | Beta elements | Re-releases (Battle | 2012)
Characters
Sonic (Super Sonic) | Tails | Knuckles | Amy* | Shadow (Super Shadow) | Rouge | Eggman | Big*^ | Tikal* | Chao (Dark Chao/Walker*, Hero Chao, Chao Walker*, Chaos Chao) | Metal Sonic* | Gerald | Maria | President | Secretary | Animals (Bat, Bear, Boar, Cheetah, Condor, Dragon, Gorilla, Half Fish, Parrot, Peacock, Penguin, Phoenix, Rabbit, Raccoon, Seal, Sea Otter, Sheep, Skeleton Dog, Skunk, Tiger, Unicorn)
Enemies
G.U.N troops
Blue Eagle | Bomb Beetle | Bomb Wing | Gold Beetle | Gun Beetle | Gun Hawk | Gun Hunter | Gun Wing | Hornet-3 | Hornet-6 | Hornet-9 | Laser Hawk | Laser Hornet | Laser Hunter | Mono Beetle | Phoenix | Rhino Cannon | Rhino Jet | Rhino Metal | Rhino Spike | Shield Hunter | Sky Hawk | Spark Beetle | Spring Beetle
Misc
Artificial Chaos | Badniks (Buzz Bomber, Chopper) | Boo | Boom Boo | E-1000 | E-20 Kiki | E-31 Gola | E-32 Unidus | Egg Beetle

Stages

1P Stages
City Escape** | Wild Canyon** | Prison Lane | Metal Harbor** | Green Forest** | Pumpkin Hill** | Mission Street** | Aquatic Mine | Route 101 | Hidden Base** | Pyramid Cave | Death Chamber | Eternal Engine** | Meteor Herd** | Crazy Gadget | Final Rush** | Iron Gate** | Dry Lagoon** | Sand Ocean** | Radical Highway** | Egg Quarters** | Lost Colony** | Weapons Bed | Security Hall** | White Jungle** | Route 280 | Sky Rail** | Mad Space | Cosmic Wall** | Final Chase** | Cannon's Core | Green Hill
2P Stages
Downtown Race | Grind Race | Planet Quest | Pool Quest | Deck Race | Pyramid Race
Locations
Black Market | Central City | Chao Garden (Dark, Hero, Neutral) | Chao Kindergarten | Chao Stadium | Prison Island | Station Square | Space Colony ARK | Moon
Bosses
B-3x Hot Shot | Biolizard | Dr. Eggman | Egg Golem | F-6t Big Foot | Finalhazard | King Boom Boo | Knuckles | R-1/A Flying Dog | Rouge | Shadow | Sonic | Tails
Moves/techniques
Black Shield* | Black Wave* | Bounce Attack | Captive Light* | Chaos Bind* | Chaos Screw* | Charm Ray* | Chaos Control | Chaos Spear | Chaos Strike* | Crazy Rush* | Dark Omochao* | Dig | Drill Claw | Drill Drive | Fire Somersault | Grind Step | Grinding | Hammer Punch* | Heaven's Justice* | Hell Bomber* | Hip Drop* | Hover | Homing Attack | Jump Dash | Kick/Kick Attack | Knuckle Spin* | Light Attack | Light Speed Dash | Lock-on | Lock-On Missile | Magic Hands | Omochao | Pick | Power Laser* | Propeller Punch | Punch (Egg Walker) | Punch/Punch Attack | Rocket Launcher | Rumble Launcher* | Screw Kick | Somersault | Sonic Wind* | Speed Up* | Spin Jump | Spin Dash | Spiral Upper | Storming Heart* | Super Sonic Boost | Swim | Thunder Arrow* | Time Stop* | Volkan Cannon | Wrath of Gaia*

Level Up Items

Air Necklace | Air Shoes | Ancient Light | Bazooka | Booster | Bounce Bracelet | Flame Ring | Hammer Gloves | Iron Boots | Jet Engine | Large Cannon | Laser Blaster | Light Speed Shoes | Magic Gloves | Mystic Melody | Protective Armor | Shovel Claw | Sunglasses | Treasure Scope
English voice actors
Ryan Drummond (Sonic) | Connor Bringas (Tails) | Scott Dreier (Knuckles/GUN Soldiers) | Jennifer Douillard (Amy Rose) | David Humphrey (Shadow the Hedgehog) | Lani Minella (Rouge/Omochao) | Deem Bristow (Doctor Eggman) | Moriah Angeline (Maria Robotnik) | Marc Biagi (Gerald/GUN Soldiers) | Steve Broadie (President) | Shelly Fox (Default menu voice) | Jon St. John (Big) | Elara Distler (Tikal) | Tomoko Sasaki (Chao)
Japanese voice actors
Jun'ichi Kanemaru (Sonic) | Kazuki Hayashi (Tails) | Nobutoshi Kanna (Knuckles) | Taeko Kawata (Amy) | Kōji Yusa (Shadow) | Rumi Ochiai (Rouge) | Chikao Ōtsuka (Eggman ) | Etsuko Kozakura (Omochao) | Yuri Shiratori (Maria) | Kinryū Arimoto (President) | Shun Yashiro (Big) | Shelly Fox (Default menu voice) | Tomoko Sasaki (Chao)

OST

/




Vocal Collection

/




Official

/

Sampler

/




20th Anniversary

/




Passion & Pride

A Ghost's Pumpkin Soup | Believe In Myself | Deeper | Dive into the Mellow | E.G.G.M.A.N. | Escape from the City | Fly in the Freedom | For True Story | It Doesn't Matter | Kick the Rock! | Live and Learn | My Sweet Passion | Rhythm And Balance | Space Trip Steps | Supporting Me | The Supernatural | Throw It All Away | Unknown from M.E. | Vengeance is Mine
Other
Angel Island | Ancient Ruin | Auto Running | Ball Switch (Gravity Control Switch, Hourglass, Time Stop Switch) | Bomb | Bungie Vine | Chao Adventure^ | Chao Adventure 2^ | Chao Eggs | Chao in Space | Chao Key | Chao World | Chao Machine | Chaos Emerald | Chaos Drive | Container | Corkscrew loop | Cyclone | Dash Panel | Dreamcast | Dynamite | Eclipse Cannon | Eggwalker | Emblem | Emerald Radar | Emerald Shard | GameCube | Gerald Robotnik's diary | Goal Ring | Green energy fluid | Grind Rail | GUN Military Truck | High-Speed Warp Tube | Health Gauge | Hint Box | Item Box (Bomb, Extra Life, Invincibility, Magnetic Barrier, Power Sneakers, Shield, Super Ring) | Kart Race | Key Stone (Gate Key) | Laser Field Block | Meteorite | Missile | Pipe | Project Shadow | Propeller Spring | Pulley | Rank | Ramp | Ring | Rocket | Safe | Shuttle loop | Snowboard | Soap shoes | Swing Bar | Teleporter | Totem Pole | Turtle | Warp Hole | Warp Wall | Weight | Wide Spring | Winding Tunnel

*Appears or is playable only in the 2P mode
**Stage is also playable in 2P mode
^ Dreamcast version of Sonic Adventure 2 only