This article contains information about a canceled object.

As a result, the content of the article may have been canceled or replaced by another subject.
Sonic-16 was an unfinished video game created by STI for the Sega Mega Drive console. It was based off the then-popular TV series. Peter Morawiec and John Duggan put it together shortly after the completion of Sonic the Hedgehog Spinball.[1] The demo was dated November 1993.
History
Probably due to the slow pace of the demo, Yuji Naka gave the demo a thumbs down and the game was never developed further. A video demonstrating this game concept was released showing Sonic in a level resembling Robotropolis and enemy security cameras and Swat-bots. His moveset included the Buzzsaw, Spike Blast and Ring Attack. At the end, he meets up with Sally and enters a building.
The game was meant to be 16 megs (2MB) and the artwork would be designed to reflect the style used in the cartoon series, rather than that used in the games. The sprites and level art would generally be larger in size than that used by the Sonic games at that point. Even though it appeared to be slower paced than preceding games it was meant to contain faster moving segments. It was also to be more story driven than previous games so the game could be tied into the TV series more.
According to Chris Senn, a developer of Sonic X-treme, this game was actually another phase of the cancelled Sonic X-treme.[2]
Videos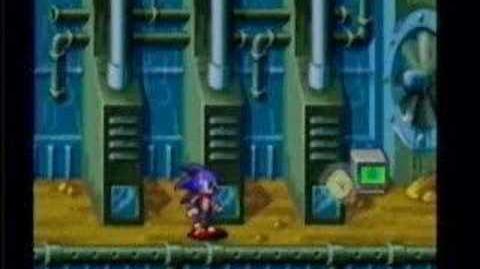 References
External links