Ad blocker interference detected!
Wikia is a free-to-use site that makes money from advertising. We have a modified experience for viewers using ad blockers

Wikia is not accessible if you've made further modifications. Remove the custom ad blocker rule(s) and the page will load as expected.
You may be looking for Sonic Action 4 Pack.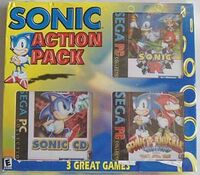 Sonic Action Pack is a compilation of three PC games, released somewhere at the end of 2000. The compilation is large box, containing each game within their own box; more like in the form of a present. The games included are Sonic & Knuckles, Sonic the Hedgehog CD and Sonic R. This was both published and developed by Sega themselves.
| | |
| --- | --- |
| Console | Sonic Compilation (1995, Sega Genesis) • Sonic 2 in 1 (1995, Sega Game Gear) • 6-Pak (1996, Sega Genesis) • Sonic Jam (1997, Sega Saturn, Staff) • Sonic & Knuckles Collection (1997, PC) • Sega Smash Pack (2001, Dreamcast) • Sega Smash Pack (2002, Game Boy Advance) • Sonic Mega Collection (Plus) (2002, 2004, multi-platform) • Sonic Adventure DX: Director's Cut (2003, multi-platform) • Sonic Gems Collection (2005, multi-platform) • Sega Genesis Collection (2006, multi-platform) • Sonic's Ultimate Genesis Collection (2009, multi-platform) • Sonic Classic Collection (2010, multi-platform) • Dreamcast Collection (2011, multi-platform) |
| PC | Sega Smash Pack (1999) • Arcade Collection (2000) • Sega Smash Pack 2 (2000) • Sonic Action Pack (2000) • Sonic Action 4 Pack (2001) • Sonic Mega Collection Plus (2006) • Sonic PC Collection (2009) • Sonic Anniversary PC Pack (2011) • Dreamcast Collection (2011) • Sega Genesis Classic Collection Gold Edition (2011) • Sonic Hits Collection (2013) |