Sonic Boom (TV series)
Talk

20
8,407pages on
this wiki
For other subjects with the same name, see Sonic Boom (disambiguation).

Sonic and crew are gonna deliver the boom!

— Tagline
Sonic Boom

The logo for Sonic Boom.
Genre(s)

Animation
Action
Adventure
Comedy
Fantasy

Produced by
Production company(s)
Written by

Mike Banker

Network

USA

France

Number of episodes

52

Running time

11 minutes

Original run

October 2014
Sonic Boom is an upcoming CG-animated television series scheduled for release in October 2014.[2] It is a cartoon comedy series that is aimed at children centering on Sonic, with his friends, Tails, Amy, Knuckles, and Sticks, their never ending search for adventure and their battles with their nemesis Doctor Eggman. Other characters, both new and old, will also join the ensemble.[3]
Production
Sonic Boom is set to first debut in the fall of 2014 on Cartoon Network in the U.S. and on Canal J and Gulli in France, followed by a global rollout. The number initial order of episodes is 52, with 11 minutes of running time is co-produced by Sega of America Inc. and OuiDO! Productions.
Takashi Iizuka is overseeing the series to ensure that it's true to the Sonic characters and universe.[3] Also, many of the current voice actors for the Sonic series will be voicing the animated series.[4] According to the Sonic Boom database on the IMDB website, showrunners such as Evan Baily and Bill Freiberger will be executive producers and will help the Sonic Boom television series. Mike Banker will also assist with writing the television series.[5][6] Episodes are now under production.[5]
Characters
The cast for Sonic Boom was confirmed by Sega on 25 February 2014. Jack Fletcher works as the voice director.
Plot
The TV series is an ensemble comedy revolving around Sonic and his friends Tails, Knuckles, Amy and Sticks that pokes fun at action-adventure storytelling, but still manages to deliver plenty of adrenaline. It is set in a wide-open world, where most of the characters live in and around a Village. This vast landscape is filled with jungles, mountains, undersea civilizations, cloud cities and all kinds of other environments.
Trivia
Videos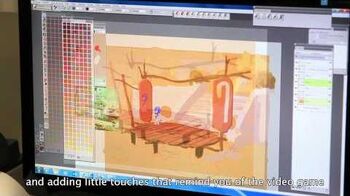 References