Sonic Breakout
Talk

0
6,674pages on
this wiki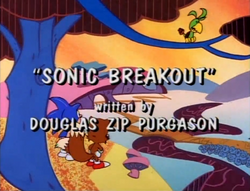 "Sonic Breakout" is the sixth episode of the series Adventures of Sonic the Hedgehog.
This episode was written by Douglas Zip Purgason.
Characters
Edit
Locations
Edit
A local news stand
Sketch Lampoon's office.
Sonic's Disguises
Edit
A Window Washer
A Surfer Dude
An Artist (in Sonic Says)
Sonic and Tails rush to the news stand to pick up the months new issue of their favorite comic, Crack Ups. Meanwhile Scratch and Grounder have also obtained the new issue. Scratch and Grounder are so distracted by their comic that they are not paying attention to Dr. Robotnik as he introduces his new inescapable prison, "Robotnik's rot your life away dungeons". Dr. Robotnik grabs the comic away and is outraged to find jokes in the comic mocking him and his egg shaped physique. Robotnik orders Scratch and Grounder to capture the artist who drew the comic to be his first prisoner in "Robotnik's rot your life away dungeons".
Scratch and Grounder easily capture the artist, a crazy bird by the name of Sketch Lampoon. Sonic and Tails hear of the kidnapping on the radio so they go to "Robotnik's rot your life away dungeons" to rescue Sketch. Sonic allows himself to be captured. But is not counting on the fact that Robotnik built a super special prison just for him with lasers, spears and a spike ball that automatically shoot and smash anything that is hedgehog blue. Robotnik leaves Scratch and Grounder on guard while he goes and forces Sketch Lampoon to draw him handsomely with muscles in his new issue of Crack Ups.
Robotnik is furious at Sonic making fun of him, so he sends him to the cell for interfering his plans once again. While imprisoned, Sonic pretends that he is reading next months issue of Crack Ups that he claims Sketch Lampoon gave him. Wanting to see it, Scratch and Grounder open the cage. Sonic tapes a poster of himself on Grounder's back, stating that he may be a little taller but they've got his hedgehog blue colour just right. They realise it's this month's issue and Scratch notices the poster on Grounder's back. The spears, lasers and spike ball all attack Scratch and Grounder, then Sonic escapes.
Sonic and Tails then go around and set off all the security alerts, overloading the system. The Prison starts to crumble and fall apart. Sonic frees Sketch Lampoon and grabs Tails and the three of them race out of the prison just before it collapses. Dr. Robotnik is left on his back crying and yelling "I've fallen and I can't get up!" (Just like in the Crack Ups comic) and "I hate that Hedgehog!"
Sonic Says
Edit
Tails is stopped by Sonic just before spray painting a public wall. Sonic gets a pair of canvases and he and paints a thumbs up and says it is art. Tails spray paints a Chili Dog on his canvas and shows Sonic. Sonic says "Now that's way past art."
Tails' quotes
Edit
There's the delivery truck, Sonic. Let's go.
I'm not worried. AH! Ok. I'm worried.
I've been waiting a whole month for this.
Hey, Sonic. Look! There's a free poster of you in this issue.
What are we gonna do?
Robotnik Quote
Edit
Grrr! GET IN THERE! YOU'VE INTERFERED WITH MY PLANS FOR THE LAST TIME!! And, I should noticed that Sonic's out of the way.
Screenshots
Edit
Animation cels
Edit
Both Sonic and Robotnik use the line "I've fallen and I can't get up" in this episode. This line is one of the catchphrases of Steve Urkel, the signature character of Jaleel White who also does the voice of Sonic.
The voice Sonic uses in his surfer disguise is exactly the same as his brother Manic's in Sonic Underground.