Sonic the Hedgehog (website)
Talk

0
8,866pages on
this wiki
For more usages of the term Sonic the Hedgehog, see Sonic the Hedgehog (disambiguation).
Sonic the Hedgehog is a website that was dedicated to Sonic's 20th anniversary. The website is in English for US and European fans. Initially, there were two separate websites: Sonic Central (for America) and Sonic City (for Europe)
Sonic Central
Sonic Central was the main North American Sonic the Hedgehog website. The website allowed users to view information on Sonic-related material, including Archie comics. The shop section allowed visitors to buy things such as shoes, DVDs, and strategy guides. Another feature was the Sonic radio, which played a variety of music from games like Sonic Riders and Shadow the Hedgehog.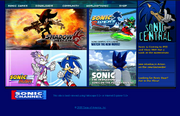 Sonic Central seems to have been abandoned or discontinued. Links to the site from
SEGA
's home page have disappeared and the site had not been updated since 2008. As of January 3rd 2011, the website has been taken down and now redirects to a list of
Sonic games
.
In July of 2011, the site was redirected, which used to redirect to the Archie comics of Sonic the Hedgehog page[citation needed].
Sonic City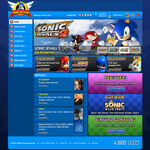 Sonic City was a popular website used by the Britons and made by Sega of Europe. It was an alternate version of Sonic Central.
External links