Sonic Classic Collection is a compilation game for the Nintendo DS developed by The Creative Assembly and published by Sega, and is the eighth compilation in the Sonic the Hedgehog series. It was released on March 2010 for all countries.
The games are an emulation of the Sega Genesis/Sega Mega Drive games rather than a port, and uses the GenesisDS emulator.
Development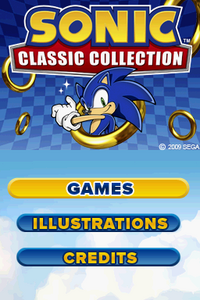 The game was officially announced 2 December 2009 by Sega of America, despite news of this circulating around gaming sites two weeks before when the Australian Government run OFLC posted its daily "Latest Classification Decisions" and had Sonic Classic Collection submitted by Sega Australia.[3] A few days later, the UK's BBFC posted information in a similar manner to the Australian Government about the game, but revealed what the game contained.[4] Sega's official press release about what the game contained confirmed what the BBFC found.
Content
The collection features four original Sonic games on one cartridge in similar fashion to Sonic Jam, with two lock-on games of Knuckles. The collection includes an art gallery featuring thirty Sonic pictures previously seen in Sonic Jam and Sonic Gems Collection. There is also a credits screen.
Games
Original
Lock-on
Reception and Criticism
The game has received generally mixed to positive reception from reviewers, receiving a 70/100 from Metacritic.[5] Because the games are an emulation, the graphics have been "squished" from the Genesis' resolution to the DS' resolution. There is also minor slowdown, and the bugs and glitches are still prevalent. It was also criticized because Multiplayer was removed. Also, the only way to pause the game is a pause button on the touch screen as the Start/Select buttons will not pause the game. It was also criticized because illustrations was the games' only bonus content.
The game has been praised for having perfect replicated sound and tight controls, with good value for its price.
Merchandise
A special tin was concentrated to consumers in Spain and Australia. The tin included a special Sonic figurine and five collector's cards.
Trivia
Gallery
Artwork
Box artwork
Screenshots
References
External links
| | |
| --- | --- |
| Console | Sonic Compilation (1995, Sega Genesis) • Mega 6 Vol. 3 (1995, Sega Genesis) • Sonic 2 in 1 (1995, Sega Game Gear) • 6-Pak (1996, Sega Genesis) • Sonic Jam (1997, Sega Saturn) • Sega Smash Pack (2001, Dreamcast) • Sega Smash Pack (2002, Game Boy Advance) • Sonic Mega Collection (2002, Nintendo GameCube) • Sonic Adventure DX: Director's Cut (2003, multi-platform) • Sonic Mega Collection Plus (2004, multi-platform) • Sonic Gems Collection (2005, multi-platform) • Sega Genesis Collection (2006, multi-platform) • Sonic's Ultimate Genesis Collection (2009, multi-platform) • Sega Fun Pack (1999, PSP) • Sonic Classic Collection (2010, Nintendo DS) • Dreamcast Collection (2011, multi-platform) • Sega 3D Classics Collection (2015, Nintendo 3DS) • Sega Genesis Classics (2018, multi-platform) |
| PC | Sonic & Knuckles Collection (1997) • Sega Smash Pack (1999) • Sonic & Garfield Pack (1999) • Arcade Collection (2000) • Sega Smash Pack 2 (2000) • Sonic Action Pack (2000) • Sonic Action 4 Pack (2001) • Sonic Mega Collection Plus (2006) • Sonic PC Collection (2009) • Sega Mega Drive Classic Collection Vol. 1 (2010) • Sonic Anniversary PC Pack (2011) • Dreamcast Collection (2011) • Sega Genesis Classic Collection Gold Edition (2011) • Sonic Hits Collection (2013) • Sega War Bundle (2013) • Sega Forever (2017) |