You may be looking for Sonic Dash.
Sonic Dash Quiz (ソニックダッシュクイズ, Sonikkudasshukuizu?) is a quick mobile adventure that involves answering questions at Sonic speed. It is available for DoCoMo's I-mode 902 and 093 series phones. It is currently only available in Japan. Sonic, Tails, Knuckles and Shadow are the only characters in this game.
Description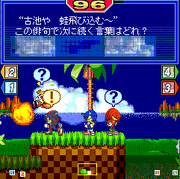 This is the translated announcement of said game:
"In this game, the player is Sonic and must compete against Tails, Knuckles and Shadow in a quiz. The "dash" element of the quiz is that once the player has decided which is the correct answer to a given multiple choice question (out of 4), they must then run to the colored ring that matches the answer to the question on screen, dodging attacks from the other players and dealing some themselves if an opponent gets in the way. The player with the most correct ring grabs at the end of the game wins." [1]
Trivia
Sonic's eyes are miscolored blue on the game's title screen, just like 2005's Sonic Jump.
References
External links
Ad blocker interference detected!
Wikia is a free-to-use site that makes money from advertising. We have a modified experience for viewers using ad blockers

Wikia is not accessible if you've made further modifications. Remove the custom ad blocker rule(s) and the page will load as expected.