This article contains information about or related to an upcoming video game scheduled for a

future release

.
The content of the article may change dramatically as more information becomes available. Any information added to the article without a reliable source may be deleted without warning.

Sonic Forces[4] is an upcoming platform video game in the Sonic the Hedgehog series which is being developed by Sonic Team and to be published by Sega. It is scheduled to be released during Q4 2017 for PC, Nintendo Switch, PlayStation 4 and Xbox One. The game will mark the return of the collaboration between both Classic Sonic and Modern Sonic since the twentieth anniversary game Sonic Generations. Despite initial popular belief, this title is not a sequel to any of the previous games.[5]
Development
The title was first mentioned at the Tokyo Joypolis Sonic 25th party on 25 June 2016 under the name "Project Sonic 2017".[6] The game was announced at Sega's 25th anniversary of the series at San Diego Comic-Con on 22 July 2016, where it was announced alongside Sonic Mania.[7][8][9] The game will be developed by Sonic Team, the same team that had previously developed Sonic Colors and Sonic Generations,[10] and will be headed by Sonic series veteran Takashi Iizuka.[11] The presence of Classic and Modern Sonic led some journalists to believe it was a sequel to Sonic Generations,[12] but Iizuka confirmed that it was not a sequel, but a new, stand-alone title.[5] The game will be released for Nintendo Switch, PC, PlayStation 4 and Xbox One in late 2017.[13]
During the Sonic live stream that was held in Japan due to the release of Sonic Boom: Fire & Ice, it was revealed that there will be a new character introduced in Sonic Forces, along with a new component of gameplay besides the regular 2D and 3D gameplay.[14][15]
SXSW 2017 announced they would be hosting a second Sonic panel for this year's event, set to reveal news about the upcoming Sonic Mania and Sonic Forces.[16] The latest Nintendo Dream Magazine from Japan also revealed new information about Sonic Forces for the Nintendo Switch, PC, PlayStation 4 and Xbox One. The blurb stated that Dr. Eggman will be the main villain, that there will be no multiplayer features, and that the genre for the game is "adventure".[17] Soon after, it was unveiled that the game will be an evolution of Sonic Colors and Sonic Generations and features a new game engine developed for this title called "Hedgehog Engine 2".[18]
Plot
Spoiler warning: Plot, ending details or any kind of information follow.
The key themes of the plot for Sonic Forces are "forces", "power" and teamwork.[4][19] This time around, the unthinkable has happened: Sonic the Hedgehog has failed and Dr. Eggman has won.[4][20] While Sonic was preoccupied,[21] the world has been conquered by Eggman and his Eggman Empire,[20][21] and it is up to Sonic, along with his past self, to set things right. With multiple forces now fighting for the control of the planet,[21] it all comes down to a battle between the forces of good and the forces of evil, with Sonic and his friends on one side, and Eggman and his evil army on the other.[20]
Gameplay
Sonic Forces will feature three different styles of gameplay. Two of these include the gameplay styles of Modern Sonic and Classic Sonic respectively as seen in Sonic Generations.[18] In Modern Sonic's case, he can use his standard Spin Jump, Homing Attack and Stomp maneuvers, along with a reworked Boost from Sonic Unleashed and Sonic Generations. The Wisp power-ups from earlier games will also reappear.[2][22]
Objects
Items
Gimmicks and obstacles
Characters
Playable characters
Non-playable characters
Others
Reception
The International Business Times praised Sega's approach of announcing and releasing the duo of Sonic Forces and Sonic Mania in the same year, stating that catering to the new fans with Forces while catering to the old-school fans with Mania could help repair the series's poor reputation with more recent releases, and in turn lead to a "Sonic renaissance".[26]
Trivia
Videos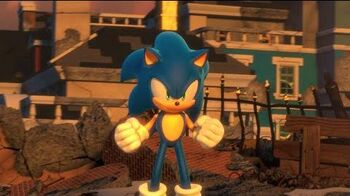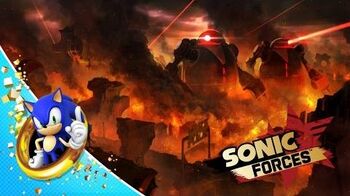 References
| | |
| --- | --- |
| 1991-1997 | Sonic the Hedgehog (1991, Sega Genesis) • Sonic the Hedgehog 2 (1992, Sega Genesis) • Sonic the Hedgehog CD (1993, Sega CD) • Sonic the Hedgehog 3 (1994, Sega Genesis) • Sonic & Knuckles (1994, Sega Genesis) |
| 1998-2004 | Sonic Adventure (1998, Dreamcast) • Sonic Adventure 2 (2001, Dreamcast) • Sonic Heroes (2003, multi-platform) |
| 2005-2009 | Shadow the Hedgehog (2005, multi-platform) • Sonic the Hedgehog (2006, multi-platform) • Sonic Unleashed (2008, multi-platform) |
| 2010-2016 | Sonic the Hedgehog 4: Episode I (2010, multi-platform) • Sonic Colors (2010, multi-platform) • Sonic Generations (2011, multi-platform) • Sonic the Hedgehog 4: Episode II (2012, multi-platform) • Sonic Lost World (2013, multi-platform) |
| Upcoming | Sonic Mania (2017, multi-platform) • Sonic Forces (2017, multi-platform) |
Ad blocker interference detected!
Wikia is a free-to-use site that makes money from advertising. We have a modified experience for viewers using ad blockers

Wikia is not accessible if you've made further modifications. Remove the custom ad blocker rule(s) and the page will load as expected.