Sonic Forces: Speed Battle is a 2017 online battle-racing game. It was developed by Sega Europe and Hardlight for the Android and iOS mobile devices to promote the at-the-time upcoming Sonic Forces.[1] It was soft-launched by Sega on the App Store (and eventually Google Play) on 11 September 2017 in the Philippines and on 20 September 2017 in Canada.
Development
Sonic Forces: Speed Battle was first in development in June 2016 after analyzing the latest capabilities of present-day phones.[2] It began as a prototype by Hardlight, checking if synchronous gameplay would work as well as they expected.[2][3] These early prototypes used existing tech and games as testing grounds for the gameplay, like Sonic Dash 2: Sonic Boom.[3] The game was originally planned for the Sonic Boom franchise, using the main cast of characters from Team Sonic.
From the beginning of the project, Hardlight wanted the game to have flexible levels for more expansive gameplay. For this, they developed a modular system that allowed them to create any track piece they wanted. Hardlight also wanted, right from the start, for the game to be a skill-based, global multiplayer. While relying on the classic staples in the Sonic series, branching paths on the tracks were added to make the game more exciting and unique. Extra care was also made to ensure the levels fit the mobile environment. During development, the staff focused on making the tracks feel appropriate before polishing their design.[4]
Hardlight pitched their idea to Sonic Team back in 2016 when the latter was looking for a mobile game. After discussing with Takashi Iizuka, the teams settled on what would become Sonic Forces: Speed Battle. Hardlight subsequently expanded their team while working on the environments and metagame. After being in development for about a year, Sonic Forces: Speed Battle received a soft launch so Hardlight could test the game and work out the remaining bugs before the global launch.[3] The game is scheduled to have three Zones with twelve tracks for its global launch, with more Zones being planned on being developed.[4]
Gameplay
The gameplay of Sonic Forces: Speed Battle is very similar to that of Sonic Dash and Sonic Dash 2: Sonic Boom, with a competition element akin to that in Sonic Rivals added to it. Instead of an endless runner, it is a basic runner where players each choose a character and race against each other online in real-time on one of many finite tracks selected at random. Characters are unlocked over time by reaching certain positions when completing races. During races, players can collect Gold Rings (which serve to increase their movement speed) and dodge obstacles as they progress to reach the goal (represented by the "Phantom Ruby Prototype"). After a race, the players get to keep the Rings they have collected.
While racing, the playable characters are stuck in automatic run. At the same time, the players can use the Spin Jump and Slide to deflect obstacles and destroy enemies. They can also interact with other paths acquired through rails. Each character has different levels of Speed, Acceleration and Strength stats, as well as a unique selection of power-ups that can be obtained from Item Boxes along the race courses. These items can be used for the players' own benefit or against their opponents.
At the end of the race, players can earn Chests which grant a range of Cards to a particular character. In addition, the first place finisher receives a Victory Chest which can be unlocked to earn larger bonuses, such as a large number of Rings or Cards for multiple characters each.
Cards and Rings can be used as currency to buy power-ups and bonuses, or level up characters which improves their power-up Items' effects. Based on which position they finish the race in, players will then gain or lose Trophies, a numerical matchmaking ranking system akin to an Elo rating system in other competitive games. This matchmaking gameplay mechanic is part of the "Tier" system a player is at, determining which courses the player can play in and the amount of rewards the player can earn from Chests.
Tracks and Tiers
Name
Tier

no.

Required

no.

of Trophies
Tracks unlocked
Tracks in this Tier
Rookie
1
0

Sky Sanctuary: Temple Gate
City: Sunset Bridge

Scout
2
100

Green Hill: Pyramid Valley
Sky Sanctuary: Temple Gate
City: Sunset Bridge

Fighter
3
200

Green Hill: Pyramid Valley
Sky Sanctuary: Celestial Skyway
Sky Sanctuary: Temple Gate
City: Splash Highway
City: Sunset Bridge

Specialist
4
400

Green Hill: Pyramid Valley
Green Hill: Corkscrew Canyon
Sky Sanctuary: Celestial Skyway
Sky Sanctuary: Ancient Isles
City: Splash Highway
City: Sunset Bridge

Veteran
5
700

Green Hill: Parched Palms
Green Hill: Corkscrew Canyon
Sky Sanctuary: Celestial Skyway
Sky Sanctuary: Ancient Isles
City: Red Gate Way
City: Splash Highway

Leader
6
1000

Green Hill: Parched Palms
Green Hill: Corkscrew Canyon
Sky Sanctuary: Ancient Isles
Sky Sanctuary: Spiral Heights
City: Red Gate Way
City: Red Gate Ruins

Hero
7
1500

Green Hill: Parched Palms
Green Hill: Desert Falls
Sky Sanctuary: Spiral Heights
Sky Sanctuary: Ancient Isles
City: Red Gate Way
City: Red Gate Ruins
Gimmicks and obstacles
Characters
Playable characters
Trivia
Gallery
Video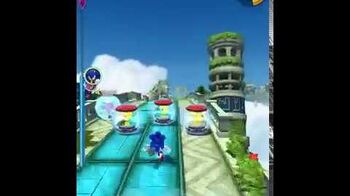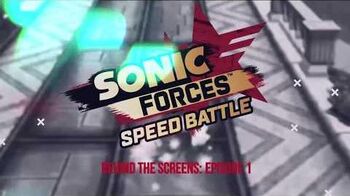 References