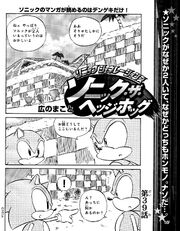 Sonic Generations is a manga published by Dengeki Nintendo DS (now Dengeki Nintendo) on 11 September 2012. It was drawn and written by Makoto Hirono.
Story
Tails invites Sonic to a birthday party where all his friends are waiting for him. Sonic thanks Tails and runs to the party. He greets them, but all his friends are staring at him in silence. Knuckles asks who he is. Sonic, confused, says: I'm the worldwide known hero, Sonic the Hedgehog! My favorite food is Chili-dogs!
Tails then tells Sonic to look his side. Sonic looks and sees a smaller version of himself. Modern Sonic claims that the he is the real Sonic and gets in a argument with Classic Sonic. To resolve this, Modern Sonic challenges Classic Sonic to a speed challenge. Tails says this is nonsense, but classic agrees. Tails shots a pistil in the air and the two hedgehogs race through the green hills.
Tails and Amy watch the race and both agree they are about equal in speed. Modern Sonic starts to doubt himself, but then the hedgehogs come to a grinding halt when a Moto Bug and Buzz Bomber get in their way. The two heroes Spin Dash and destroy the two Badniks. The two hedgehogs befriend each other after destroying the Badniks. As Tails, Knuckles, and Amy look for the two Sonics, they find them having a picnic in the green hills eating chili dogs.
Page Scans
External links
Sonic the Hedgehog
Shogaku Ichinensei

 ·

Shogaku Ninensei (1, 5, 6)

 ·

Shogaku Sannensei

 ·

Shogaku Yonensei (Sonic no Daibouken)

 ·

Shogaku Gonensei (Sonic Hurry to the Rescue???, Eggman Uses Sport's Day to Set Up a Trap...Don't Lose, Sonic!!,)

 ·

Shogaku Rokunensei

 ·

Corocoro (Big Dreams Make Sonic Propel Forward!!, Big Dreams Are My Energy!, Come On, Guys! Let's Daaance!!, A New Buddy, Tails, Enters the Stage!!)
Dengeki Nintendo DS
Sonic World Adventure

 ·

Sonic and the Black Knight

 ·

Sonic Chronicles

 ·

Sonic Colors

 ·

Sonic Generations
Other
Sonic the Hedgehog Story Comic (1, 2, 3)

 ·

Sonic the Hedgehog Book

 ·

Sonic the Hedgehog 2: Mega Drive Official Guide Book

 ·

Dash & Spin Super Fast Sonic (Vol. 1, Vol. 2)
Printed media
Manga
Sonic the Hedgehog Story Comic (1991)

 ·

Sonic the Hedgehog (1992—1994) (Sonic no Daibouken)

 ·

Dash & Spin Super Fast Sonic (2003—2005)

 ·

Dengeki Nintendo DS (Sonic World Adventure (2008), Sonic and the Black Knight (2009), Sonic Chronicles (2009), Sonic Colors (2010), Sonic Generations (2011))
Comic books
Sonic the Hedgehog (promotional comic) (1991)

 ·

Sonic the Comic (1993—2002)

 ·

Sonic Sunday Strips (1993—1995)

 ·

Sonic the Hedgehog (Archie Comics) (1993—2017) (miniseries (1993), Princess Sally (1995), Tails (1995), Knuckles (1996), Sonic Quest (1996), Knuckles the Echidna (1997—1999), Sonic X (2005—2008), Sonic Universe (2008—2017), Sonic Boom (2014—2015))

 ·

Sonic Adventures (1994)

 ·

Sonic Comic (2016)

 ·

Sonic the Hedgehog (IDW Publishing) (2018-)
Novels and picture books
Stay Sonic (1993)

 ·

Virgin Books (Sonic the Hedgehog in Robotnik's Laboratory (1993), Sonic the Hedgehog in the Fourth Dimension (1993), Sonic the Hedgehog and the Silicon Warriors (1993), Sonic the Hedgehog in Castle Robotnik (1994))

 ·

Pense Bem: Uma Aventura Científica com Sonic the Hedgehog (1993)

 ·

Troll Associates (Sonic the Hedgehog (1994), Sonic the Hedgehog: Robotnik's Revenge (1994), Sonic the Hedgehog: Fortress of Fear (1995), Sonic the Hedgehog: Friend or Foe? (1995), Sonic & Knuckles (1995), Sonic X-Treme (1997))

 ·

Ladybird (Sonic the Story (1994), Sonic the Hedgehog: Robotnik's Oil (1994), Sonic the Hedgehog: The Invisible Robotnik (1994))

 ·

Watermill Press (Sonic the Hedgehog (1995))

 ·

Golden Books (Sonic the Hedgehog: Sonic's Shoes Blues (1993), Sonic the Hedgehog 2: The Secret Admirer (1994), Sonic the Hedgehog 3: Up Against the Wall (1995), Sonic the Hedgehog: Double Trouble (1996))

 ·

Sonic X books (2005—2007) (Meteor Shower Messenger (2005), Spaceship Blue Typhoon (2005), Battle at Ice Palace (2006), Aqua Planet (2006), Dr. Eggman Goes to War (2006), Desperately Seeking Sonic (2007))

 ·

Where's Sonic? A Search-and-Find Adventure (2012)

 ·

Sonic Boom books (2015—2016) (Le partenaire ideal (2015), La machine à gaffes (2015), Pas de chance, Knuckles ! (2015), L'épouvantable Todd (2016), Sonic Superstar (2016), Une étrange météorite (2016))

 ·

Sonic and the Tales of Deception (2018)

 ·

Sonic and the Tales of Terror (2018)
Other
Sonic Adventure Gamebooks (1993—1996)

 ·

Ladybird (Sonic the Hedgehog Adventure Gamebook (1994—1995), Joke Book (1994), Where's Sonic? (1994), Where's Sonic Now? (1996), Puzzle Book 1 (1994), Puzzle Book 2 (1994))

 ·

The Official Sonic the Hedgehog Yearbook (1993, 1994)

 ·

Sonic the Hedgehog Book (1992)

 ·

Sonic the Hedgehog Paint 'n' Marker Book (1993)

 ·

Look and Find Sonic the Hedgehog (1994)

 ·

Sonic the Hedgehog (Play-a-Sound) (1995)

 ·

How to Draw Sonic the Hedgehog & the Gang (1998)

 ·

The History of Sonic the Hedgehog (2012)

 ·

Sonic the Hedgehog Super Interactive Annual 2014 (2013)

 ·

Run, Sonic, Run! (2013)

 ·

Sonic the Hedgehog 25th Anniversary Art Book (2017)

 ·

Welcome to the World of Sonic (2018)

 ·

Sonic the Hedgehog Mad Libs (2018)
Television and film
Animated shows
Adventures of Sonic the Hedgehog (1993)

 ·

Sonic the Hedgehog (1993—1994)

 ·

Sonic Underground (1999)

 ·

Sonic X (2003—2005)

 ·

Sonic Boom (2014—)
Other
Sonic - Super Hedgehog (1994)

 ·

Sonic Christmas Blast (1996)

 ·

Sonic the Hedgehog: The Movie (1996)

 ·

Man of the Year (1997)

 ·

Sonic: Night of the Werehog (2008)

 ·

Sonic Mania Adventures (2018)

 ·

Theatrical film series (Unnamed feature film (2019))
Miscellaneous
Alton Towers (Sonic Pinball)

 ·

conventions (Sonic Boom, Summer of Sonic)

 ·

franchise's timeline

 ·

Guinness World Records

 ·

Hedgehog Engine

 ·

Honey Nut Cheerios

 ·

iTunes

 ·

Ken Penders' legal cases

 ·

cameo appearances and references

 ·

SEGA Republic (Sonic Hopper, Spin Gear)

 ·

Sonic Bible

 ·

Sonic Bowl

 ·

Sonic Generations of Skate

 ·

Sonic Live in Sydney

 ·

Sonic Parade Balloon

 ·

Toyland Tours

 ·

Sonic the Hedgehog toys