For other uses of the term "Sonic Live" see Sonic Live (disambiguation).
Sonic Live! is a slot machine released in Japan in 2008.
Description
Sonic Live is operated in the same way as any other slot machine. The area around the wheels is a video screen, playing a video of Sonic, Tails, Knuckles and Amy in a band. As with all slot machines, cash prizes are awarded for matching symbols on three wheels.
Trivia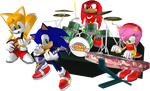 | | |
| --- | --- |
| Sega Genesis | Flicky (1991) • Sonic Eraser (1991) • Sonic the Hedgehog Spinball (1993) • Dr. Robotnik's Mean Bean Machine (1993) • Wacky Worlds Creativity Studio (1994) • Knuckles' Chaotix (1995, Sega 32X) • Sonic 3D Blast (1996) |
| Master System | Sonic the Hedgehog Spinball (1994) • Dr. Robotnik's Mean Bean Machine (1994) |
| Sega Superstars | Sega Superstars (2004, PlayStation 2) • Sega Superstars Tennis (2008, multi-platform) • Sonic & Sega All-Stars Racing (2010, multi-platform) • Sonic & All-Stars Racing Transformed (2012, multi-platform) |
| Riders games | Sonic Riders (2006, multi-platform) • Sonic Riders: Zero Gravity (2008, multi-platform) • Sonic Free Riders (2010, Xbox 360) |
| Storybook games (Wii) | Sonic and the Secret Rings (2007, Wii) • Sonic and the Black Knight (2009, Wii) |
| Mario & Sonic games | Mario & Sonic at the Olympic Games (2007, multi-platform) • Mario & Sonic at the Olympic Winter Games (2009, multi-platform) • Mario & Sonic at the London 2012 Olympic Games (2011, multi-platform) • Mario & Sonic at the Sochi 2014 Olympic Winter Games (2013, Wii U) • Mario & Sonic at the Rio 2016 Olympic Games (2016, multi-platform) |
| Super Smash Bros. games | Super Smash Bros. Brawl (2008, Wii) • Super Smash Bros. for Nintendo 3DS and Wii U (2014, multi-platform) |
| Sonic Boom games | Sonic Boom: Rise of Lyric (2014, Wii U) • Sonic Boom: Shattered Crystal (2014, Nintendo 3DS) • Sonic Dash 2: Sonic Boom (2015, Android) • Sonic Boom: Fire & Ice (2016, Nintendo 3DS) |
| Arcade & redemption machines | Flicky (1984) • Waku Waku Sonic Patrol Car (1991) • UFO SegaSonic (1992) • Sonic the Hedgehog (1993) • SegaSonic the Hedgehog (1993) • SegaSonic Popcorn Shop (1993) • SegaSonic Cosmo Fighter (1993) • Sonic the Hedgehog 2 (1993) • Sonic's Space Tours (1994/1999) • Sonic the Fighters (1996) • Sonic the Hedgehog AWP (1997) • Sonic & Tails Spinner (2002) • CR Sonic (2003) • Sonic Spinner (2007) • Sonic Live! (2008) • Sonic & Sega All-Stars Racing Arcade (2011) • Sonic Athletics (2013) • Sonic Ghost Shooting (2013) • Sonic Brain Ranking (2013) • Sonic Dash Extreme (2015) |
| Miscellaneous | Sonic the Hedgehog's Gameworld (1994, Sega Pico) • Tails and the Music Maker (1994, Sega Pico) • Sonic's Schoolhouse (1996, PC) • Sonic R (1997, multi-platform) • Sonic Shuffle (2000, Dreamcast) • Sega Splash Golf (2008, PC) • Shadow the Hedgehog (2005, multi-platform) • Sonic the Hedgehog (Didj) (2008) |