Ad blocker interference detected!
Wikia is a free-to-use site that makes money from advertising. We have a modified experience for viewers using ad blockers

Wikia is not accessible if you've made further modifications. Remove the custom ad blocker rule(s) and the page will load as expected.
For other uses of the term "Sonic Live" see Sonic Live (disambiguation).
Sonic Live! is a slot machine released in Japan in 2008.
Description
Sonic Live is operated in the same way as any other slot machine. The area around the wheels is a video screen, playing a video of Sonic, Tails, Knuckles and Amy in a band. As with all slot machines, cash prizes are awarded for matching symbols on three wheels.
Trivia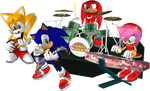 | | |
| --- | --- |
| Sega Genesis | Flicky (1991) • Sonic Eraser (1991) • Sonic the Hedgehog Spinball (1993) • Dr. Robotnik's Mean Bean Machine (1993) • Wacky Worlds Creativity Studio (1994) • Knuckles' Chaotix (1995, Sega 32X) • Sonic 3D Blast (1996) |
| Master System | Sonic the Hedgehog Spinball (1994) • Dr. Robotnik's Mean Bean Machine (1994) |
| Sega Superstars | Sega Superstars (2004, PlayStation 2) • Sega Superstars Tennis (2008, multi-platform) • Sonic & Sega All-Stars Racing (2010, multi-platform) • Sonic & All-Stars Racing Transformed (2012, multi-platform) |
| Riders games | Sonic Riders (2006, multi-platform) • Sonic Riders: Zero Gravity (2008, multi-platform) • Sonic Free Riders (2010, Xbox 360) |
| Storybook games (Wii) | Sonic and the Secret Rings (2007, Wii) • Sonic and the Black Knight (2009, Wii) |
| Mario & Sonic games | Mario & Sonic at the Olympic Games (2007, multi-platform) • Mario & Sonic at the Olympic Winter Games (2009, multi-platform) • Mario & Sonic at the London 2012 Olympic Games (2011, multi-platform) • Mario & Sonic at the Sochi 2014 Olympic Winter Games (2013, Wii U) • Mario & Sonic at the Rio 2016 Olympic Games (2016, multi-platform) |
| Super Smash Bros. games | Super Smash Bros. Brawl (2008, Wii) • Super Smash Bros. for Nintendo 3DS and Wii U (2014, multi-platform) |
| Sonic Boom games | Sonic Boom: Rise of Lyric (2014, Wii U) • Sonic Boom: Shattered Crystal (2014, Nintendo 3DS) • Sonic Dash 2: Sonic Boom (2015, Android) • Sonic Boom: Fire & Ice (2016, Nintendo 3DS) |
| Arcade & redemption machines | Flicky (1984) • Waku Waku Sonic Patrol Car (1991) • UFO SegaSonic (1992) • Sonic the Hedgehog (1993) • SegaSonic the Hedgehog (1993) • SegaSonic Popcorn Shop (1993) • SegaSonic Cosmo Fighter (1993) • Sonic the Hedgehog 2 (1993) • Sonic's Space Tours (1994/1999) • Sonic the Fighters (1996) • Sonic the Hedgehog AWP (1997) • Sonic & Tails Spinner (2002) • CR Sonic (2003) • Sonic Spinner (2007) • Sonic Live! (2008) • Sonic & Sega All-Stars Racing Arcade (2011) • Sonic Athletics (2013) • Sonic Ghost Shooting (2013) • Sonic Brain Ranking (2013) • Sonic Dash Extreme (2015) |
| Miscellaneous | Sonic the Hedgehog's Gameworld (1994, Sega Pico) • Tails and the Music Maker (1994, Sega Pico) • Sonic's Schoolhouse (1996, PC) • Sonic R (1997, multi-platform) • Sonic Shuffle (2000, Dreamcast) • Sega Splash Golf (2008, PC) • Sonic the Hedgehog (Didj) (2008) |