This article contains information about or related to an upcoming video game scheduled for a future release.

The content of the article may change dramatically as more information becomes available. Any information added to the article without a reliable source may be deleted without warning.
Sonic Mania (ソニックマニア, Sonikku Mania?) is an upcoming side-scrolling platformer video game in the Sonic the Hedgehog franchise which acts as a celebration of the Sonic series' 25th anniversary. It will be developed by Christian Whitehead, Headcannon and PagodaWest Games and be published by Sega. The game emulates the gameplay and 2D sprite animation of the original Sega Genesis Sonic games,[7] and serves, along with Sonic Forces, as a "continuation" of Sonic's 25th anniversary.[8] The game was announced on 22 July 2016 and is set to be released on 15 August 2017.[9][4]
Development
Sonic Mania began development in 2015, as Sonic Team wanted to make a new 2D Sonic game that was not a remake.[8] The game was first announced during a presentation held by Sega at the 2016 San Diego Comic-Con with a debut trailer.[10] The development team includes Christian Whitehead and Simon Thomley, who have previously developed enhanced and newer ports for other Sonic titles.[11] Tee Lopes, a YouTube user who has done many remixes of the music tracks from the Sonic franchise, will compose the music for the game.[2] PagodaWest Games members Jared Kasl and Tom Fry, who had also worked on a fan-made HD remake of Sonic the Hedgehog 2, are both working on the game's level design and visuals.[12]
According to Sonic Team head Takashi Iizuka, Sonic Mania is a "passion project" that "was born out of our fans' love of the classic Sonic 2D platform games." He added, "This type of collaboration is a first for Sega and we hope everyone will be both surprised and delighted by this title."[7] When developing the art for the game, the general rule was to be above the level of Genesis, but under the level of Saturn.[8] Christian Whitehead also added that the game will be longer than Sonic Generations.[13] Later, on the official Sonic Twitch stream, lizuka stated that Sonic Mania will have more classic levels than new levels. The day after that, Christian Whitehead explained to fans on Twitter that it was Sonic Team's wish to celebrate the classic titles in Sonic Mania, but this time in a "new and exciting way".[14] [15]
Briefly after the game's announcement, the game developer company Renegade Kid offered to port the game over to the Nintendo 3DS.[16] However, on 29 August 2016, Renegade Kid announced that the studio would be closed and split to two separate companies: Atooi & Infitizmo,[17] leaving the possibility of a Nintendo 3DS port of Sonic Mania unknown.
On 12 January 2017, it was announced the game would also be released for the Nintendo Switch, with Tantalus Media helping to port it.[6] SXSW 2017 would also announce that they would be hosting a second Sonic panel for this year's event, set to reveal news about the upcoming Sonic Mania and Sonic Forces.[18]
The latest Nintendo Dream Magazine from Japan featured Sonic Mania, but the information included was revealed months ago and also confirms that Sonic Mania will feature multiplayer.[19] On the week before 10 March 2017, Sega held a demo at their San Francisco's office to reveal more information about the game. Although the demo went well, Tails was noted to be glitchy to play.[20] On the Sonic panel of SXSW, the game has been delayed later in the year. [21]
During the E3 interview that Dengeki Online set with lizuka, he confirmed that Sonic Mania is going to have more stages than any Classic Sonic game before it.[22] On 23 June 2017, the official Sonic Twitter account announced the Sonic Mania vinyl album that would be released in cooperation with Data Discs. The pre-orders for the album were stated to be available mid-July.[23]
Gameplay
Emulating the style of the original Sonic Sega Mega Drive games, Sonic Mania is a 2D side-scrolling platform game with Sonic, Tails and Knuckles as playable characters. The goal is to race to the end of each Act of a Zone (a level in the game). The game's levels consist of remixed Zones from past games, such as Green Hill Zone from the original Sonic the Hedgehog, and new Zones as well. In addition to the standard Spin Jump, Spin Attack and Spin Dash maneuvers, Sonic Mania introduces the Drop Dash, which allows the player to instantly dash into a Spin Attack upon landing from a jump.[7] The game will also feature the elemental shields from the early games.
The player can choose a second playable character to follow the lead character.[24] Here, player 1 can control Sonic, and player 2 can control Tails. If Tails takes damage, he does not lose Rings. Tails can also fly while holding Sonic. By putting this to use, the player can reach areas that is hard for Sonic to reach on his own.[25]
Objects
Items
Gimmicks and obstacles
Characters
Playable characters
Non-playable characters
Enemies
Bosses
Zones
Sonic Mania consists of several Zones (some remastered, others original) split into multiple Acts. At the end of each Act, the player faces a boss.[13] So far, the known Zones are:
System requirements
System Requirements (PC)
Minimum
| OS | Processor | Memory | Graphics | DirectX® | Hard Drive | Sound |
| --- | --- | --- | --- | --- | --- | --- |
| | Pentium 4 1.6GHz | 2 GB RAM | DirectX 9.0c compliant video card 32MB | Version 9.0c | 100 MB available space | DirectX 9.0c Compatible |
Recommended
| OS | Processor | Memory | Graphics | DirectX® | Hard Drive | Sound |
| --- | --- | --- | --- | --- | --- | --- |
| | Core 2 Duo | 2 GB RAM | DirectX 9.0c compliant video card 256MB | Version 9.0c | 100 MB available space | DirectX 9.0c Compatible |
Release
With the game set to be released in Spring 2017, Sonic the Hedgehog's official twitter account posted a poll on 8 September 2016, relating to the release of the Collector's Edition of the game.[30] On 13 September 2016, Amazon leaked a pre-order offer of the Sonic Mania: Collector's Edition for the PC.[31] The Collector's Edition consists of a Sega Genesis-styled package, a 12" Classic Sonic Statue standing on a Sega Genesis that plays the "Sega" chant when turned on, a metallic collector's card and a Genesis cartridge-like cast with a golden Ring. The Collector's Edition was later announced for the PlayStation 4 and Xbox One (and eventually, the Nintendo Switch[32]) as well, albeit exclusively for North America.[33] The Collector's Edition has also become available to be pre-ordered on Europe countries since 17 October 2016.[34] To promote the Collector's Edition, Sega released a retro-styled informerical (see below) based on an American informercial of Sonic 2 featuring former Sonic the Hedgehog series art director Kazuyuki Hoshino and social media manager Aaron Webber.
In September 2016, Sega began selling official T-shirts through Amazon US until 30 September. These included Studiopolis Zone-based shirts and "Triple Theat" t-shirts with icons of the game's three playable characters. Originally, the Studiopolis and Triple Threat shirts with the Sonic Mania logo printed on them were available on Amazon UK before their listings were removed.[35]
Reception
Sonic Mania's announcement was met with praise, with Andrew Goldfarb of IGN saying that Sonic Mania had him excited for the series again, in a way that did not happen with Sonic the Hedgehog 4.[36] Alex Donaldson of VG24/7 agreed, saying that Sonic Mania was the sequel he had wanted for over 20 years.[37] Donaldson also appreciated Sega's choice of development team, calling them "the right guys for the job", and praised the game's visuals, music, and the inclusion of obscure Sonic and Sega lore.[37] Jack Hamnett of Twinfinite praised the game's attention to detail and how faithful it felt to the original games, saying that it had the potential to return the series to its "former glory".[38]
Despite having initial doubts due to the normally mediocre reception of the series in recent years, Nick Robinson of Polygon called Sonic Mania a "revelatory moment" for him after playing a preview of the game, saying it was his most anticipated game of 2017.[39] Robinson also praised Sega's choice to hand the game's development off to fans of the series, stating that Sega's own previous attempts to make a classic style side-scrolling Sonic games, such as with Sonic Advance and Sonic the Hedgehog 4, never felt "quite right" to him.[39]
Sonic Mania's booth at E3 received multiple nominations and awards: "Best of E3 2017" from Twinfinite and from IGN, "Approved" by Kinda Funny, the "Most Likely to Inspire a Completion Run" award from Curse Network, a "Best in Show" nomination from GameInformer and from UOL Jogos and an "E3 Choice" game award nomination from Momocon.[40][41][42][43][44][45]
Trivia
Videos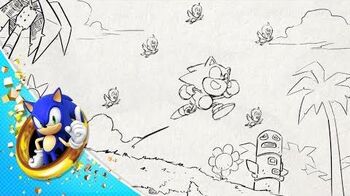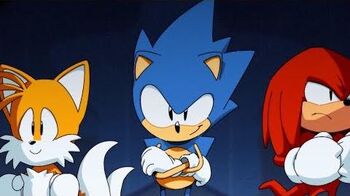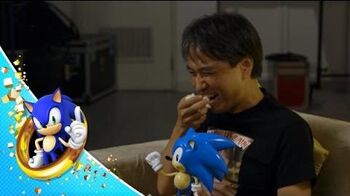 References
External links
---
Main article | Gallery
| | |
| --- | --- |
| Playable characters | Sonic the Hedgehog | Miles "Tails" Prower | Knuckles the Echidna |
| Other characters | Dr. Eggman | Animals (Flicky, Locky, Pecky, Pocky, Rat) |
| Zones | Chemical Plant Zone | Green Hill Zone | Flying Battery Zone | Mirage Saloon Zone | Stardust Speedway Zone | Studiopolis Zone |
| Enemies | Bat Brain | Blaster | Buzz Bomber | Catakiller, Jr. | Chopper | Crabmeat | Eggrobo | Grabber | Kabasira | Kanabun | Moto Bug | Newtron | Spiny | TechnoSqueek |
| Bosses | Hard Boiled Heavy (Heavy Gunner) |
| Moves/techniques | Climb | Drop Dash | Glide | Propeller Flying | Spin Dash | Spin Attack | Spin Jump |
| Gimmicks and obstacles | Breakable Block | Bumper | Capsule | Dash Panel | Flipper | Goal Plate | High-speed warp tube | Spiked ball | Spikes | Spring | Star Post | Switch | Zip Line |
| Objects | Giant Ring | Item Box (Aqua Shield, Combine Ring, Eggman Mark, Flame Shield, Invincibility, Power Sneakers, Shield, Super Ring, Thunder Shield) | Ring |
| Songs | Checkpoint | Time Trials |
| Other | Shuttle loop | Winding Tunnel |
| | |
| --- | --- |
| 1991-1997 | Sonic the Hedgehog (1991, Sega Genesis) • Sonic the Hedgehog 2 (1992, Sega Genesis) • Sonic the Hedgehog CD (1993, Sega CD) • Sonic the Hedgehog 3 (1994, Sega Genesis) • Sonic & Knuckles (1994, Sega Genesis) |
| 1998-2004 | Sonic Adventure (1998, Dreamcast) • Sonic Adventure 2 (2001, Dreamcast) • Sonic Heroes (2003, multi-platform) |
| 2005-2009 | Shadow the Hedgehog (2005, multi-platform) • Sonic the Hedgehog (2006, multi-platform) • Sonic Unleashed (2008, multi-platform) |
| 2010-2016 | Sonic the Hedgehog 4: Episode I (2010, multi-platform) • Sonic Colors (2010, multi-platform) • Sonic Generations (2011, multi-platform) • Sonic the Hedgehog 4: Episode II (2012, multi-platform) • Sonic the Hedgehog 4: Episode Metal (2012, multi-platform) • Sonic Lost World (2013, multi-platform) |
| Upcoming | Sonic Mania (2017, multi-platform) • Sonic Forces (2017, multi-platform) |