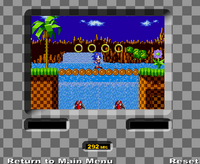 Sonic Mega Collection Plus Mini is a promotional Web Browser game made by SEGA to promote their newly introduced Sonic Mega Collection Plus. As its name suggests, it is a miniature version of Sonic Mega Collection. Instead of having multiple classic games, only a slightly altered version of Sonic the Hedgehog' (1991) is playable, and the only playable stage is Green Hill Zone.
The main objective of the game is to run through Green Hill Zone and get as many points as possible by destroying robots and collecting Rings.
Trivia
External links
Ad blocker interference detected!
Wikia is a free-to-use site that makes money from advertising. We have a modified experience for viewers using ad blockers

Wikia is not accessible if you've made further modifications. Remove the custom ad blocker rule(s) and the page will load as expected.