Helping Out
To write a new article, just enter the article title in the box above. If you are not sure where to start, read through our policies and guidelines. For editing help, see Wikia's tutorial. Then lend us a hand with some of these:
Featured Article
Archie Sonic the Hedgehog Issue 279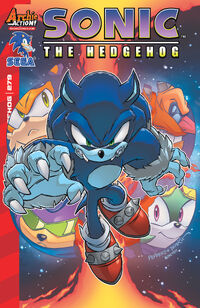 Archie Sonic the Hedgehog Issue 279 is the two hundred seventy-ninth issue in the Sonic the Hedgehog comic series published by Archie Comics. Stories featured in this issue are "Face of the Enemy Part Two" and "Hidden Costs Part Three." In the former story, Sonic, Antoine, and Big along with the Shamar Freedom Fighters infiltrate the Midesta Egg Army base to rescue Ehsan while in the latter story, Sally and Bunnie finish their mission to recover the final Chaos Emerald from the clutches of the Northamera Egg Army.
Vote for the next Featured Article here!
Previously Featured: Sonic Boost, Type-J, E-113 Xi, Battle of the Boy Bands, Sticks the Badger, Zavok, Item Box, Antoine D'Coolette, Beauregard Rabbot, Egg Fighter

Featured User
The featured user of the month is
Axel Badnik
"Hey everyone." Sorry, I was auditioning for my role as Spider-Man in Captain America: Civil War. That's right, it's the month of May and that means not only is school getting out but that also means we have some special users that are graduating high school and even universities this month. A special user that we're going to interview today is none other than Axel Badnik, a hardworking and dedicated user of the wiki! When asked how he felt about being the featured user of May, Axel responded, "It took little surprised that I got it in this month, so yeah, it's neat to be nominated." With that being said, let's get the interview rolling!
# 1. Q) What first brought you to SNN? How long have you been around?
A) In 2011, I joined here during the hype of Sonic Generations and I decided to stick around for adding information, that hasn't been yet to be written here yet. I like to focus on expanding articles and giving ideas for editing projects (hence why this is a wiki site) rather than writing some blogs, creating OCs and etc.. I would rather do those things outside the wiki.
# 2. Q) Who's your favorite Sonic character and why?
A) It's pretty obvious, that no matter what incarnation of this character is featured in the franchise, Dr. Ivo "Eggman" Robotnik manages to be the character that keeps giving every time. For the game character, it's really the appearance as goofy, yet menacing villain, his unique machines and creations, that makes me like him so much as well. Also, Mike Pollock providing his voice for the character is the cherry on the cake. I do like Sonic and Tails and some of main characters as well. I do appreciate some new characters in the series, when they play and move as fast as Sonic along having their own abilities, like Blaze the Cat for example.
# 3. Q) What first got you interested in Sonic?
A) I was very young, when my big brother bought the first three games for Sega Mega Drive and while I kept watching his playthroughs and at the time and after that, I did got access to these games by myself. During emulator days, I also got to play Sonic & Knuckles, Sonic Spinball and all three Sonic Advance games and oddly, the first 3D title for me was Sonic Heroes. Looking at places anonymously like Sonic Retro, The Sonic Stadium and some other places in mid 2000's got me introduced to the Sonic scene.
# 4. Q) What's your preferred media? Games, TV, or comics?
A) All three media formats have been important to me out there in some form, although television along with hand-drawn animation is the thing that I preferred.
# 5. Q) What's your favorite way to pass the time?
A) I like to waste my time on surfing around the internet for researching about things that got me curious, going outside if there's decent weather, reading books or watching/riffing different types of movies in theaters, video or internet with my friends.
# 6. Q) Any non-Sonic games you like to play?
A) Nowadays, I haven't gotten into new console generation and move on to different things. Earlier, I did play some small variety of simple games such as platforming (Mario, Mega Man), puzzle (Tetris), fighting (Super Smash Bros, Street Fighter II), and RPG games (EarthBound, Phantasy Star).
# 7. Q) Anything you'd like to share about yourself?
A) I seem to be older compared to many others in the community with few exceptions. Many people may have noticed, that I'm not as active as many others outside of editing articles and taking part of editing projects in some forms. I did have much free time in my hands when I joined here and now that is pretty much opposite. Editing articles is part of my free time alogside with other projects that I'm working on such as doing my own projects. Busy weekdays really have effect on editing projects here, that I have started. I want to return here properly to continue on rewriting game articles, when the next summer is coming and after that, a new college season is coming.
# 8. Q) Any favorite upgrade/move/gimmick from the Sonic games?
A) Not really that I have any "favorite" moves, but the obvious Spin Attack and its alternative moves comes to mind when I think Sonic series. From gimmicks in each game, Wisps from Sonic Colors seem to be something that works for the most part and it doesn't interfere with your playthrough. After watching ShayMay's "Sonic Spitball Part 3", I have noticed how much potential the Parkour system could have in hands of skilled designers and programmers. If you are interested on Sonic's gameplay and analyzing it, I would recommended you to watch all three parts.
# 9. Q) Do you ship?
A) Nah, I don't see the appeal on that sort of thing.
# 10. Q) Got a favorite holiday?
A) Summer vacations provide a lot of time to travel around. Either it's about traveling around the home country or leap towards different European nations. Or I just take quick cruise trip to the neighboring country and back.
Interviewed by Kagimizu (talk) (contributions), constructed and organized by BlueSpeeder (talk) (contributions).
Who should be the next Featured User?
For Valentine's Day, let's do something a wee bit different; anyone have any crushes/spouses/significant others they'd like to make a shout out to? Answer here! Happy editing, and happy New Year!
What's New
Create blog post
Blogs
As the 25th Anniversary of Sonic the Hedgehog is dawning upon us, there have been several announcements to the spin off Sonic Boom and the Rio Games from the leaked pictures of Tomy's booth in New York. Let's see what's going on!

We once heard that this game was delayed to 2016, but according to thi…

Read more >

For two years now, the Shattered World Crisis has been the major story arc for the Sonic the Hedgehog comic series published by Archie Comics. However, IGN has exclusively unveiled the four-part connecting covers for the final chapter of the Shattered World Crisis, titled "Panic in the Sky!" The story…

Read more >


SEGA has confirmed in this tweet that the Sega 3D classics collection will be coming to North America in the 3DS on April 26th 2016. The package will be distributed digitally and physically. There will be nine classic games,and Sonic the Hedgehog 1 is included in this list! Here's the other games co…


Read more >
See more >
Affiliates
Sonic Fanon Wiki is the place to go if you have any sort of fan-works! Instead of posting them on articles here (where they don't belong), place them at the Sonic Fanon Wiki for all of the hard-working fanon writers to see and praise. The Sonic Fanon Wiki started in June 2008, and currently consists of over 10,000 articles!
TSSZ News is an independent Sonic & Sega news website that strives for high quality news and information. TSSZ is affiliated with the Sonic News Network.
TailsChannel is a YouTube channel that is a place all things Sonic the Hedgehog, including news and gameplay. TailsChannel is affiliated with the Sonic News Network.
TheRealSonicFan is a YouTube channel who provides high quality Sonic gameplay footage and news updates. TheRealSonicFan is affiliated with the Sonic News Network.
BlueParadox is a YouTube channel who provides the latest Sonic news and gameplay footage. BlueParadox is affiliated with the Sonic News Network.
Click here to see more of our affiliates!