Sonic News Network
The Sonic News Network is a collaborative encyclopedia for everything related to the Sonic the Hedgehog series. There are 13,078 articles and growing since this wiki was founded in September 2005. The wiki format allows for anyone to create or edit any article, so we can all work together to create a comprehensive database for the Sonic the Hedgehog series.

Please be aware that articles on Sonic News Network may contain unmarked spoilers. Browse at your own risk!
Helping Out
To write a new article, just enter the article title in the box above. If you are not sure where to start, read through our policies and guidelines. For editing help, see Wikia's tutorial. Then lend us a hand with some of these:
Featured Article
Lyric the Last Ancient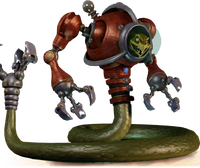 Lyric the Last Ancient (リリック, Ririkku?) is the main antagonist and final boss of both Sonic Boom: Rise of Lyric and Sonic Boom: Shattered Crystal. He is the last of a benevolent race called the Ancients, but went mad with power and turned on his peers to create a world of twisted metal and robots using the power of his people's crystals. Before he could carry out his nefarious deeds, however, he was imprisoned. Centuries later, Lyric was freed and resumed his plans, but was defeated by Sonic the Hedgehog and his crew.
Previously Featured: Time Eater, Egg Dragoon, Iron Rotor, Moto Bug, Archie Sonic the Hedgehog Issue 279, Sonic Boost, Type-J, E-113 Xi, Battle of the Boy Bands, Sticks the Badger

Poll
The Sonic Boom franchise has been around for a few years now. By now, who is your favorite Sonic Boom character?
Credits to Ultrasonic9000 (talk) (contributions) for suggesting this poll.
Affiliates

Sonic Fanon Wiki is the place to go if you have any sort of fan-works! Instead of posting them on articles here (where they don't belong), place them at the Sonic Fanon Wiki for all of the hard-working fanon writers to see and praise. The Sonic Fanon Wiki started in June 2008, and currently consists of over 9,000 articles!

Click here to see more of our affiliates!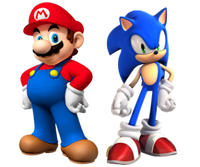 Platformer Games
Go to these sites for info or for help with your own wiki!
Azure Striker Gunvolt • Banjo-Kazooie • Broforce • Cave Story • Code: Hardcore • Conker • Contra • Crash Bandicoot • Donkey Kong • Drawn to Life • Freedom Planet • Geometry Dash • Jak and Daxter • Kirby • LittleBigPlanet • Mario • Mega Man • Metal Slug • Metroid • Mirror's Edge • Oddworld • Ratchet & Clank • Rayman • Shantae (and WayForward games) • Shovel Knight • Sly Cooper • Sonic • Spyro the Dragon • Strider • Tearaway • Yooka-Laylee
Want your community included? See how!

Ad blocker interference detected!
Wikia is a free-to-use site that makes money from advertising. We have a modified experience for viewers using ad blockers

Wikia is not accessible if you've made further modifications. Remove the custom ad blocker rule(s) and the page will load as expected.