Sonic News Network
The Sonic News Network is a collaborative encyclopedia for everything related to the Sonic the Hedgehog series. There are 11,993 articles and growing since this wiki was founded in September 2005. The wiki format allows for anyone to create or edit any article, so we can all work together to create a comprehensive database for the Sonic the Hedgehog series.

Please be aware that articles on Sonic News Network may contain unmarked spoilers. Browse at your own risk!
Helping Out
To write a new article, just enter the article title in the box above. If you are not sure where to start, read through our policies and guidelines. For editing help, see Wikia's tutorial. Then lend us a hand with some of these:
Featured Article
Egg Dragoon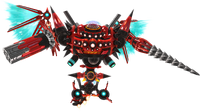 The Egg Dragoon, also referred to as the Ultra-Hyper Prototype-1, is a recurring vehicle in the Sonic the Hedgehog series. It is a large dragon-based mech created by Dr. Eggman for the purpose of defeating Sonic the Hedgehog. It represents the absolute pinnacle of mad science. It debuted in Sonic Unleashed and reappeared in the Xbox 360/PlayStation 3/PC versions of Sonic Generations, serving as the penultimate boss for both games.
Vote for the next Featured Article here!
Previously Featured: Iron Rotor, Moto Bug, Archie Sonic the Hedgehog Issue 279, Sonic Boost, Type-J, E-113 Xi, Battle of the Boy Bands, Sticks the Badger, Zavok, Item Box

Featured User
The featured user of the month is
Ultrasonic9000
With Summer nearing its end, Sonic News Network finally gets its long overdue Featured User Interview update. And the subject of said interview is none other than frequent wiki-goer (and Featured User), Ultrasonic9000. Ultrasonic didn't give a quote for this month's interview, so we'll be getting right along to the interview itself.
# 1. Q) Now that we've gotten some more information, what are your thoughts on Sonic Boom: Fire & Ice?
A) I would say I am cautiously positive. The developers have been learning from their mistakes and are attempting to give it a more Sonic feel, and from what I have been able to gleam at, I would say they have achieved that. I just hope it will be appealing enough for the fans.
# 2. Q) Given it's been the newest craze since release, what are your opinions regarding the mobile app Pokemon Go?
A) I would say it is a really big step towards bringing Pokémon into the real world. With such new and groundbreaking mechanics, the game is really challenging both the aspects of gameplay and the interaction in the real world. This has given rise to both perks and controversies which are never seen before, which is what I believe is the reason why it gets so much attention.
# 3. Q) Are you excited to hear news about a new main series Sonic game relatively soon?
A) I really am. With all the hype surrounding it and what they are building up to, I suspect it is going to be a big, even by normal standards (perhaps Sonic Adventure 3?) However, then I remember the recent games and remind myself that I should not set my expectations too high. The era of complex plots in the Sonic games appears to be over.
# 4. Q) How do you think the Summer has shaped up for Sonic so far?
A) Well, from what I can tell, there has been a fair amount of awareness surrounding Sonic's anniversary and it has been a build-up to the big party in the summer. I especially liked the Sonic-Eggman Q&A on twitter. It has not been as intense as the 20th anniversary, but then again, there has not been a game to rely on for that.
# 5. Q) When the new games come out, do you think that will see a rise in activity for SNN?
A) It will definitely cause some rise in activity. How much depends on how many editors that are still willing to engage in SNN at this point, as I suspect many of them have other things to take care of by now. And new editors today need a lot of molding. Then again, it might be our own fault for being so informal.
# 6. Q) What other ways do you think could get more community involvement and participation on Sonic News Network?
A) That is hard for me to say, as I am really not that big of a people-person and have trouble figuring out what others think and feel. I suppose it would take some appealing to their immersion in the Sonic universe, creativity and desire to voice their view on the various aspects that they believe vital.
# 7. Q) Besides SNN, what are your preferred Sonic fansites to visit?
A) Sonic Stadium, Sonic Retro and TSSZ.
# 8. Q) What do you think we'll see from the new main series Sonic game?
A) The way the series has been going since Sonic Colors, I would say a simple story with Sonic as the main playable character, some minor, yet recurring, gameplay tweaks derived from the classical elements, Eggman as the main villain, and an comprehensible ending with a slight plot twist at the end. However, I also expect high game quality, as that is what Sega has decided to focus on in the recent year.
# 9. Q) If you had to pick one gimmick from past Sonic games to make a return, which would it be?
A) The Bungee Rope. I don't know why, I just like it.
# 10. Q) What do you think of SEGA's philosophy of releasing the new game during the year of Sonic's anniversary, rather than try and aim for close to the date itself?
A) I think it is a flexible decision. Sure, it might be a little unorthodox, but they are giving themselves more time that way, and I believe that the Sonic games need some serious time to get polished for the release date.
Interviewed by Kagimizu (talk) (contributions)
Who should be the next Featured User?
For Valentine's Day, let's do something a wee bit different; anyone have any crushes/spouses/significant others they'd like to make a shout out to? Answer here! Happy editing, and happy New Year!
What's New
Create blog post
Blogs
Hey there, everyone! June 23, 2016 marks the twenty fifth anniversary for the Sonic the Hedgehog franchise! That's right folks, it's the silver year for Sonic and that means he's been around for a fourth of a century. That's crazy to think about!

So what are your plans for today? How are you going to ce…

Read more >

There were rumours about a certain blue hedgehog coming to the Lego related video game called Lego Dimensions...

...But now, it's confirmed! Sonic will be making a playable appearance in the game!




He's seen at the end of this video, grabbing a ring before Golem could. Now THAT'S how you make an entra…

Read more >

As the 25th Anniversary of Sonic the Hedgehog is dawning upon us, there have been several announcements to the spin off Sonic Boom and the Rio Games from the leaked pictures of Tomy's booth in New York. Let's see what's going on!

We once heard that this game was delayed to 2016, but according to thi…

Read more >
See more >
Poll
The Sonic 25th anniversary party has concluded! What are you the most excited for?
Credits to BlueSpeeder (talk) (contributions) for suggesting this poll.
Affiliates

Sonic Fanon Wiki is the place to go if you have any sort of fan-works! Instead of posting them on articles here (where they don't belong), place them at the Sonic Fanon Wiki for all of the hard-working fanon writers to see and praise. The Sonic Fanon Wiki started in June 2008, and currently consists of over 9,000 articles!

Click here to see more of our affiliates!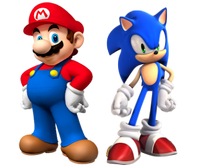 Platformer Games
Go to these sites for info or for help with your own wiki!
Azure Striker Gunvolt • Broforce • Cave Story • Crash Bandicoot • Drawn to Life • Geometry Dash • Jak and Daxter • Kirby • Kya: Dark Lineage • LittleBigPlanet • Mario • Mega Man • Metal Slug • Metroid • Mirror's Edge • Oddworld • Ratchet & Clank • Rayman • Shantae (and WayForward games) • Shovel Knight • Sly Cooper • Sonic • Spyro the Dragon • Strider
Want your community included? See how!