Sonic News Network:Featured Article
Talk

45
Featured Articles are articles that have been recognized as the best on Sonic News Network.
After being chosen at Sonic News Network:Featured Article nominations, a summary of the article (usually based on the article's introductory paragraph) will be written out in the Current Featured Article section below and transcluded onto the Main Page of the wiki.
Following this, Featured Articles are tagged using Template:FA, which places an icon in the top right of the page, and listed below for posterity.
Criteria
Articles are nominated for Featured Article status at Sonic News Network:Featured Article nominations and by using Template:Nominated Featured Article. Featured Articles should follow the following rules:
It must have been written primarily by Sonic News Network users, and not copied directly from other sites, such as Wikipedia or Mobius Encyclopaedia.
It must be factually correct, with no false information, and it must have sufficient references to verify its accuracy.
It must be at least a few paragraphs in length.
If an article has already been a Featured Article, it cannot be nominated again.
Current Featured Article
Since: 20:41, September 3, 2016 (UTC)
Main Page Box
Egg Dragoon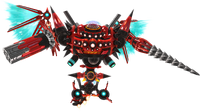 The Egg Dragoon, also referred to as the Ultra-Hyper Prototype-1, is a recurring vehicle in the Sonic the Hedgehog series. It is a large dragon-based mech created by Dr. Eggman for the purpose of defeating Sonic the Hedgehog. It represents the absolute pinnacle of mad science. It debuted in Sonic Unleashed and reappeared in the Xbox 360/PlayStation 3/PC versions of Sonic Generations, serving as the penultimate boss for both games.
Vote for the next Featured Article here!
Previously Featured: Iron Rotor, Moto Bug, Archie Sonic the Hedgehog Issue 279, Sonic Boost, Type-J, E-113 Xi, Battle of the Boy Bands, Sticks the Badger, Zavok, Item Box
Past Featured Articles
Ad blocker interference detected!
Wikia is a free-to-use site that makes money from advertising. We have a modified experience for viewers using ad blockers

Wikia is not accessible if you've made further modifications. Remove the custom ad blocker rule(s) and the page will load as expected.