This article is about a subject in the real world.
Information in this article is about real-life people, companies and objects, and does not relate to the in-universe Sonic series.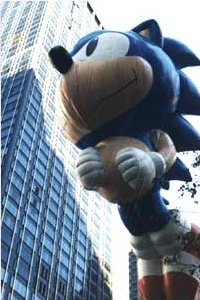 The Sonic Parade Balloon is a balloon shaped like Sonic the Hedgehog in the Macy's Thanksgiving Day Parade.
Appearances
In 1993, due to Sonic's popularity, he got an appearance in the Macy's Thanksgiving Day Parade [1]. The only other video game character to ever be in the parade was Pikachu 8 years later. Green Hill Zone's theme was played alongside its appearance. Unfortunately, the original balloon popped after colliding with a lamp post at Columbus Circle, injuring an off-duty Police Officer.
Sonic's balloon reappeared in the 2011 Parade for Sonic's 20th Anniversary [2]. A 350 lb. balloon, Sonic appeared at a mid-way point of the parade, with the 2nd float (behind star-shaped balloons with the words "Macy's") in the parade. Splash Hill Zone Act 1's from Sonic the Hedgehog 4: Episode I theme was in the background. [3]
The balloon reappeared in the 2013 Macy's Thanksgiving Day Parade on November 28. Sonic was the second float shown and his past two appearances were mentioned, this time around no music from any game was played in the background. In the NBC version, Splash Hill Zone once again played.
Trivia
Despite the Sonic Balloon not appearing at the 2014 parade, Sonic the Hedgehog's title sceen music was played as a part of a Video Game Medley from a marching band.
Gallery