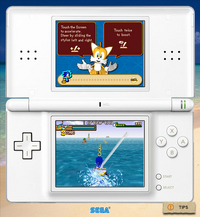 Sonic Rush Adventure Flash is an online flash game developed to promote the game, Sonic Rush Adventure. The game appeared on Sonic Rush Adventure game websites, before being closed down.
Gameplay
The player controls Sonic the Hedgehog as he uses the Wave Cyclone. The gameplay is exactly the same as how the player uses the Wave Cyclone in Sonic Rush Adventure, substituting the Nintendo DS stylus for the mouse. The player must hold down the left mouse button to move Sonic forward and move the mouse left and right to avoid obstacles. The Wave Cyclone has a boost meter can that can be filled by collecting Rings and performing tricks off of trick ramps, the player can double-click and hold the left mouse button to use boost. The objective of the game is to reach the goal in the shortest possible time whilst avoiding damage from obstacles such as mines, robots and rogue fish.
As well as the game, the main menu offers several other options, such as updates for Sonic Rush Adventure and a leaderboard for highscores.
Characters
Playable characters
Non-playable characters
External links
---
Main article | Gallery | Script | Staff
| | |
| --- | --- |
| Characters | Sonic (Super Sonic) | Blaze (Burning Blaze) | Tails | Marine | Coconut Crew (Setter, Tabby, Colonel, Kylok, Daikun, Muzy) | Gardon | Norman | Captain Whisker | Mini & Mum | Johnny | Doctor Eggman | Doctor Eggman Nega |
| Stages | Whale Point* | Plant Kingdom | Machine Labyrinth | Coral Cave | Haunted Ship | Blizzard Peaks | Sky Babylon | Pirates' Island | Big Swell | Deep Core | Hidden Islands (1, 2, 3, 4, 5, 6, 7, 8, 9, 10, 11, 12, 13, 14, 15, 16) | Johnny's Race* |
| Bosses | Ghost Rex | Ghost Pendulum | Ghost Kraken | Ghost Pirate | Ghost Whale | Ghost Condor | Captain Whisker and Johnny | Ghost Titan | Egg Wizard |
| Enemies | Angler Fish | Cave Bat robot | Crabmeat | Flaming Skull | Green-faced Ghost | Green skeleton pawn | Labyrinth Soldier | Pirahna bot | Pirate Hogan | Ptera | Red skeleton pawn | Skeleton Hang Glider | Skeleton Pirate | Skeleton Swordsman | Snowball Hider | Snowflake | Steampacker | Triceratank | Wrench Swinger |
| Vessels | Wave Cyclone | Ocean Tornado | Aqua Blast | Deep Typhoon | Magma Hurricane | SS Tornado EX | SS Marine | SS Super-Marine |
| Moves/techniques | Axel Jump | Axel Tornado | Boost Mode | Burning Fire Boost | Burst Dash | Burst Hover | Deflect | Fire Boost | Grind Step | Hop Jump | Homing Attack | Humming Top | Jump Dash | Jump Step | Spin Dash | Spin Jump | Super Boost | Super Sonic Boost* | Trick Action |
| English voice actors | Jason Griffith (Sonic) | Mike Pollock (Eggman, Eggman Nega) | Amy Palant (Tails) | Bella Hudson (Blaze) | Lonnie Hirsch (Captain Whisker) | Christopher Pellegrini (Johnny) |
| Japanese voice actors | Jun'ichi Kanemaru (Sonic) | Chikao Ōtsuka (Eggman, Eggman Nega) | Ryo Hirohashi (Tails) | Nao Takamori (Blaze) | Shinya Fukumatsu (Captain Whisker) | Kota Nemoto (Johnny) |
| Other | A New Venture | Blaze's world | Bomb | Bungee Rope | Chaos Emerald | Corkscrew loop | Combo | Dash Panel | Dash Rail | Dash Ring | Fountain | Freeze | Hang Glider | Health Gauge | High-speed warp tube | Icicle | Item Box (Attract, Boost Up, Confusion, High Speed, Invincibility, Lightning Shield, Maximum Tension Bonus, Repair, Super Ring, Shield, Tension Bonus, Score Bonus, Slow) | Jeweled Scepter | Material (Blue, Iron, Green, Bronze, Red, Silver, Aqua, Gold, Black) | Jump Panel | Minecart | Missions | Mushroom | Rainbow Ring | Sea Chart | Shuttle loop | Sol Emerald | Southern Island | Power of the Stars | Real-Time Interaction | Ring | Sonic Rush Adventure Flash | Sonic Rush Adventure Original Soundtrack | Tension Gauge | Time Attack | Treasure Chest | Vine | Winding Rope |